Okay, with these simple, speedy biscuits, you have got to Move. Move. Move. Put this song on while you work. Just like yesterday's biscuits, you don't want to touch these. Barely mix 'em. Barely touch 'em. It's hot potato dough. Hot, er Cold Pota-dough.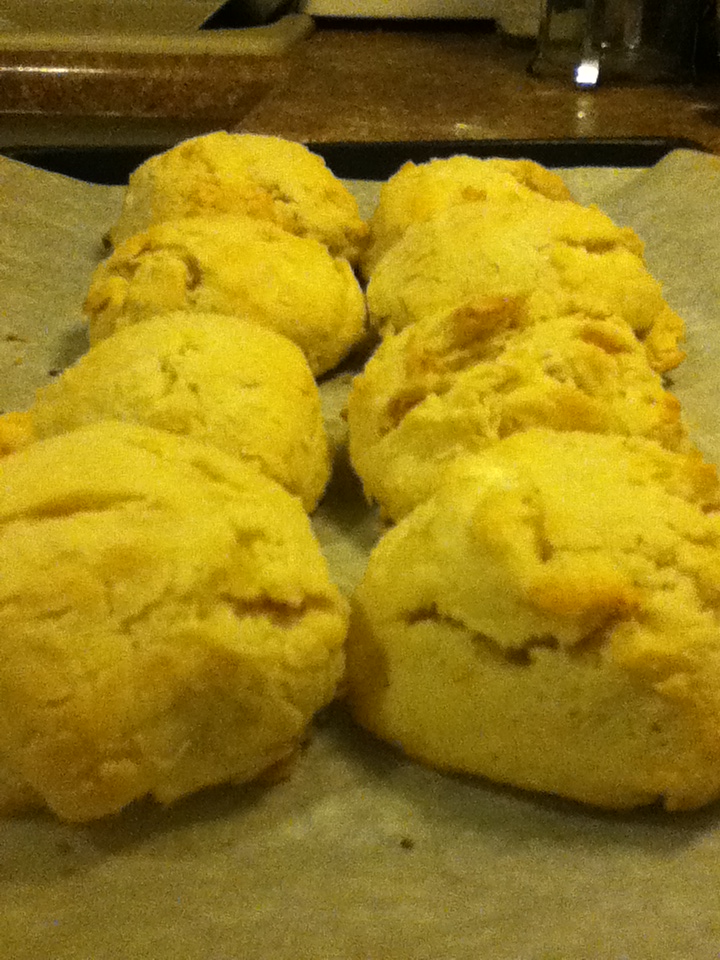 Cream Biscuits
Servings: 8 large biscuits
Note: Bake the biscuits immediately after cutting them as letting them stand for any length of time can decrease the leavening power and prevent the biscuits from rising properly in the oven.
2 cups (10 ounces) unbleached all-purpose flour
2 teaspoons sugar
2 teaspoon baking powder
1/2 teaspoon salt
1 1/2 cups heavy whipping cream
Adjust the oven rack to upper-middle position and heat oven to 425 degrees. Line a baking sheet with parchment paper.
Whisk together flour, sugar, baking powder and salt in a medium bowl. Add 1 1/4 cups cream and stir with wooden spoon until dough forms, about 30 seconds. Transfer dough from bowl to countertop, leaving all the dry, floury bits behind in the bowl. 1 tablespoon at a time, add up to 1/4 cup cream to dry bits in bowl, mixing with wooden spoon after each addition, until moistened. Add these moistened bits to rest of dough and knead by hand just until smooth, about 30 seconds.
Cut biscuits into rounds or wedges. Place rounds or wedges on the parchment-lined baking sheet and bake until golden brown, about 15 minutes. Serve immediately.
I was shocked how quickly these came together. Will remember this one the next time I need biscuits in an emergency. I'm trying to come up with a possible biscuit emergency scenario… Queen Elizabeth pulls up to Fuchsia and Lime (my house) and it's 3:45 p.m. Just a minute, mum! Or, Cloudy With a Chance of Meatballs happens in Rochester, but with chili, or shrimp etouffe.  Or, neighbor Janelle opens her fridge to find the Smuckers Fairy has placed 35 jars of jam inside, and there are no pastries in sight! If you find any of these scenarios happening to you, give me a ring-a-ding. And I will Move. Move!
Don't worry Izzy– tomorrow I'm doing dog biscuits…