I knew this would happen. I went to Iowa City and began to scratch the itch where my second book wants to break through the skin and into the world. There isn't enough Benadryl at CVS to suppress it, and now, before the first book has been properly labored and birthed into being, here I am gestating at a second. The approach, this time, will be entirely different. It is a romance.
"Good evening, Miss. Dining alone tonight?"
"No. I am on a date." Wry smile.
He shifts to the right as though my body might have eclipsed the other dinner party guest to whom I refer. I blush, clutching a thick, white paperback to my collarbone.
"I'm on a date with Chekov."
"Oh," he smiles. "Well, that will be a long date."
"That's the point."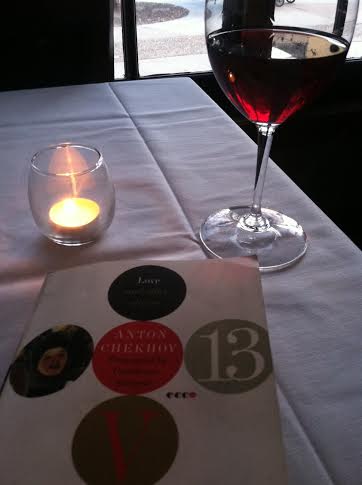 Medical training is a brutal, demanding monogamy during which I do believe strategic affairs are forgiven. Chekov once said that for him, medicine was his wife, writing his mistress. My second book will be the love child of our creative trysts—Chekov's and mine. I can say no more.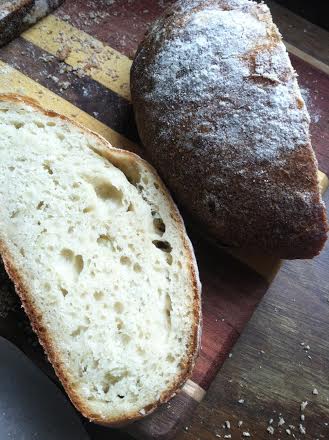 Pane di Patate
or, Potato Bread
Adapted from The Italian Baker
1 1/2 pounds (675 g) baking potatoes, boiled, peeled, and mashed
1 ½ cups sourdough starter
3 to 4 tablespoons warm water
1 1/2 to 2 tablespoons  olive oil
3 3/4 cups unbleached all-
purpose flour
1 1/2 teaspoons salt
Cornmeal
Boil the potatoes in water to cover until tender; drain. Peel the potatoes and press them through a ricer or mash until very smooth. Keep warm until ready to use.
By hand: Stir the starter into 4 tablespoons of warm water directly into the warm potato mash. Add oil, flour, and salt in a mixer bowl. Add up to 1 tablespoon of water if necessary for the dough to come together. If you make a small ball of dough between your fingers, it should feel very slightly sticky. Knead by hand on a lightly floured surface for 3 to 4 minutes.
First rise: Place the dough in a lightly oiled bowl, cover tightly with plastic wrap, and let rise until doubled, 1 to 2 hours. The processor dough is sticky and delicate because of the extra water, and the mixer dough is slightly tacky and looks chunky.
Shaping and second rise: Cut the dough in half on a lightly floured surface and shape each half into a round loaf, using very light tension in shaping. Flatten slightly with the palm of your hand to encourage it to spread just a bit. Place the loaves, seam side down, on heavily floured peels or rimless baking sheets. Flour the tops lightly and cover with dampened kitchen towels. Let rise until doubled, about 45 minutes. When fully risen, the dough will feel somewhat soft.
Baking: Thirty minutes before baking, preheat the oven with baking stones in it to 450ºF. Just before baking, sprinkle the stones with cornmeal. Very carefully invert the loaves onto the stones (the seam side will open dramatically in the baking). Bake 35 to 40 minutes, spraying the oven three times with water in the first 10 minutes. Cool completely.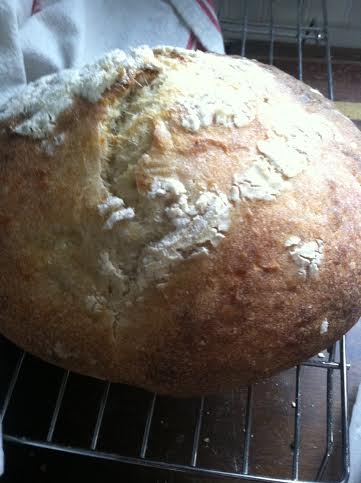 Iowa City is a place that consoles me with reminders that true talent knows no location. John Updike, when he was still with us, once gave a talk on a Wednesday here in McBride. The flyer for his reading was on the wall just outside my hotel room. Iowa City gives greatness a human nonchalance. Thanks, Iowa. Hope to be back soon.