Worst food photography ever on this stew, the word itself lending a sort of downturned mouth onomatopoeia effect, stew…ew. Rather than lead off with an unappetizing photograph of my tasty, hearty autumn gruel, I've chosen to provide a charming foreshadowing of Hallow's Eve at our house, with my chunky little Beast (Beauty in her yellow dress is behind the camera—more hilarious portraits to come.) I love how her double, triple, and quadruple chins smother the smart little bow tie. And yes, that is my suitcase, still unpacked from last week's travels, in the background. Priorities people–getting my bulldog a Lycra tuxedo is so obviously more urgent.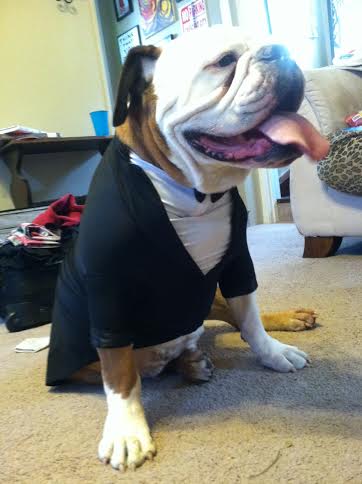 Shrimp and Sausage Stew
Adapted from Food and Wine
1/4 cup extra-virgin olive oil
1 pound andouille sausage, cut into 1-inch rounds
1 medium onion, finely chopped
1 large celery rib, finely chopped
1/2 green bell pepper, chopped
8 garlic cloves, minced
1/2 teaspoon cayenne pepper
3 tomatoes, chopped (2 cups)
1 cup chicken stock or low-sodium broth
1 cup bottled clam juice (this is the key!)
One 10-ounce bag fresh or frozen baby lima beans, thawed if frozen
1/4 cup chopped flat-leaf parsley
2 pounds large shell-on shrimp
In a large, deep skillet, heat the oil. Add the sausage and cook over moderately high heat, stirring, until lightly browned, 5 minutes. Using a slotted spoon, transfer to a plate.
Add the onion, celery and green pepper to the skillet and cook over moderate heat, stirring frequently, until softened, about 5 minutes. Add the garlic and cayenne and cook for 1 minute. Add the tomatoes and cook, stirring, until their liquid is nearly evaporated, about 5 minutes. Add the stock and clam juice and bring to a boil. Scatter the sausage, lima beans and half of the parsley on top. Add the shrimp, cover tightly and simmer, stirring occasionally, for 15 minutes, until the shrimp are pink and cooked through. Let the stew rest for 5 minutes, then sprinkle with the remaining parsley and serve.
Serve with steamed rice and hot sauce.
See, I told you it was not a comely view, this stew.