Well, we finally had a graveyard smash at Fuchsia and Lime. Izzy really got into character as Beast when a long haired dachshund showed up unannounced as a guest's costume accessory. KP, dashing in gold lamé, was the perfect Lumiere to welcome the masses…"Be our Guest, be our guest…"
The winners of our costume contest were a group dressed as Pussy Riot, the feminist Russian punk rock group. Then we also had a stick figure (black body suit with glow sticks tacked on) win runner up. Wish we had taken proper photographs, but I am a notoriously remiss photographer at my own parties. We served plates full of fresh pumpkin delicacies—bread, muffins with ginger and chocolate, and toasted seeds. KP even brewed an Octoberfest lager with a pumpkin aroma.
Pumpkin Bread
Because this time of year, I'm all about that pumpkin.
15 oz pumpkin puree**
4 eggs
1 cup olive oil
2/3 cup water
3 cups white sugar
3 1/2 cups all-purpose flour
2 teaspoons baking soda
1 1/2 teaspoons salt
1 TB ground cinnamon
1 teaspoon ground nutmeg
1/2 teaspoon ground cloves
1/4 teaspoon ground ginger
Preheat oven to 350 degrees. Grease and flour two loaf pans.
In a large bowl, mix together pumpkin puree, eggs, oil, water and sugar until well blended. In a separate bowl, whisk together the flour, baking soda, salt, cinnamon, nutmeg, cloves and ginger. Stir the dry ingredients into the pumpkin mixture until just blended. Pour into the prepared pans.
Bake for about 55-60 minutes in the preheated oven. Done when a fork or toothpick inserted comes out clean.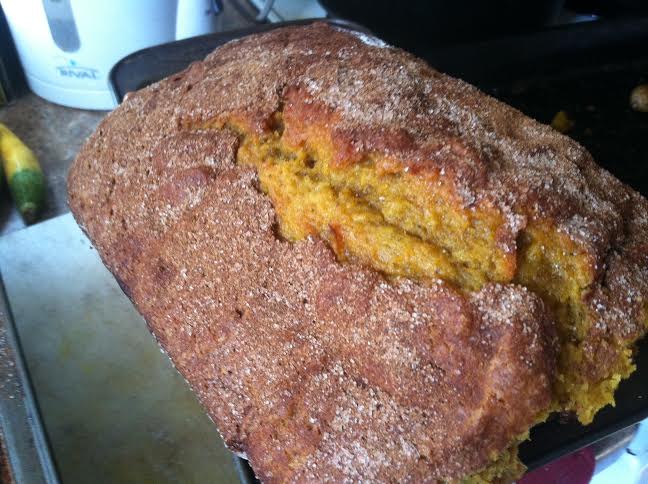 This recipe makes pretty good muffins too, just bake for 25-30 minutes instead of 50 at 250 degrees. I love a holiday that encourages putting eyeballs and legs with sneakers onto baked goods.
**What? You can take a whole pumpkin and turn it into puree for baking and soup??? Why yes.
Cut the pumpkin in half and discard the stem section and stringy pulp. …
In a shallow baking dish, place the two halves face down and cover with foil.
Bake in a preheated 375 degrees F oven for about 1½ hours for a medium-sized sugar pumpkin, or until tender. Then peel off the skin and puree the remainder pumpkin flesh. Yum!!! I freeze a bag or two, because the pureed fresh pumpkin is really only good for about three days in the fridge.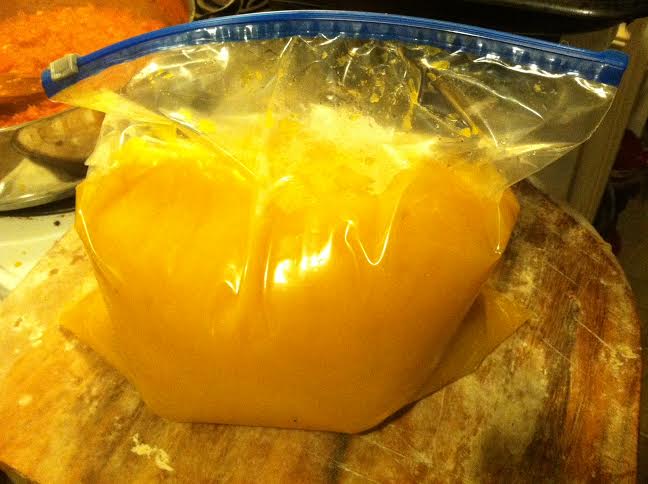 Save the seeds and put them on a cookie sheet in a single layer, drizzle with olive oil and salt (or Cajun spices) and bake for 10-15 minutes until they are toasted as crispy as you like. Also, don't be tempted to "shuck" the seeds– they are healthier with their husk. More zinc, I hear.
Thanks to all who came over to dance and spook around last night: special shout outs to Mike Wizowski, Ditka, the Peacock, Cowboy, Avatar, Operation Girl, Luigi, the cast from Game of Thrones, Piccachu (even though I thought you were a double-headed banana at first), Will the sexy blonde braided librarian, Luke Skywalker, Anakin and Princess Leia, Olaf the snowman, the electrical socket and her handsome double-pronged plug, Firefighter, Holy Cow, Zebra, the Russian doll, Pinky and the Brain, Zombie Josh and his pirate, the Social Butterflies, and Daft Pumpkin.