Having nibbled my own lips into two swollen, confluent canker sores, while over-caffeinating to the extreme of bilateral pseudo-DVT, Diet Coke-claudication of my calves—both symptoms pathognomonic for my stress response to Boards season—I am now finished being standardly tested in medical school. This last exam was my favorite because it thrust me into a perfect scene from Monsters Inc, where the eager monsters stand like cattle in a hallway of doors, waiting for the buzzer to begin. Clinical Skills boards.
Rarely have I ever made a dish that when photographed looks near identical to the magazine photography. This is it. Thrilled, can I just say— Thrilled— to have found a way to cook rutabaga, beets and carrots that has me and KP licking our plates clean.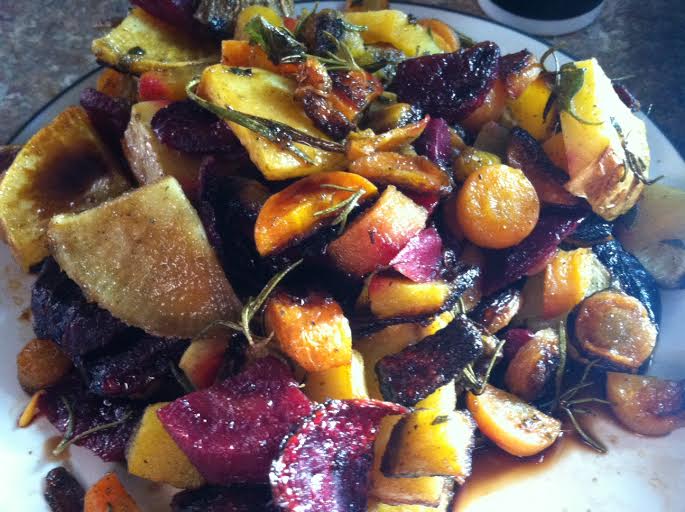 Roasted Root Vegetables with Tamari
Adapted from Food and Wine
10 small white Japanese turnips, halved lengthwise
3 medium parsnips, quartered lengthwise
1 rutabaga, halved and cut into long sections
6 medium carrots, preferably mixed colors, halved lengthwise
10 small golden beets, scrubbed and quartered lengthwise (I used red beets)
1/4 cup extra-virgin olive oil
1 tablespoon finely chopped thyme
1 tablespoon finely chopped sage
1 tablespoon finely chopped rosemary
Kosher salt
Pepper
2 1/2 tablespoons distilled white vinegar
2 tablespoons tamari
Preheat the oven to 425°. In a large saucepan of salted boiling water, blanch the turnips and rutabaga until barely tender, about 1 minute. Using a slotted spoon, transfer the turnips to a baking sheet to cool slightly. Add the parsnips and carrots to the saucepan and bring to a boil, then simmer until barely tender, about 2 minutes; transfer the carrots and parsnips to the baking sheet. Add the beets to the saucepan and simmer until just tender, about 5 minutes; transfer to the baking sheet and let cool slightly.
In a large bowl, toss the vegetables with the olive oil, thyme, sage and rosemary and season with salt and pepper. Spread the vegetables in an even layer on 2 large rimmed baking sheets. Roast for 20 to 25 minutes, until browned in spots. Transfer the vegetables to a platter. Drizzle with the vinegar and tamari, season with salt and pepper and toss to coat. Serve.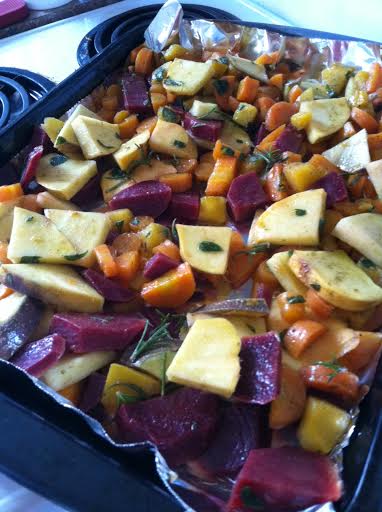 Beautiful! If this dish was an outfit, I would wear it.