I am roasting everything in sight. This dish is surprisingly sweet, and without sugar, for those needing to detox post-Halloween. There is nothing more comforting than sizzling gourds in autumn. One of the more creepy sentences I've ever written.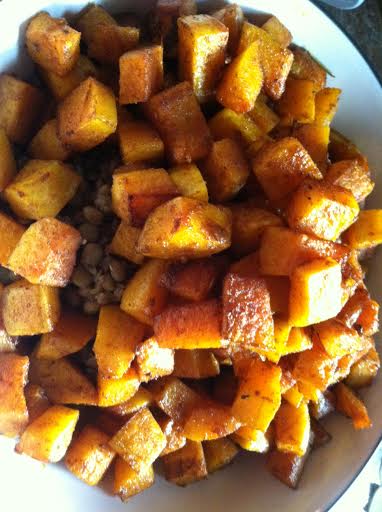 Roasted Butternut Squash with Lentils
Adapted from Food and Wine and Penzeys Spices
1 1/2 teaspoons cumin seeds
1 butternut squash (about 2 1/4 pounds, or 6 heaping cups), peeled and cut into 1/2-inch dice (mine courtesy of Barb Schaffer and my superb neighbors Jason and Laura)
1 parsnip—peeled, halved lengthwise and sliced 1/4 inch thick
2 medium onions, coarsely chopped
1 1/2 teaspoons paprika, smoked
1 teaspoon grated fresh ginger
Pinch of freshly grated nutmeg
1/4 cup extra-virgin olive oil
Salt and freshly ground pepper
1 cup green lentils
1 1/2 cup water
1 small shallot, peeled
1 bay leaf
3/4 cup walnuts (about 1/4 pound)
1/2 cup coarsely chopped cilantro (or mint with feta cheese)
2 tablespoons fresh lemon juice (or red wine vinegar)
Preheat the oven to 425°. In a small skillet, toast the cumin seeds over moderate heat until fragrant, about 2 minutes. Transfer to a spice grinder and let cool, then finely grind. In a bowl, toss the butternut squash with the parsnip, onions, ground cumin, paprika, ginger, nutmeg and ¾ cup olive oil. Season with salt and pepper. Roast for about 35 minutes, stirring once, or until the squash and parsnip are tender and lightly browned. Leave the oven on.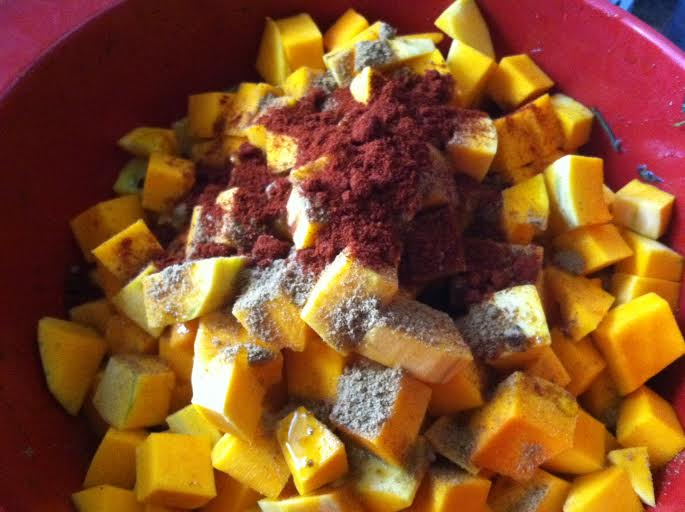 Meanwhile, in a small saucepan, combine the lentils with the water, shallot and bay leaf and bring to a boil. Reduce the heat to low and simmer until tender, about 25 minutes. Drain off any liquid; discard the bay leaf and shallot and season the lentils with salt and pepper.
In a pie plate, toast the walnuts in the oven for 5 to 7 minutes, or until fragrant. Let cool, then coarsely chop. In a small bowl, mix the cilantro with the lemon juice and the remaining 2 tablespoons of olive oil. Season with salt and pepper.
In a large bowl, toss the roasted vegetables with the lentils, walnuts and dressing and serve.
I love it when food matches the colors outside, in this case, the last of the fallen leaves.