Time to eat a couple of meals to put on a winter layer. The chickens have so many lessons to offer us. Over the last couple of weeks they have been packing it away to prepare for these frozen months. Yesterday, before it had fallen, you could see the snow looming up there. The sky was heavy with white, like the underside of an overstuffed mattress, fixing to burst. And while I was sleeping , it did. I couldn't understand why Betty and Quest would choose now to molt, until I spied them hunkered down in a corner of the coop in a bed of their own feathers. Brilliant. That is where I would like to be, quiet for long hours while all nature slows to rest. Funny how every species except the human seems to understand the way of things—how a season of rest is a natural imperative called for by Father Time, who seems like a truly reasonable character. Instead, the human race (and Chicken Little) seems to bend to the force of Great Aunt Panic. The sky did in fact fall. And still, we go on in sleep beneath the down.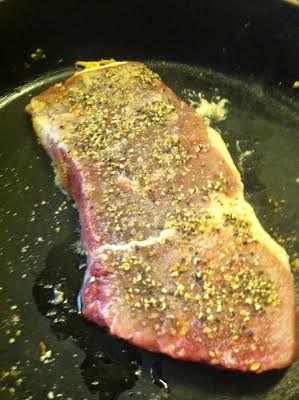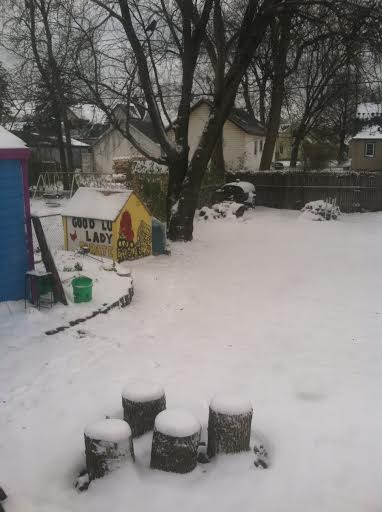 Wasabi Steak and Noodles
Adapted from Penzeys Spices
8 oz. strip steak
¼ tsp ginger
¼ tsp garlic powder
1 tsp filet mignonette (a spice gifted to me from my friend Jo, who is lucky enough to live a hop, skip and a jump from Penzeys, my spice mecca)
4 oz. egg noodles, wide or extra wide (I actually used star-shaped macaroni, because I giggled when I got to the pantry imagining Chinese Stars, the weapon, and my brother throwing plastic ones at my head when we were little)
2 tsp. olive oil
sprinkle garlic powder
sprinkle ginger
2 tsp. rice vinegar
1 tsp. wasabi
1 TB. water
1 TB. soy sauce (I use tamari)
½ tsp. white and/or black sesame seeds
Bring 4 cups of water to a boil for the pasta. Season both sides of steak with ginger, garlic, and filet mignonette spice. Heat a stovetop grill, grill pan or heavy duty fry pan over medium-high heat. Cook beef until medium rare-usually 4-5 minutes per side, depending on the thickness of the steak. Remove the steak from the pan and let it rest while cooking the noodles. Cook the egg noodles in the boiling water, 6-7 minutes. Drain the noodles when done, toss with olive oil and a sprinkle of garlic and ginger. Add the rice vinegar to the noodles and toss to coat.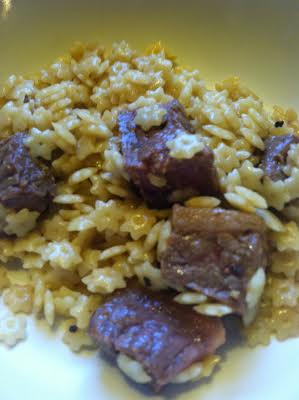 Ever notice how the font on wasabi products seems to imply the purchaser is insane?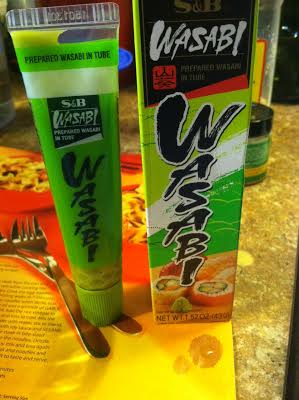 Wasabi!!?! is written like something a crazy person might shriek before beheading a stuffed animal or something. Anyway. Mix the wasabi powder with water, stir to blend, (I skipped the water because I bought wasabi paste) and then mix with soy sauce and sesame seeds. Cube the steak in bite-sized pieces and add to the noodles. Drizzle with the wasabi-soy mix and toss again to combine the steak and noodles and blend the flavors. Salt to taste and serve.