"He heard people singing. Behind him, across vast distances of space and time, from the place he had left, he thought he heard music too. But perhaps it was only an echo."
The last sentence in The Giver, by Lois Lowry. After watching the movie a second time, it occurs to me that Lowry meant to suggest a Platonic interpretation of the holiday season. The carols, the lights, the spirit of Christmas—a mere shadow of some symphony, some sun, a more beautiful Elsewhere that is surely closer than we understand it to be. Christmas is an echo.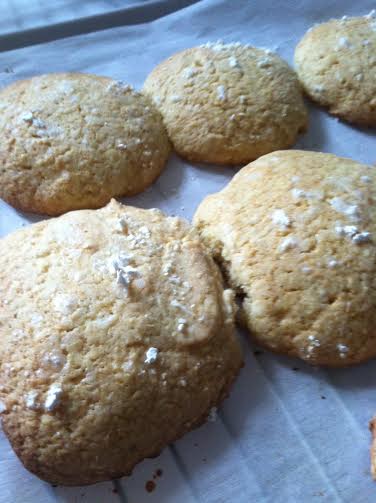 Meini or Cornbread Scones
Adapted from The Italian Baker, by Carol Field
2 sticks plus 2 tablespoons unsalted butter, room temperature
1¼ cups granulated sugar
2 tablespoons plus 2 teaspoons honey
1 egg
1 egg yolk
½ cup plus 2 teaspoons milk
1 ¼ cups unbleached all-purpose flour
2 cups whole wheat pastry flour
1¾ cups plus 1 tablespoon plus 1 teaspoon fine yellow cornmeal
3½ teaspoons baking powder
1/8 teaspoon almond extract
About 1/3 cup granulated sugar
½ cup confectioners' sugar
Using the whisk attachment, beat the butter, sugar, and the honey for 1 to 2 minutes at low speed until combined. Increase the speed to medium-high and beat until light and fluffy. Add the egg, egg yolk, and 2 teaspoons milk and continue beating for 1 minute. Mix in the flour, cornmeal, and baking powder. Add ½ cup milk and the almond extract and mix at the lowest speed until blended. The dough should be stiff but not heavy. Knead briefly by hand or mixer, sprinkling with additional flour as needed, until buttery, soft, pliable, and slightly sticky.
Line baking sheets with parchment paper. Cut the dough into 15 equal pieces (90 grams each). Flour your hands and roll each piece into a ball. Flatten each ball into a ½-inch-thick patty, the size of a hamburger and the width of a woman's hand. Place on the paper-lined baking sheets.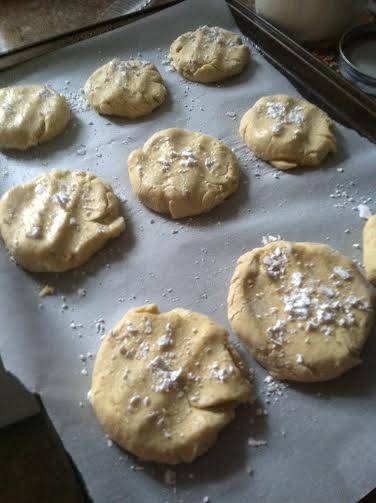 Brush the tops with water and then sprinkle with granulated sugar, making sure a thin layer of sugar covers each bun. You can shake off the excess sugar by holding on to the paper and shaking the sugar up and over the edge of the pan. Place the confectioners' sugar in a sifter or sieve and sift the sugar heavily over the buns so that they look as if they're lost in a blizzard of sugar. The excess powdered sugar can stay on the paper because it will not caramelize.
Heat oven to 375ºF. Bake until the sugar on top has cracked into an irregular design, 15 to 20 minutes. Cool on racks.
My dad particularly loved these.