Why is there comfort in tradition?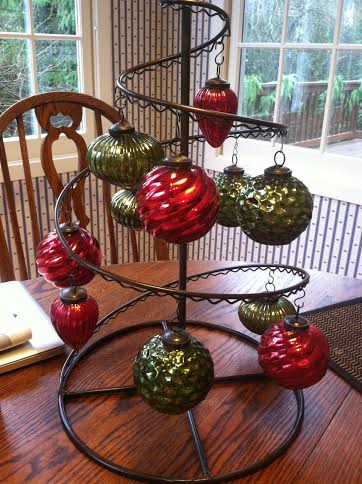 One holiday tradition in my family is to serve coffee cake or cinnamon rolls on Christmas morning, with a steaming hot cup of coffee. On Christmas Eve, we exchange new pairs of pajamas and wear them for the next 25-72 hours. We watch Muppet Christmas Carol. When the pajamas can be worn no longer, we go out to a movie. And then we bowl. Last night we saw Interstellar, a film which presents the one irrefutable sadness  of being alive in this world—time gives us loss. Tradition, it seems, while conscious of loss, offers back something we recognize—an anchor in analog—it is a home in and of itself to which we may return after another year of being a pilgrim out into unknown territory—new time. Every year we circle up and have a sweet reminder of all that hasn't been lost—even if it is only a taste.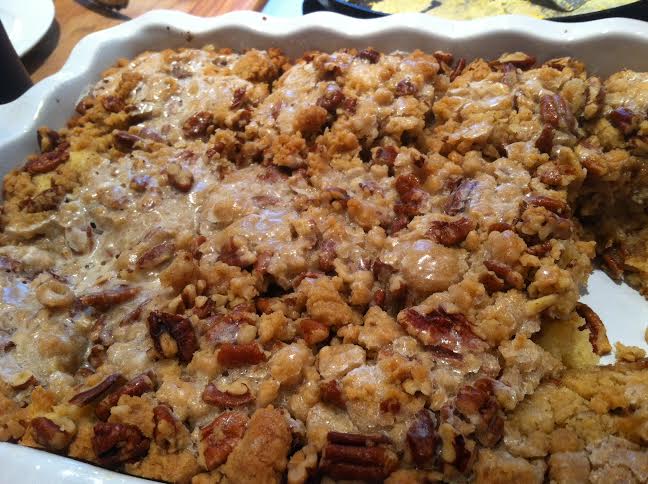 Cardamom Coffee Cake with Crumb Topping
Adapted from Food and Wine
2 cups pecans
2 sticks unsalted butter, melted
3/4 cup light brown sugar
1/2 cup granulated sugar
1/2 teaspoon ground cardamom
1/2 teaspoon salt
2 2/3 cups all-purpose flour
CAKE
3 cups all-purpose flour
1 1/4 cups sugar
1 1/2 teaspoons baking powder
1 teaspoon salt
2 large eggs
1 cup whole milk
1 1/2 sticks unsalted butter, melted
2 teaspoons pure vanilla extract
GLAZE
1/2 cup confectioners' sugar
2 tablespoons unsalted butter, melted
2 teaspoons whole milk
1/2 teaspoon pure vanilla extract
Glaze: Preheat the oven to 350°. Position a rack in the center of the oven. Butter a 9-by-13-inch metal baking pan.
Spread the pecans on a rimmed baking sheet and toast for 8 minutes, until browned. Let cool, then coarsely chop the nuts.
In a medium bowl, stir the melted butter with both sugars, the cardamom and salt. Add the flour and stir until clumpy. Stir in the chopped nuts.
In a large bowl, whisk the flour with the sugar, baking powder and salt. In a medium bowl, whisk the eggs with the milk, melted butter and vanilla. Add the egg mixture to the dry ingredients and stir until just combined. Scrape the batter into the prepared baking pan, smoothing the surface. Scatter the crumbs in large clumps over the cake; the crumb layer will be quite deep.
Bake for about 55 minutes, until the crumbs are golden and firm and a tester inserted in the center of the cake comes out clean. If the crumbs brown before the cake is done, cover the cake loosely with foil. Transfer to a rack to cool.
In a bowl, whisk all of the glaze ingredients together. Drizzle the glaze over the cake; let cool slightly. Serve warm or at room temperature.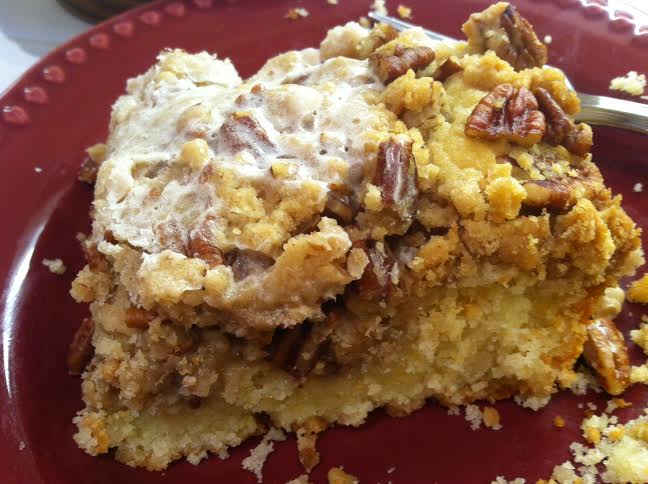 Tradition in action.
And some things never change. Time is feckless versus the silly. Weird face coasters! Great stocking stuffer.