Beta-cyanins! Or, a roll that looks like a little planet Mars. Minnesota beets have received a warm welcome here in the Ellis home. Made beet burgers last night, which Dad suggested might be called Rothlisburgers in honor of the football game he had on, and then since I already had stained fingers, and about four more cups of shredded beets, I turned the beat around and put these little buns together. That's what Dave said.
Red Beet Buns
Adapted from Artisan Bread in 5min/day
enough dough for 5 batches of 8 buns–40 total
2 cups white whole wheat flour
2 cups unbleached all-purpose flour
3 cups spelt flour (I use Bob's Red Mill)
1 cup sourdough starter
1 TB kosher salt
3 1/4 cups lukewarm water
3 cups finely shredded peeled raw beets
1/2 red onion, finely chopped
Mixing and storing the dough: Whisk together the flours, water, and sourdough in a 5-quart bowl, or a lidded food container. Let rise for forty minutes.
Add the beets, and onion and mix without kneading, the salt dissolved in about 20 ccs of water, using a wooden spoon. You might need to use wet hands to get the last bit of flour to incorporate.
Cover, and allow the dough to rest at room temperature until it rises and collapses (or flattens on top), approximately 2 hours.
The dough can be used immediately after its initial rise, though it is easier (very!) to handle when cold. Refrigerate it in a lidded (not airtight) container (keep it in the original mixing container) and use over the next 5 days. The flavor will be best if you wait for at least 24 hours of refrigeration.
On baking day, dust the surface of the refrigerated dough with flour and cut off a 1-pound (grapefruit-size) piece. Dust the piece with more flour and quickly shape it into a ball by stretching the surface of the dough around to the bottom on all four sides, rotating the ball a quarter-turn as you go. (I found this dough to be very wet, so move your fingers quickly to avoid sticking. Be liberal with the flour-dusting.)
To form the buns: Divide the ball into 8 roughly equal portions (each about the size of a golf ball). Shape each one into a smooth ball. Allow them to rest, loosely covered with plastic wrap, on a cookie sheet lined with parchment paper for 40 minutes (20 minutes if you're using fresh, unrefrigerated dough). Alternatively, you can rest the buns on a silicone mat-lined cookie sheet or a greased cookie sheet.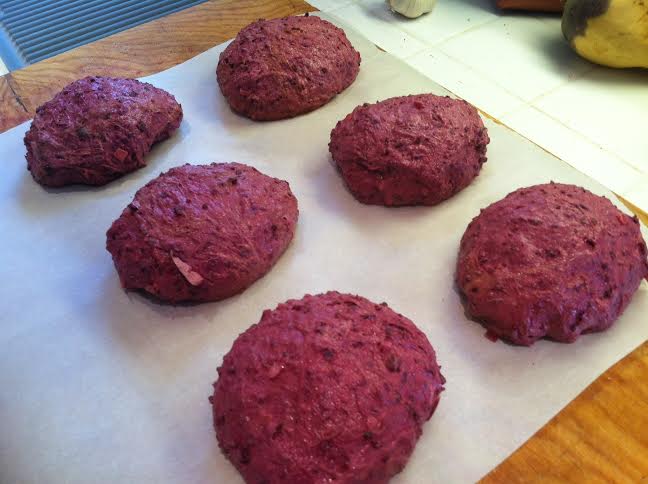 Thirty minutes before baking time, preheat the oven to 450 degrees F, with a baking stone placed on the middle rack. Place an empty metal broiler tray on any other shelf that won't interfere with the rising buns.
Just before baking, use a pastry brush to paint the top crusts with water.
Slide the cookie sheet directly onto the hot stone. Pour 2 cups of hot tap water into the broiler tray, and quickly close the oven door. Bake for about 20 minutes, until richly browned and firm.
Allow the buns to cool on a rack before eating.
These are really savory. They are dense and hearty, but great if sliced and toasted and spread with spicy hummus. Ooooh. Also great with beet burgers. Double beet.