There is something paradoxically restful in the chaos of family visits over the holidays. The reassurance of roots, of home—the reminder of belonging. I made my Sourdough Surprises challenge early this month to take advantage of the New Year's symbolism inherent in Chinese dumplings, the pork filling representing the prosperity and treasure tucked into every year, sweet and savory. I admit, I totally didn't follow through on last year's Resolution. We had two months of overt dinner hosting attempts with strangers, and then, I think because the challenge was spread so thin, once a month, I lost the thread and the project halted. Boo. Oh well. Acceptance of failure is as good a teacher as is success. This year, I've decided to give myself a daily short assignment: I will write one haiku a day for a year. Many of them I will try to post here, collecting the seventeen syllable tercets among my recipes and baking projects. The intent behind this year's resolution is the belief that no day should go unspoken for, and yet, with haiku, the aim is to champion concision and clarity. KP resolves to eat every meal this year with chopsticks. I'm not sure why we have latched onto Asian sensibilities for 2015, but perhaps there is a reason we have yet to uncover. And so again it begins.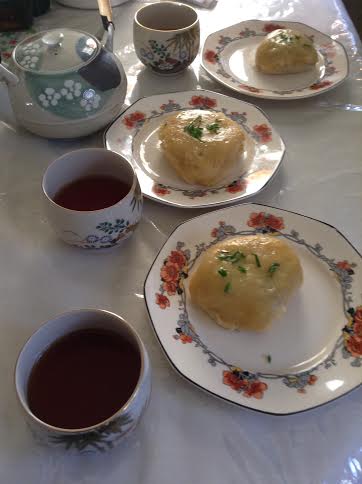 Haiku #1
The last place I would
Hide treasure is a dumpling.
Just don't hide treasure.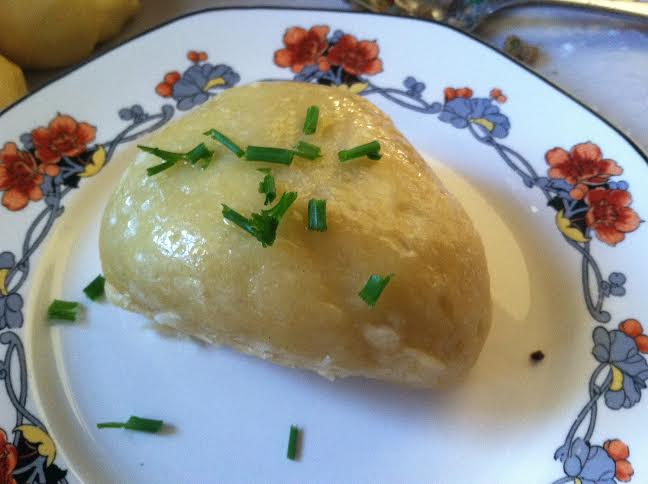 Dim Sum Char Siu Bao
Makes 16- 3″ buns.
Adapted from Thirsty for Tea
Bun Dough
3 cups bread flour
3 Tbsp Bird's Custard Powder (I wish I understood what this is and what exactly it does– cornflour?)
1 Tbsp nonfat dry milk
1 cup sourdough starter
1/4 cup white sugar
2 Tbsp butter at room temp
3 Tbsp vegetable oil
1 egg, lightly beaten
1/4 cup water
bench flour and oil for proofing bowl
Roux
1/2 cup water
2 Tbsp bread flour
Pork Filling
2 Tbsp macadamia nut oil
1 small yellow or brown onion, finely chopped
2 Tbsp rice wine or sherry
3/4 pound roasted Chinese barbecued pork, diced into 1/4″ cubes
6 Tbsp water
4 tsp oyster sauce
4 tsp low sodium soy sauce
1 Tbsp hoisin sauce
1 tsp sesame oil
2 Tbsp sugar
5 tsp cornstarch
1/4 tsp ground black pepper
1- 3/4 oz. package of fresh chives, chopped
Garnishes
1 egg, mixed with 1 tsp water
1 Tbsp honey, mixed with 1 tsp hot water
2 Tbsp black sesame seeds
2 Tbsp chopped chives
Directions:
1.)  Make the Pork Filling.  Put a large skillet on medium-high heat.  Add the oil to the pan and then add chopped white onions.  Cook onions until softened and lightly carmelized, about 5-7 minutes.  Pour in the sherry or rice wine and let it cook out.  Lower the heat to medium and add in the diced pork.  Cook this mixture for an extra 2 minutes.  Meanwhile, mix all the rest of the ingredients (except chives) in a small bowl to create a slurry.  Add the slurry to the pork and onion mixture, wait for it to come to a boil, and cook the filling until it becomes dark brown and translucent.  Turn off the heat and transfer the filling to a medium bowl.  Cover the filling and set it aside to cool to room temperature.  When filling has completely cooled, mix in all but 2 Tbsp of the chopped chives.  The remaining 2 Tbsp of chives are used later to garnish the buns.
2.)  Make the Water Roux.  Place a 1/2 cup of cold water into a small saucepan and add the 2 Tbsp of bread flour.  Mix well until the mixture resembles homogenized milk, then turn on stove top to medium heat.  Cook the roux until it thickens up and has the consistency of a thick yogurt, making sure to keep the mixture a pure white color by not overcooking.  The mixture should not exceed 150 degrees F.  Place the mixture into a small bowl and cover with plastic wrap, making contact with the top surface of the roux (to prevent a skin from forming).  You should end up with about 1/3 cup of roux, ready to use when it has cooled back down to room temperature.
3.)  Make the Dough.  Using the bowl of a stand mixer, place all the wet dough ingredients (including the roux) into the mixing bowl.  Place the bowl in the stand mixer with a dough hook attachment and start to mix on low speed.  Add the yeast, sugar, milk powder, and custard powder first.  Then add the bread flour gradually, a cup at a time, scraping down the insides of the mixing bowl periodically.  Increase the speed to low-medium and continue to mix until the shaggy mass becomes a soft and supple ball of dough.  If necessary, gradually add a teaspoon of water at a time until the dough comes together.  Knead the dough for 10 minutes.  Transfer the ball of dough to an oiled bowl to proof, lightly coating all sides of the dough with some of the same oil.  Cover the bowl lightly with plastic wrap.  Let the dough proof in a warm, draft free place for 30-40 minutes or until the mass has doubled in volume.
4.)  Portion Out the Dough.  After the dough has doubled in volume, punch it down and transfer it to a work surface lightly dusted with bench flour.  Give the dough a few light kneadings, then portion dough out into 16 equal pieces.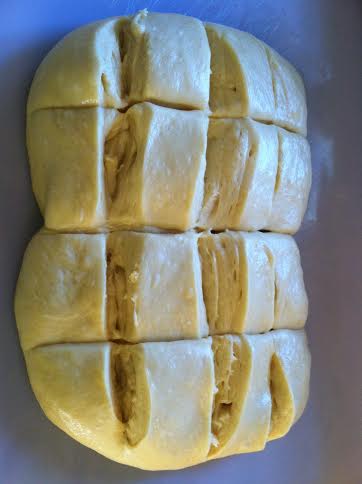 5.)  Make the Buns.  Roll out each of the 16 dough pieces into a roughly 4″ round or square, making sure to keep the thickness of the dough even throughout in each piece.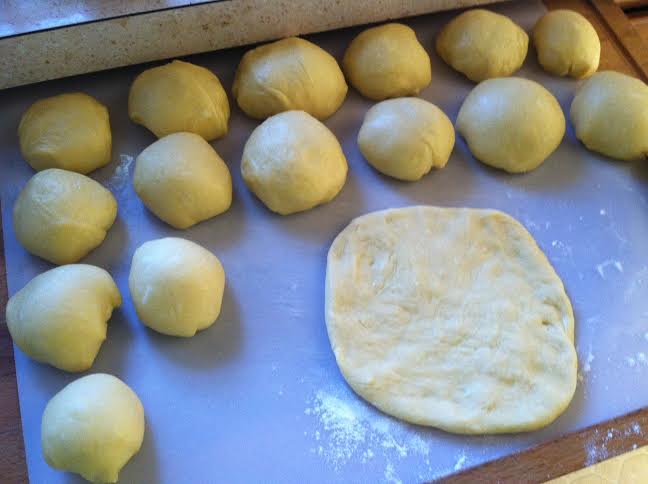 Fill each flattened piece with 1 1/2 Tbsp of meat filling.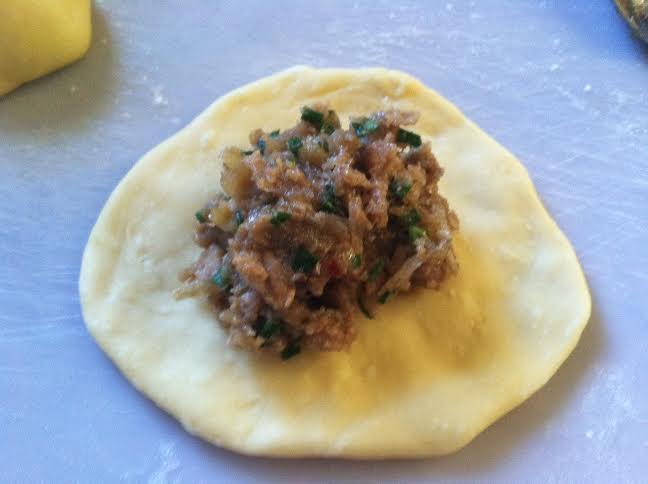 Gather the edges to pinch and seal, then flip the bun over so that the smooth side faces up.
Place buns into cupcake cases and transfer to a 12 hole muffin or tart pan, then cover loosely with plastic wrap.  Let the buns rise for 30-40 minutes, or long enough for them to have doubled in puffiness.  Meanwhile, pre-heat the oven to 350 degrees F. Or otherwise, if you are going to steam the buns, place them on little parchment circles, and let rest for 15 minutes or so.
6.)  Finish and Bake, or Steam.  After the second rising, brush the tops of the buns with egg wash, then sprinkle with sesame seeds.  Bake in oven for about 15 minutes, or until buns turn a light golden brown.  Remove from oven, transfer to a cooling rack to sit for a few minutes, then give the buns a generous brushing of thinned honey.  Sprinkle with fresh chives and serve!
If you want to steam the buns, fill wok or stockpot with 3-4″ of water.  Set water on high heat and let it come to a full boil.  After the 15 minutes of proofing have elapsed, place the steamers in/on top of the wok/stockpot and cook on high heat for 8 minutes, or until the buns are puffy, fluffy, and risen. This is the first time I've ever made these, and I didn't have one of those adorable wooden round basket steamers I see on all the adorable serious dim sum blogs. Will have to get one for future dumplings–as there will be many more dumplings, I'm hooked!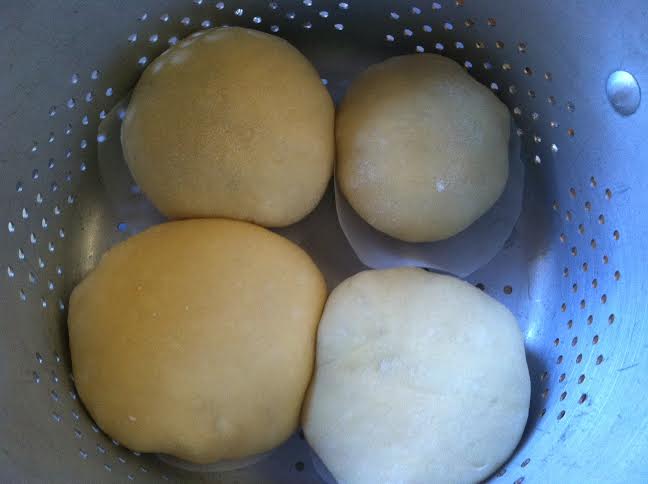 Photographs courtesy of Karl-Peter (long-suffering husband), and lovely dishes courtesy of Marilyn (mother-in-law who rescued these orange and slate floral dishes from her grandmother Hilda's posthumous treasure troves–not the cute Asian tea kettle or teacups, though those are also Marilyn's. Dishes make all the difference in food photography, methinks. That is my secondary New Year's Resolution.)
Also, I will resolve this year to drink more tea. Oh this world, dumplings full of goodness yet unknown. Happy New Year.
This post shall be featured at www.sourdoughsurprises.blogspot.com