It is going to take daily dance parties if I am going to survive this winter. Blood needs to flow; meanwhile, all liquid outside my body has stopped. Our driveway is puddled with glass, and every day I'm dancing against friction to keep myself upright. These veggies burgers are a foreshadowing of grilling days to come. Come quickly, thaw.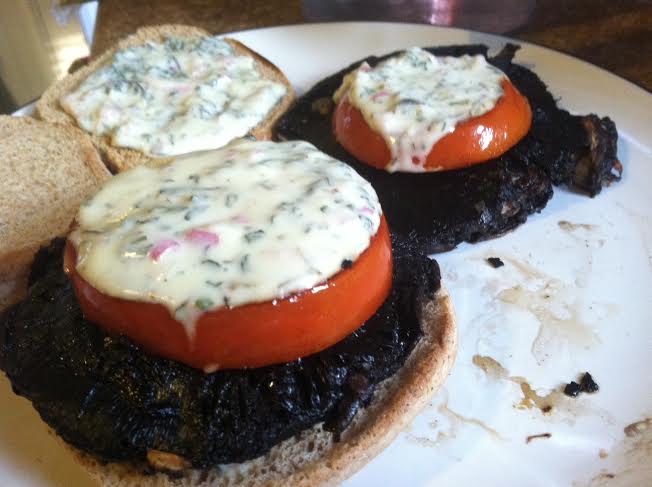 Tomato-Portobello Stacks with Wasabi and Cheater's Bearnaise
Adapted from Food and Wine
2 tablespoons minced shallot
1 1/2 tablespoons tarragon vinegar or white wine vinegar
Kosher salt
Pepper
3/4 cup mayonnaise
1 tsp wasabi (or as you like it)
1 tablespoon minced tarragon
Extra-virgin olive oil, for brushing
6 large portobello mushrooms, stems discarded
One 1-pound beefsteak tomato, cored and cut crosswise into six 1/2-inch-thick slices
Thinly sliced scallions, for garnish
In a bowl, whisk the shallot and vinegar with a generous pinch each of salt and pepper; let stand for 5 minutes. Whisk in the mayonnaise, wasabi, tarragon and 1 1/2 tablespoons of water. Season the béarnaise sauce with salt and pepper.
Light a grill and brush with oil. Brush the portobello caps with oil and season with salt and pepper. Grill over moderately high heat, turning once, until lightly charred, 6 minutes. Transfer to a plate. Brush the tomato with oil and season with salt and pepper. Grill, turning once, until lightly charred, 3 minutes total. Set the tomatoes on the portobellos.
Spoon the béarnaise on the tomato slices. Transfer the stacks to the grill and close the grill. Cook over moderate heat until the sauce is just hot, 3 minutes. Transfer to plates, garnish with scallions and serve.
Haiku #28
Long Minnesota
Winters chill my soul worse than
God's indifference
Haiku #29
Frostbite on moped
Rides—I am an idiot—
A full body fist.