Challenge accepted and well-met! At the last bug-foodie party I went to, a lovely woman named Joy gifted me a sack of Bitty cricket flour and said, "You're the baker." She meant for me to invent a bread recipe using cricket flour. Well, here it is, world. Brought it to a dinner party last night and thought about waiting until everyone had already eaten a few pieces to make the "Oh by the way, there are crickets in this bread" public service announcement, but there is a known cross-reactivity allergy in people who cannot have shellfish, so I forewarned the whole group. Everyone took a slice, and several took two! This is the spongiest, yummiest whole grain bread I've made in a while. Enjoy.
Spelt Cricket Bread
3 cups spelt flour
1 cup cricket flour
2 cups all purpose flour
1 1/2 cups sourdough starter
1 tablespoon kosher salt or 2 teaspoons table salt
1 1/2 cups lukewarm water
2 cups plain whole-milk yogurt
Mix sourdough and water and yogurt until well combined. You can do this by hand, using a dough whisk or big spoon; or in a stand mixer. Then blend in the flours. Let dough rest 40 minutes, covered, and then add the salt in another 20 mL of water.
Cover the dough, and let it rest at cool room temperature for 2 hours.
At this point, you can cover and refrigerate the dough for up to 7 days. The flavor will gradually become more assertive and tangier, as the yeast continues to grow and create organic acids.
Scoop off a 1-pound piece of dough – about the size of a large grapefruit. You'll get 3 to 4 loaves out of the entire batch of dough, depending on how big you actually make the loaves.
Shape into a boule or a batard.
Let the bread rise for about 90 minutes.
Towards the end of the rising time, heat the oven to 450°F. If you're using a pizza stone, put it on a lower-middle shelf. Whether or not you're using a stone, place a shallow pan – such as a broiler pan, or small rimmed cookie sheet – on the lowest oven shelf.
Have 1 cup of hot water ready; you're going to pour it into the pan in the oven to create steam.
Make a couple of quick, aggressive cuts in the loaf and put it into the hot oven – either on your stone or, if it's on a baking sheet, on the oven rack.
Pour the hot water into the pan below, and shut the oven door.
Bake for 25-30 minutes, or until it sounds hollow when thumped.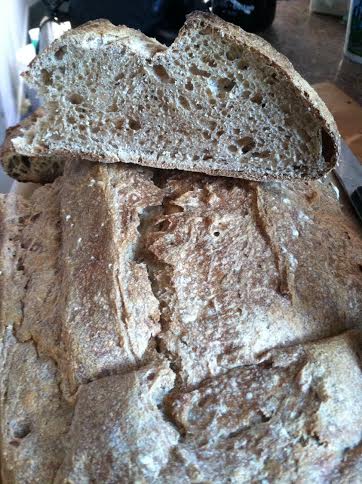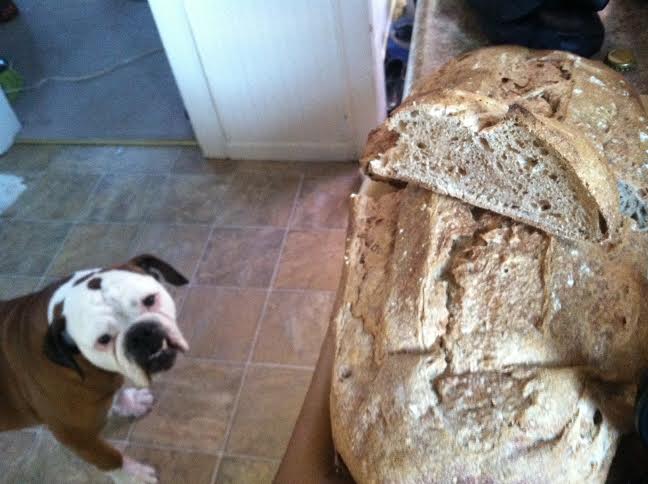 My bulldog plotting an ambush. I also made a boule because this recipe makes so much dough. If you don't want to make all the bread at once (4 1-lb loaves) you can put the remainder in the fridge (covered in saran) and do it over a week.