Let me not to the marriage of two minds admit impediment. Love's not love which alters when it alteration finds, or bends with the remover to remove. Oh No. Love is an ever-fixed mark that looks on tempests and is never shaken. It is the star to every wand'ring barque, whose course is unknown, but its heights be taken…  This is the one Shakespearean sonnet I have committed to memory and could bust out if ever the mood of the moment called for someone to stand on a table in a restaurant or bank and Oh Captain my Captain a room of lovers to believe again in the power of words to stoke the heart's fire. The conviction and spit and vigor in the cadence of iambic pentameter commands the volta of spirit—and so when I get to the final line of the famous verse, I am always near tears with faith again.
If this be error, and upon me proved, then I never writ, nor no man ever loved.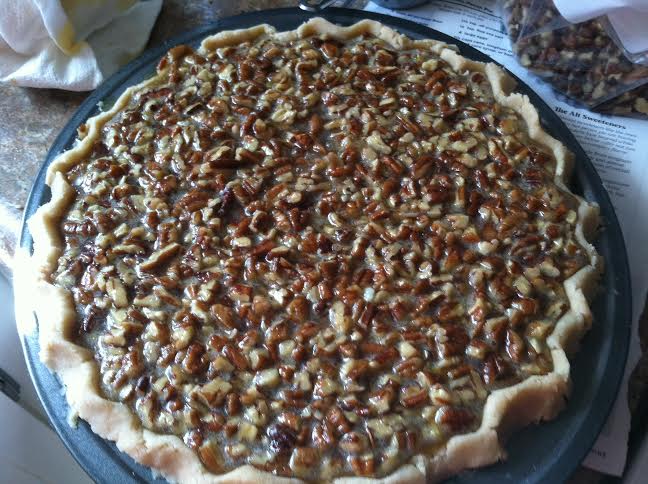 Bourbon Pecan Pie for Lovers
Adapted from Food and Wine
PIECRUST
2 cups all-purpose flour
1/3 cup packed light brown sugar
3/4 teaspoon fine sea salt
1 stick plus 7 tablespoons unsalted butter, melted and cooled
FILLING
1/2 cup granulated sugar
1/4 cup packed light brown sugar
1 1/2 teaspoons all-purpose flour
1/2 teaspoon fine sea salt
4 large eggs
1 1/2 cups cane, sorghum or dark corn syrup, or honey (I used honey because it is more floral, and the Amish folks really make the nice raw stuff here in Minnesota)
2 tablespoons bourbon
1 1/2 tablespoons unsalted butter, melted
1 1/2 teaspoons pure vanilla extract
1 3/4 cups unsalted pecan halves (1/2 pounds)
MAKE THE PIECRUST In a bowl, whisk the flour with the brown sugar and salt. Stir in the butter until the dough comes together into a ball. Transfer the dough to a deep 9-inch glass or ceramic pie plate. Using your fingers, press the dough over the bottom and up the side of the plate to the rim. Crimp the edge with your fingers or a fork. Refrigerate for at least 20 minutes or up to 3 days.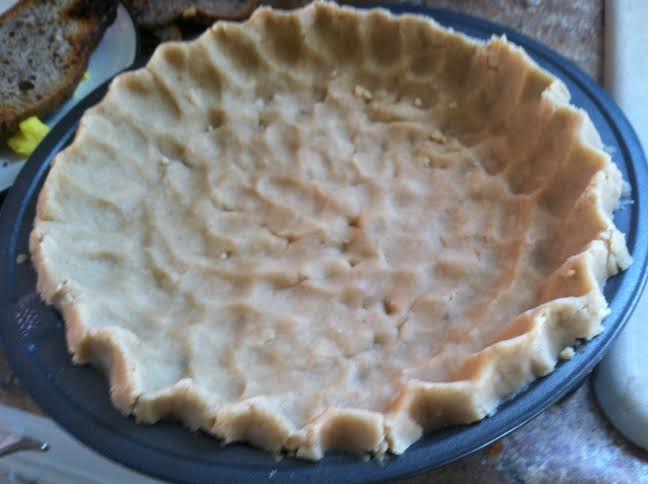 MAKE THE FILLING Meanwhile, preheat the oven to 350°. In a bowl, whisk both sugars with the flour, salt and eggs until smooth, then mix in the syrup or honey. Add the bourbon, butter and vanilla and fold in the pecans.
Pour the filling into the chilled crust and transfer the pie to a foil-lined baking sheet. Cover loosely with foil and bake for 1 hour, until the filling is nearly set. Transfer the pie to a rack and let cool completely, about 4 hours, before serving.
PS—I believe everyone should have AT LEAST one sonnet memorized for good measure. Times call for well-spoken love, and you better be ready.
Haiku #40 (Feb 9)
Sleeping folded as
A receipt forgotten in
Carry-on nethers.
Haiku #41 (Feb 10)
The hawk perched upon
A snow-covered bough, while the
Squirrel, above, tip-toed.
Haiku #42 (Feb 11)
And miles to go and
Miles to go and miles to go
Before I sleep, and.
Haiku #43 (Feb 12)
To feed the furnace,
Serve beef chili and slice the
Fire-roasted cornbread.
Haiku #44 (Feb 13)
Jazz performs magic:
Namely, the trick of turning
Red into pure verb.