I am mad at biology—this, my ruminative thought while stuck with the flu on the couch under three blankets, swaddled in my leopard fleece robe and topped with a rabbit pelt-lined hat. Nothing hurries a common virus, it comes and goes as it must. I can only flush it again and again with fluids; how sick I am of lemon flavored Gatorade! I somewhat blame the outdoors, as each time I let Izzy out, when the wind whips my face, my headache throbs even harder and I feel as though this flu is winter's way of sabotaging my Zen attitude toward the bitterness cold can bring.
Don't worry, I didn't make this with my germy hands today. This is a recipe I prepared months ago but deferred to post for reasons I cannot now recall. But hey, Chinese New Year is here! Make some Asian meatballs! It's year of the Sheep, so substitute lamb if you dare. I'd go for pork because these were delicious (and because I'm a product of the Year of the Rat, I'm stubborn and don't care if I disregard annual themes.) For the record, worst Mardi Gras ever.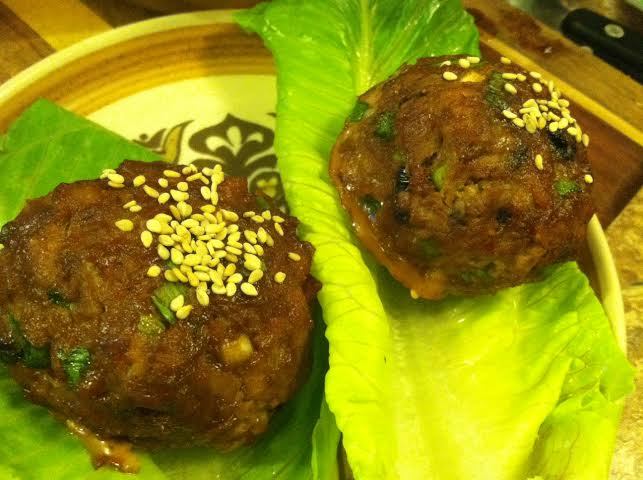 Asian Pork Meatballs
Adapted from the Food Network
For the meatballs:
2 tablespoons olive oil
3 cups thinly sliced green cabbage (about 1/4 head)
Kosher salt
Freshly ground white pepper
2 large eggs plus 1 egg white
1 1/2 pounds ground pork
4 scallions, minced
3 cloves garlic, minced
1 2 -inch piece ginger, peeled and finely grated (about 1 tablespoon)
3 tablespoons low-sodium soy sauce
1 tablespoon toasted sesame oil
2 teaspoons sugar
2 teaspoons cornstarch
For the sauce:
1/2 cup hoisin sauce
2 teaspoons Sriracha chile sauce
1 teaspoon rice vinegar
1 tablespoon sugar
3 tablespoons sesame seeds
1 head Boston lettuce, leaves separated
Make the meatballs: Preheat the oven to 400 degrees F and line a baking sheet with parchment paper. Heat 1 tablespoon oil in a large nonstick skillet over medium-high heat. Add the cabbage and season with 1/4 teaspoon salt; cook, stirring occasionally, until softened, about 4 minutes. Transfer the cabbage to a plate to cool.
Lightly beat the eggs and egg white in a large bowl. Add the pork, scallions, garlic, ginger, soy sauce, sesame oil, sugar and cornstarch. Add the cabbage and a few grinds of pepper and mix with your hands until just combined (do not overmix). Dampen your hands and shape the meat mixture into 18 balls (about 2 inches each); arrange on the prepared baking sheet.
Make the sauce: Mix the hoisin sauce, Sriracha, vinegar, sugar and 1 tablespoon water in a bowl; set aside 1/2 cup for serving. Brush the meatballs with the remaining sauce and sprinkle with the sesame seeds. Bake until cooked through, 18 to 22 minutes. Serve in lettuce leaves with the reserved sauce.
These were just fantastic. If I could remain upright for more than an hour, and/or if I had an appetite, I'd make them right now.
Haiku #45 (Feb 14)
We young lovers saw,
Instead of the Sex flick, the
One on Alzheimers.
Haiku #46 (Feb 15)
A chicken pecks a
Rubber band for ten minutes
While I worry on.
Haiku #47 (Feb 16)
I have worn all the
Wool I own and still snow falls
Thicker than blankets.
Haiku #48 (Feb 17)
Crows dance on rooftops
As though the stuff of our lives
Mere props in their play.
Haiku #49 (Feb 18)
Pathognomonic
Signs of flu: ankle-algia
And achy hairtips.