Well if I had pralines for breakfast, I suppose it's a sign that I'm returning to good health (or rather, evidence that indeed I do share genetic material with the estimable lifelong confectioneer, Ruth Broomfield.) Between Whiplash and Birdman, jazz featured prominently this year at the Academy Awards, and something about jazz gets me in a Southern mood. For our annual Awards fest, I prepared a bayou table of gumbo and bread pudding. Friends who recently returned from NOLA brought king cake and hurricanes and pralines. And yes, I do know what it means to miss New Orleans. Especially now when the thermometer refuses to climb into the positive digits.
Painted a renewable Academy Awards scoreboard for parties to come– I think this was our sixth annual. Best costume, among our party guests, went to Bill Van Vugt, former engineer, who dressed as Alan Turing with a slide rule (and a pocket slide rule!) and a badge that said, "You need me more than I need you." Brilliant!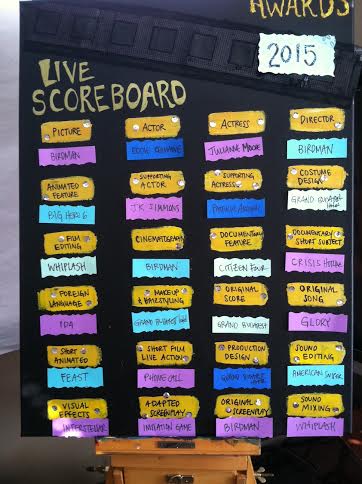 By the way, best thing in parties since plastic utensils: Chalk board party hats! You can design your own decal! And, no chalk involved, you just scratch on the hat and color appears. Magic.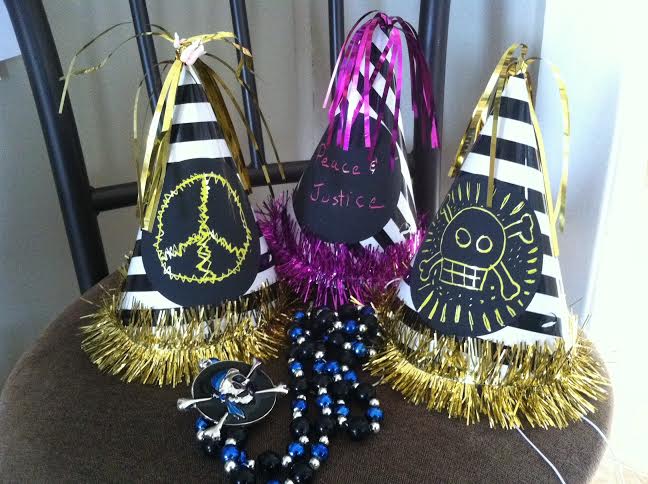 For the party, I considered taking down the Christmas card clotheslines I've had up since the holidays, but I chose to leave them on the walls for the time being; these cards, as totems of the love that supports us around the world, factor into the perception of warmth required to survive this winter. The faces and the words of family members, near and far, more than constitutes a hearth in our home that has no fire place. We're burning with love over here.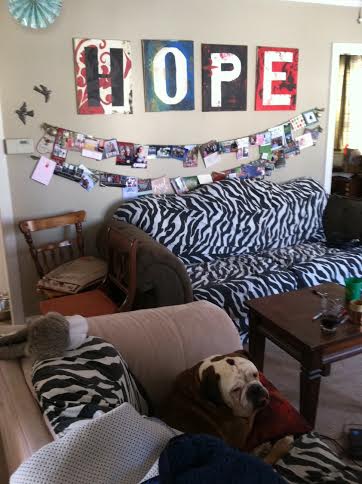 Chicken-Andouille Gumbo
Adapted from Bon Appetit
Serves 12
Stock
1 3½–4-lb. chicken
1 large onion, peeled, quartered
2 large carrots, peeled, coarsely chopped
2 celery stalks, coarsely chopped
2 tablespoons black peppercorns
1 tablespoon dried basil
1 tablespoon dried oregano
Gumbo
½ cup olive oil
1 pound andouille sausage, sliced ¼" thick
½ cup all-purpose flour
1 large onion, finely chopped
1 large green bell pepper, finely chopped
4 celery stalks, finely chopped
8 garlic cloves, finely chopped
Kosher salt and freshly ground black pepper
1 tsp thyme
2 bay leaves
2 tablespoons Louisiana hot sauce
Cooked brown rice and sliced scallions (for serving)
Stock
Bring chicken, onion, carrots, celery, peppercorns, basil, oregano, and 12 cups water to a boil in a large stockpot. Reduce heat, partially cover, and simmer, skimming surface as needed, until meat is falling off the bone, about 1 hour.
Transfer chicken to a cutting board. Let cool slightly, then remove meat from bones and shred into bite-size pieces; discard skin and bones.
Strain stock through a fine-mesh sieve into a clean pot (or airtight container if not using right away); discard solids. You should have about 12 cups.
Do Ahead: Stock can be made 2 days ahead. Let cool, then cover and chill, or freeze up to 3 months. Let meat cool; tightly wrap and chill.
Gumbo
Heat oil in a large Dutch oven or other heavy pot over medium-high. Cook sausage, stirring occasionally, until beginning to brown, about 4 minutes. Using a slotted spoon, transfer sausage to a plate.
Whisk flour into oil in pot and cook, whisking constantly, until roux is the color of a brown paper bag and smells nutty, about 4 minutes. This step is the KEY. Take care with making sure your roux is slowly developed. Roux can make or break a gumbo. If you mess it up, get some file powder and add that to thicken the broth.
Add onion, bell pepper, celery, and garlic to roux; season with salt and pepper. Cook, stirring often, until vegetables begin to soften, about 5 minutes.
Add stock, chicken, sausage, thyme sprigs, and bay leaves to pot. Bring to a boil, reduce heat, and simmer until liquid is slightly thickened and vegetables are soft, about 1 hour. As sometimes happens, I forget to take a picture of the food I made, especially in the chaos of party settings, and all the gumbo was eaten before I could photograph it– but gumbo isn't very photogenic anyway. All that to say, I only captured the gumbo in teh broth stage: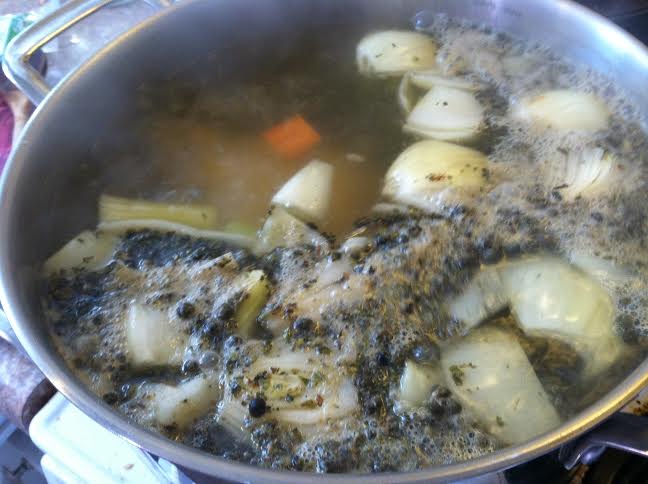 Add hot sauce to gumbo, season with salt and pepper, and simmer 30 minutes to let flavors meld; discard bay leaves.
Serve gumbo over rice topped with scallions.
To make bread pudding, first you need BREAD! I like to use my basic Country Tartine.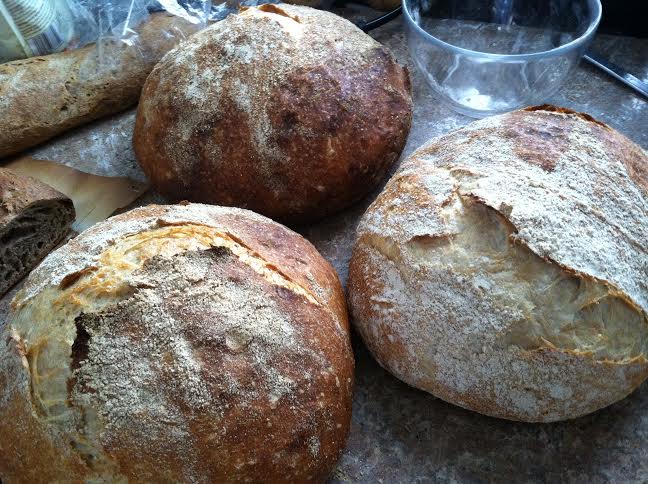 Bread Pudding
Adapted from Penzeys, for the record, this isn't my favorite bread pudding I've ever made, but it was okay.
2  loaves day-old French bread
1/4  Cup butter
5  eggs
3  TB. cinnamon
2  Cups dark brown sugar
1/2  Cup sugar
1/4  Cup maple syrup
3  TB. vanilla
3  Cups milk
Hard Sauce:
1/2  Cup (1 stick) butter
1  Cup dark brown sugar
1/4 Cup bourbon
1  egg
The night before you are going to make the bread pudding, tear the loaves of bread into pieces. Place them in a large pan and place them under the broiler on low to brown. Stir a few times and watch so they don't get too brown.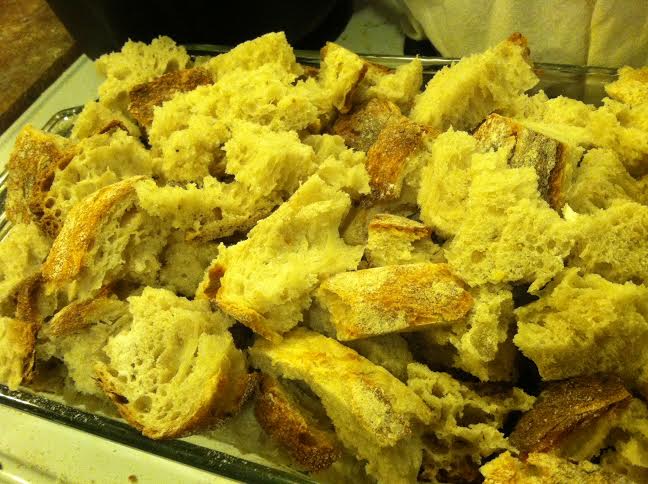 The following day, remove the bread pieces to a very large bowl. You can use the same pan you used to brown the bread for the bread pudding. Grease the pan (Tara uses cooking spray). Cut your butter into pieces and place in the bottom of the pan. Place the bread pieces on top. In a medium bowl, beat the eggs with the cinnamon, brown and regular sugars. Add the syrup, vanilla and milk and mix well. Pour the mixture over the bread and let soak for at least 1 hour, gently using a spoon to press the liquid into the bread periodically. Bake at 350° for 30-45 minutes, until golden brown. Remove from the oven and poke all over with a fork so the sauce can sink into the pudding.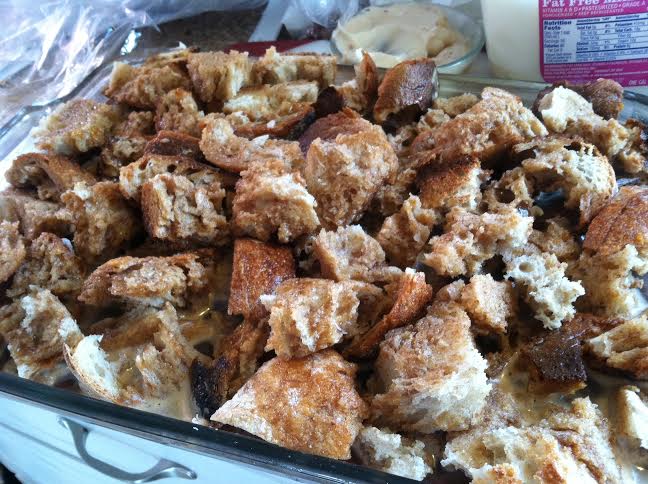 For the Hard Sauce: Melt the butter in a heavy saucepan over low heat. In a small bowl, whisk the egg. Add the sugar and whiskey to the butter. Once the sugar has dissolved, slowly temper the egg into the sauce. Do this by drizzling 1 TB. of the liquid over the egg and whisking/stirring to combine. Once you've done this 4 times, slowly pour the mix back into the pot, stirring continuously. This keeps the egg from getting too hot too quickly and scrambling. Pour over the bread pudding and serve. You can also pour half over and serve the other half on the side.
Meh. It was okay. But the gumbo was sublime— will make that again and again and again.
Haiku #52 (Feb 21)
But health is enjoyed
In the ignorance that you
Will lose it, said Greer.
Haiku #53 (Feb 22)
The bulldog slept through
The Awards, smug after she
Reddened our carpet.