The preparation of "Rank Order Lists," a tragic game of favorites used to match medical students with their residency institutions, is a phenomenon I'd also liken to Box of Lies, a Jimmy Fallon mixer that KP and I appropriated this year for our annual Christmas present-as-prize spectacle with our families.
The awkward chicanery on both sides of the interview window and the romantic sequelae which follow can drive an earnest medical student into a primitive regressed stage of anxiety. Fortunately, I avoided the fetal position, but have become embarrassingly hyper-vigilant, having checked the NRMP website about twelve times this morning to pinch myself into the assurance that I've actually certified the thing correctly. Next stop: Match Day– when what lurks within the box is made known, for better or for worse.
Meanwhile, on to stress-eating. This here is not a healthy soup, but oh heavens, is it comfort food. And there are enough servings to feed a conga line of 25 nervous medical students. I dedicate this one to my hometown landmark:
I Live Under the Corn Tower Chowder
Adapted from Penzeys
8 oz. bacon, chopped
1/4 Cup olive oil
6 Cups chopped yellow onions (4 large)
4 TB. Butter
1/2 Cup flour
2 tsp. salt
1 tsp. ground black pepper
1/2 tsp. turmeric
12 Cups chicken stock
6 Cups medium white potatoes,  unpeeled, diced (2 lbs.)
10 Cups corn kernels (10 large ears)
2 Cups half & half
1/2 lb. sharp white cheddar cheese, grated
Directions
In a large pot, cook the bacon in the olive oil over medium-high heat until the bacon is crisp. Remove the bacon with a slotted spoon and set aside on a paper towel-lined plate to drain. Reduce the heat to medium; add the onions and butter and cook for 10 minutes. Stir in the flour, salt, pepper and turmeric; cook, stirring, until thick and creamy—about 3 minutes.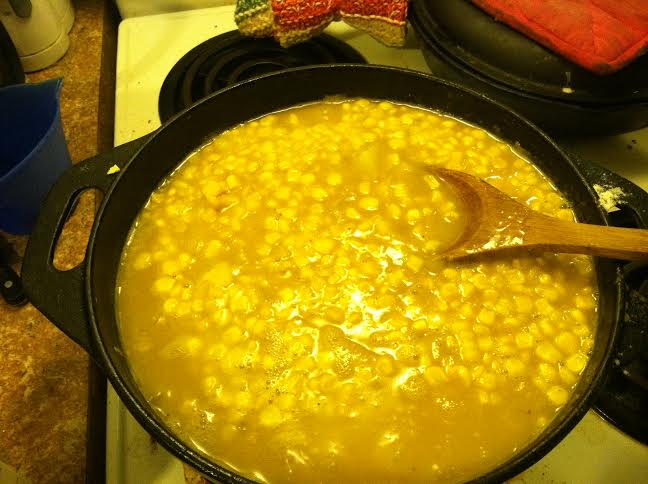 Add the chicken stock and potatoes. Bring to a boil and simmer, uncovered, until the potatoes are tender, about 15 minutes. If using fresh corn, cut the kernels off the cobs and blanch for 3 minutes in boiling salted water and then drain.  Reduce heat to low, add the corn to the soup, and then add the half & half and cheddar. Cook for 5 more minutes until the cheese is melted. Season to taste and serve hot with a garnish of bacon.
Enjoy. And stop rocking back and forth like Harlow's monkey. Everything will be fine. Even if you match at McDonalds.
Haiku #54 (Feb 23)
In some dimension
Of space-time, my underpants
Smell of fresh baked goods.
Haiku #55 (Feb 24)
Red nails lacquered in
"Sophistication, with a
Hint of bad choices."