The classic show up to a party a week early and no one is home—that was Saturday. There is such a flurry of socializing in this three week count-down to Match Day, with all the fourth years on didactics (read: we are sleeping normal hours, or not, because we are enjoying each other's company and eating 3x normal human portions on a daily basis, because we can). And in the flurry, my dates got mixed up and I brought this lovely tart to a non-party. It really is a fetching pastry, if I do say so myself. I struggle to photograph food, but this tart was like a Julia Roberts of food. Couldn't help being beautiful.
Almond Toffee Tart
Adapted from Penzeys
Pastry:
2 Cups flour
3 TB. sugar
3/4 Cup cold butter, 11/2 sticks, cut in chunks
2 eggs
Filling:
1 1/2 Cups heavy (whipping) cream
1 1/2 Cups sugar
1/2 tsp. grated lemon peel
1/4 tsp. salt
2 Cups sliced almonds or coarsely chopped hazelnuts
1/2 tsp. vanilla
1/4 tsp. almond extract
Preheat oven to 325°. For the pastry, in a large bowl combine the flour and sugar. Work the butter into the mix using your hands until the mixture resembles fine crumbs. Add the eggs and stir with a large fork until the dough holds together. If you have a food processor, you can pulse together the flour, sugar and butter and then add the eggs and pulse again, but be careful not to over-mix into a wet ball. Press the dough evenly over the bottom and up the sides of a greased and floured 11-12-inch tart pan with a removable bottom.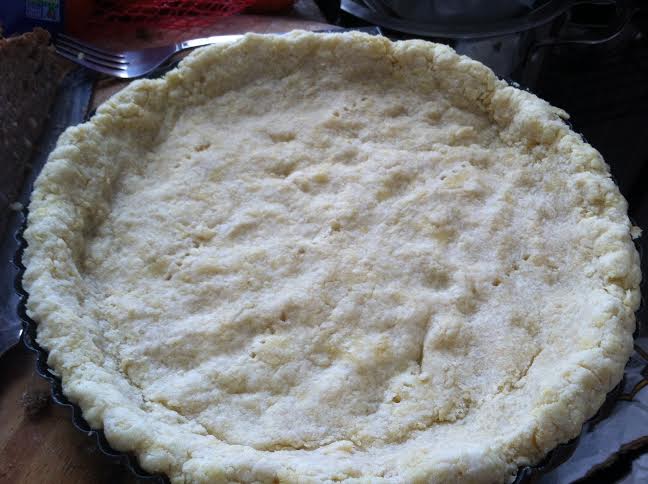 Place the tart pan on a baking sheet and bake at 325° for about 15 minutes or until pale gold. Remove from the oven and set aside. Raise the oven temperature to 375°.
For the filling: in a 2-3-qt. saucepan, combine the cream, sugar, lemon peel and salt. Bring to a boil over medium-high heat, stirring regularly, about 5-8 minutes.
Reduce the heat to medium and cook, stirring often, for 5 minutes. Remove from the heat and stir in the nuts, vanilla and almond extract. Spread the mixture into the pastry shell.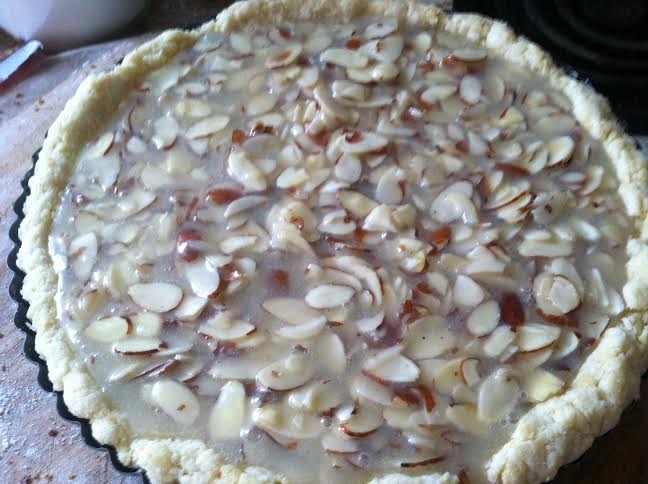 Place the tart on the baking sheet and bake at 375° until lightly browned, about 35 minutes for a 12-inch tart and 40 minutes for an 11-inch tart. Cool in the pan on a wire rack just until warm to the touch. Remove the sides of the pan. If you are making this a day ahead, cover lightly.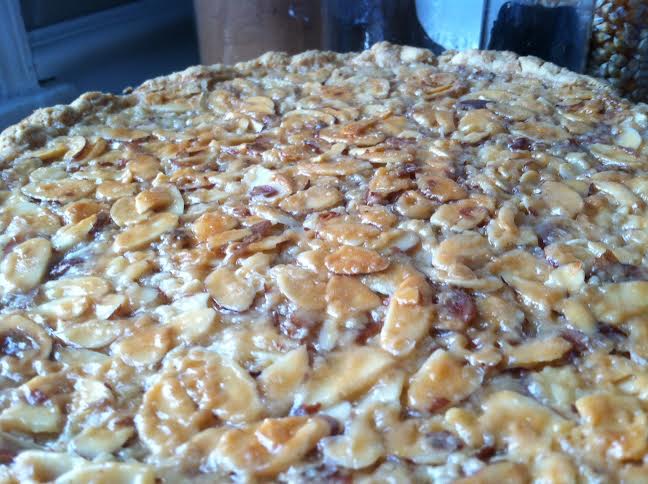 I have a stack of haikus on the bedside table at home—will get those into a post soon, for those who only care about the haiku resolution.