"Please, Ma'am, tell me about your Edible Book project."
"Well I chose Chocolat, after which I fashioned a chocolate ginger bread house decorated like a French chocolaterie."
"Beautiful. And yours?"
"My book is The Color Purple by Alice Walker, and so I decorated a cake with all things purple! Radicchio, purple grapes, dark carrots, tinted cauliflower, and purple flowers."
"Wow, that is impressive. Hmm, tell me about this next one, you made an 'Ezra Pound Cake'?"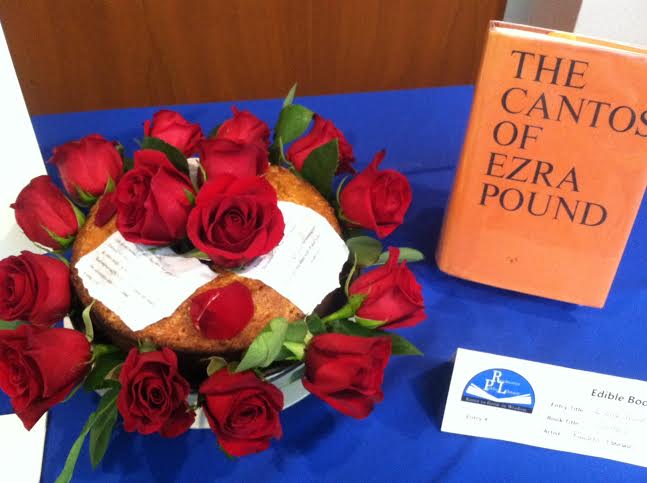 "Yes. Well, on a simple level, there is the obvious pun. But going deeper, I chose the poem 'Envoi"' because of the way Pound wrote it to be a clever pastiche on Edward Waller's 17th century poem 'Go Lovely Rose.' That is why I created a ring of roses and shaped the pound cake into a circle with layers, as Ezra Pound with his Cantos was clearly making allusion to Dante's cantos, the rings of hell arranging moral order into archetonics of landscape—which curiously forms, in the end, the tiered layered structure of a rose, or a balconied cathedral—the ultimate symbol of beauty just as described in Pound's last line of 'Envoi':
When our two dusts with Waller's shall be laid,
Siftings on siftings in oblivion,
Till change hath broken down
All things save Beauty alone.
Interesting, too, to note the potential double-entendre with his diction reminiscent of baking, sifting and 'change hath broken down,' Ahem…"
When I realized that the judges were trying to look anywhere else but at me, I stopped explaining my Edible Book Festival entry and conceded, "Perhaps I thought about this a little too hard." Everyone laughed, in relief, and moved on to the Game of Scones.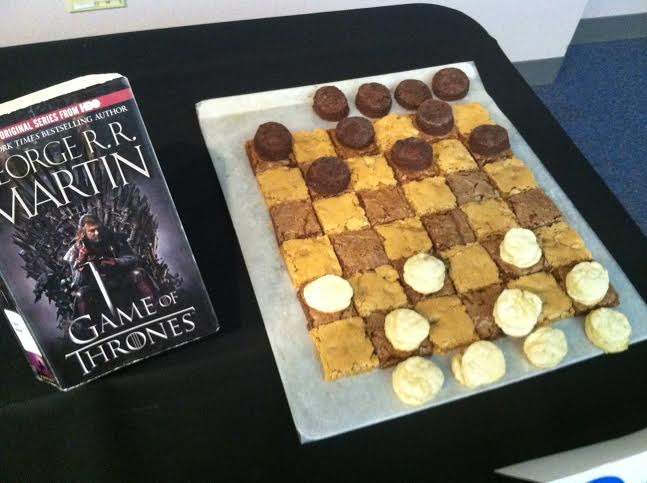 I'm afraid it is deeply ingrained in my character to always try too hard—an approach to life that is sure to set one up for frequent disappointment. Flashback to a clip of my early TV appearance on Captain Kangaroo, The Smile Contest scene: my pig-tailed five-year-old self straining and shaking to sustain a smile so intense it could cause an aneurysm. Then, when my over-the-top smile efforts did not earn me the win, my incessant scream from somewhere over Captain Kangaroo's shoulder, off-camera, stage left, startling whole rows of calm, patient kindergarteners, "What about me!!!!?"
As the Chocolaterie woman won the prize on Saturday, a small voice inside me still shrieked "What about me!?" from the back row. But I've grown up, and now I know the best prizes are the ones you award yourself. Like a dozen roses, poetry, and a pound cake to enjoy for, really, no good reason, on an otherwise plain and ordinary Saturday afternoon.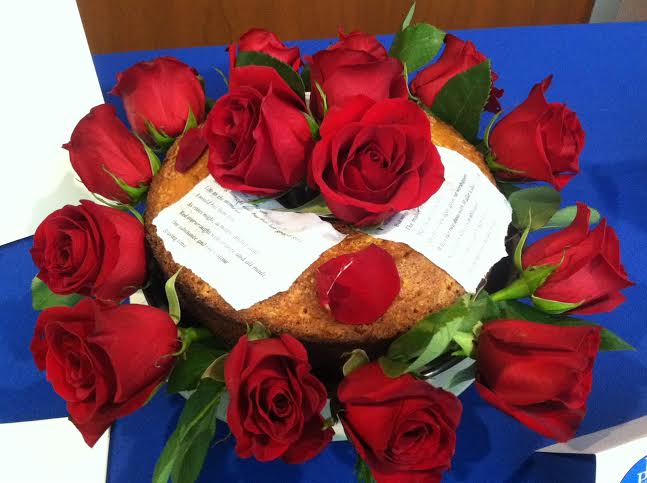 Ezra Pound Cake with Lemon Glaze
Adapted from Baking Illustrated
16 tablespoons unsalted butter (2 sticks)
1 ½ cups cake flour
½ teaspoon table salt
1 1/3 cups granulated sugar
3 large eggs plus three egg yolks
1 ½ teaspoons vanilla extract
1 ½ teaspoons water
Lemon Glaze (Optional)
½ cup granulated sugar (3 1/2 ounces)
¼ cup lemon juice, from 1 or 2 medium lemons
Directions
Adjust oven rack to middle position and heat oven to 325 degrees. Grease 9 by 5-inch loaf pan with 1 tablespoon softened butter; dust with 1 tablespoon cake flour, tapping out excess. You can also use a bundt cake pan, feel free to double the recipe if so.
Soften the butter, but it should still be cool. Beat in a mixer for a minute until silky and smooth. Then add the sugar slowly in multiple additions. Mix together for 3-5 minutes.
In a separate bowl, mix together the whole eggs, the three yolks, water and vanilla. With mixer running, add the egg mixture to the butter slowly. Slow slow slow. You don't want the dough to curdle. If it does, start over because you've lost your air. And you are making this pound cake the old fashioned way, not cheating with baking powder.
Add salt, then sifted flour. Pour batter into prepared pan and bake 70 minutes. Continue to bake until deep golden brown and skewer inserted in center comes out clean. Cool in pan for 10 minutes, then turn onto wire rack.
If using lemon glaze, while cake is cooling in pan, bring sugar and lemon juice to boil in small nonreactive saucepan, stirring occasionally to dissolve sugar. Reduce heat to low and simmer until thickened slightly, about 2 minutes.
Glaze the cake after it has cooled for one hour. Serve and enjoy while reading some Ezra Pound on cooking: Siftings on siftings in oblivion,/ Till change hath broken down/ All things save Beauty alone.
If you want to "glue" Pound's stanzas to your finished product, wait till it has cooled and then using a spray bottle of water, wet the paper with the poem printed on it and spray also the surface of the pound cake. It should stick without too much effort.
I placed the pound cake on a stack of several small plates, and filled a cake pan up with water to keep the roses fresh while appearing to grow out from beneath the crumb.
All in all, it was a lovely festival hosted by the Rochester Public Library. There was a book cake we enjoyed together.
KP DJed two hours of music with food themes. "Sweet Potato Pie," "Peaches," "Just Eat it" (admittedly, the majority of tunes were by Weird Al Yankovich.)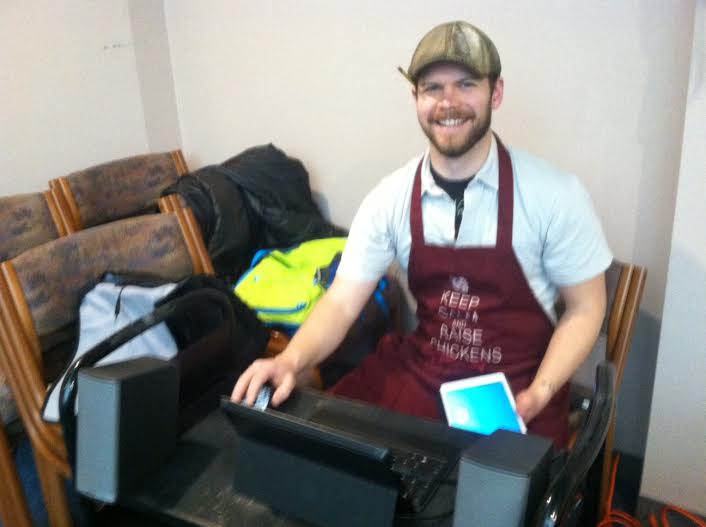 Here included is the poem that inspired the Ezra Pound Cake, and also, the Waller poem that inspired the Pound poem, a lovely pastiche.
Envoi
BY EZRA POUND (1920)
Go, dumb-born book,
Tell her that sang me once that song of Lawes:
Hadst thou but song
As thou hast subjects known,
Then were there cause in thee that should condone
Even my faults that heavy upon me lie
And build her glories their longevity.
Tell her that sheds
Such treasure in the air,
Recking naught else but that her graces give
Life to the moment,
I would bid them live
As roses might, in magic amber laid,
Red overwrought with orange and all made
One substance and one colour
Braving time.
Tell her that goes
With song upon her lips
But sings not out the song, nor knows
The maker of it, some other mouth,
May be as fair as hers,
Might, in new ages, gain her worshippers,
When our two dusts with Waller's shall be laid,
Siftings on siftings in oblivion,
Till change hath broken down
All things save Beauty alone. 
"Go, lovely Rose"
BY EDMUND WALLER (17th century)
Go, lovely Rose—
      Tell her that wastes her time and me,
      That now she knows,
When I resemble her to thee,
How sweet and fair she seems to be.
      Tell her that's young,
And shuns to have her graces spied,
      That hadst thou sprung
In deserts where no men abide,
Thou must have uncommended died.
      Small is the worth
Of beauty from the light retired:
      Bid her come forth,
Suffer herself to be desired,
And not blush so to be admired.
      Then die—that she
The common fate of all things rare
      May read in thee;
How small a part of time they share
That are so wondrous sweet and fair!
——–
And of course, the latest haikus.
Haiku #86 (Mar 27)
Sometimes I go back
to my wedding day to thank
ev'ry rose petal.
Haiku #87 (Mar 28)
I gamble in a
shower cap and trash bag coat.
The thrill: egg roulette.
Haiku #88 (Mar 29)
Everyone must know
what it is to play Judas
on Passion Sunday.