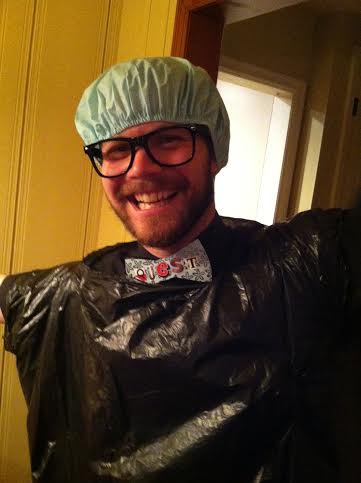 Karl-Peter last weekend, disguised as Quest Love, enjoyed a little bout of Egg Roulette at the Jimmy Fallon-themed Game Night party of our favorite neighbor. Egg is a multi-purpose tool, says Easter. Say the Portuguese.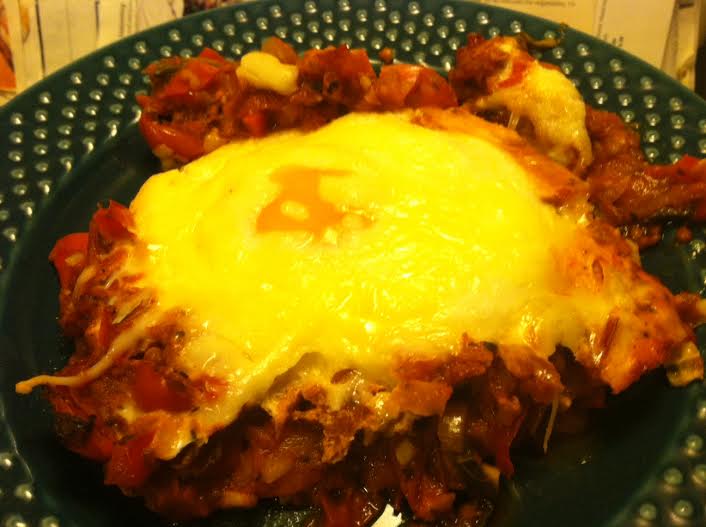 I have to admit I thought this recipe was going to be intolerably gross, but my track record for misjudging cuisine is such that I no longer allow my Yuck Reflex to determine what I attempt in the kitchen. Had I gone with my gut, I would have missed out on this lucky find.
Portuguese Baked Eggs
Adapted from Penzeys Spices
1/4 Cup olive oil
3 bell peppers, thinly sliced
1 medium red onion, thinly sliced
2 large tomatoes, cut into wedges
8 garlic cloves, thinly sliced
1 jalapeño pepper, diced fine
1/4 Cup fresh basil leaves
2 TB. fresh oregano leaves
1 1/2 tsp. chili powder
1 tsp. Hungarian paprika
1/4-1 tsp. salt, to taste
1/4-1⁄2tsp. pepper
1 Cup ricotta cheese
6 large eggs (I like to use Betty's for this. Betty is my Americauna who lays green eggs)
1 Cup grated sharp white cheddar cheese
1/4 Cup grated Parmesan cheese
Toasted country-style bread
Heat the oil in a large heavy pot over medium heat. Add the peppers and onion and cook, stirring occasionally, until softened and just beginning to brown, 10-12 minutes. Add the tomatoes, garlic, jalapeño, basil, oregano, chili powder, and paprika. Reduce the heat to medium-low and continue cooking, stirring occasionally, until the vegetables are very soft and the liquid has thickened, 20-30 minutes. Season with salt and pepper. Discard the jalapeño.
Preheat oven to 400°. Transfer the vegetable mixture to an ungreased 9×13 baking dish. Using the back of a spoon, make 6 evenly spaced divots in the mixture.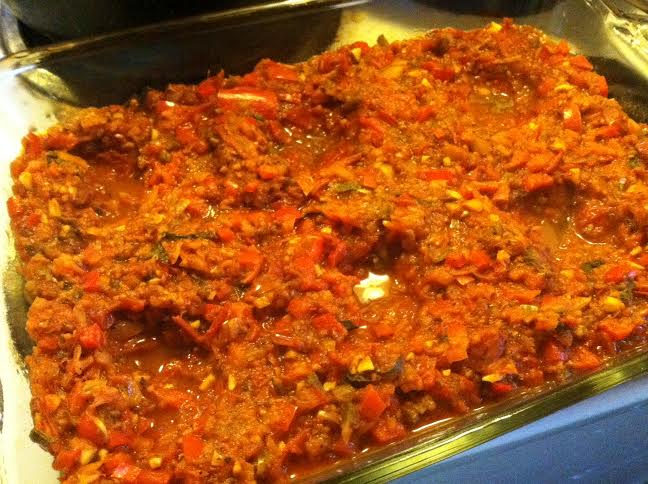 Spoon a dollop of ricotta into each divot, reinforce the divot by making a similar impression in the ricotta cheese,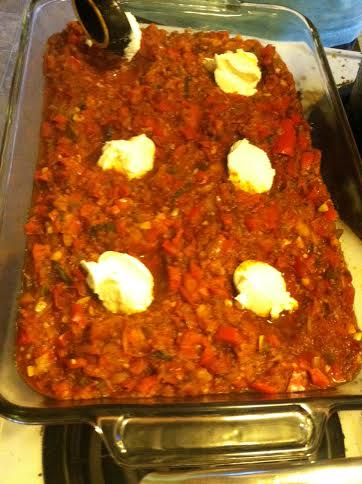 and then crack an egg into each.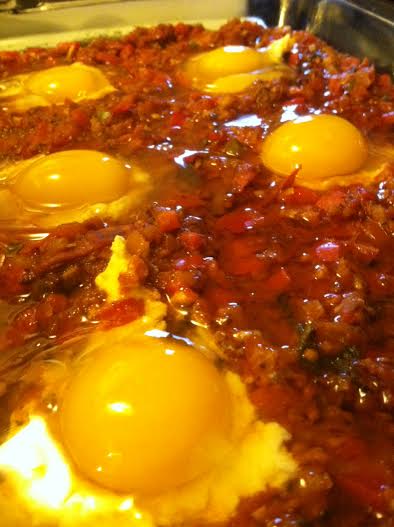 Sprinkle with the cheeses and season with salt and pepper.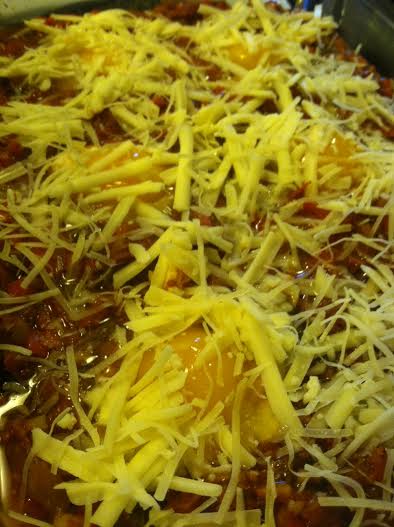 Bake, rotating the dish halfway through, until the cheese is melted and the egg whites are almost set but the yolks are still runny, about 15-18 minutes. The yolks will continue to cook as the dish sits, so serve right away if you prefer your eggs soft. Serve with toast.
Haiku #89 (Mar 30)
Equanimitas-
Great opportunities come
from great challenges.
Haiku #90 (Mar 31)
There is no end to
this longing, I said. Music
reminds us of that.
Haiku #91 (Apr 1)
A glass of wine tastes
more floral when sipped on a
porch the first Spring day.