This evening a curried carrot soup gave me déjà vu. I thought back to November when KP and I were piled high in snow and higher in carrots with our CSA looking to off-load root vegetables and cruciferous goods. This carrot soup is vividly emblazoned in my memory not because of how good it was, I suspect the one I had tonight at a friend's house was better, but because of the fun I had in the kitchen playing with anomalous carrots—carrots which would otherwise be sorted out of the produce section for odd appearance, but which I found to be fuel for the imagination—fuel for rocket carrots. Blast off!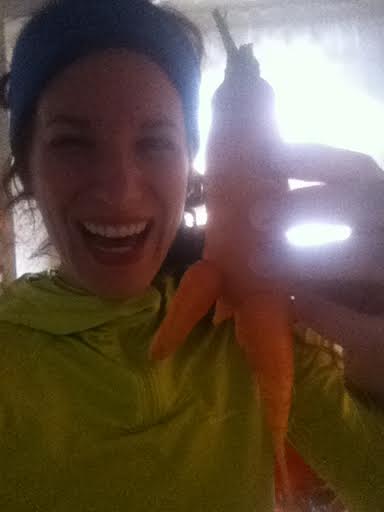 Apparently I forgot to take pictures of this soup, which probably means it was delicious and I rapidly devoured it. Either that or it was horribly photophobic. Just imagine an orange puree in a bowl.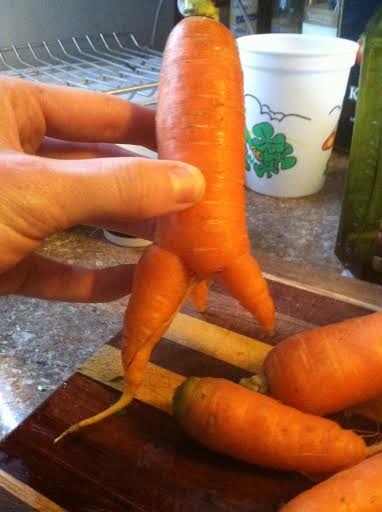 Curried Carrot and Apple Soup
Adapted from Food and Wine—
4 tablespoons unsalted butter
1 medium onion, chopped
1 medium leek, halved lengthwise and thinly sliced crosswise
1 medium fennel bulb, cored and chopped
Kosher salt
Pepper
2 pounds carrots, cut crosswise into 1/4-inch rounds
1 1/4 pounds celery root, peeled and chopped
1 Granny Smith apple, peeled, cored and chopped
7 gingersnap cookies
1 tablespoon Madras curry powder
2 garlic cloves, crushed
1 teaspoon finely grated peeled fresh ginger
2 thyme sprigs
2 quarts chicken stock
1 cup sour cream
1 teaspoon apple cider vinegar
Toasted pumpkin seeds, for garnish
Chopped mint, for garnish
Chopped cilantro, for garnish
In a large saucepan, melt the butter. Add the onion, leek, fennel and a generous pinch each of salt and pepper and cook over moderately high heat, stirring occasionally, until softened and just starting to brown, 9 minutes. Add the carrots, celery root, apple, gingersnaps, curry powder, garlic, ginger and thyme and cook, stirring, until the carrots and celery root soften slightly, 10 minutes. Add the stock and bring to a boil. Simmer over moderate heat, stirring, until the vegetables are very tender, 25 minutes. Discard the thyme sprigs.
Working in batches, puree the soup in a blender with the sour cream and vinegar until smooth. Reheat the soup if necessary and season with salt and pepper. Ladle the soup into bowls, top with toasted pumpkin seeds and chopped mint and cilantro and serve.
Haiku #102 (April 12)
A spray of perfume,
dancing its way through busy
molecules, finds me.
Haiku #103 (April 13)
A red coffee pot
does for the eyes what caffeine
does in the neurons.