KP was not allured to this dinner concept while I referred to it with certain diction—"pea mash"—not a sexy term. "Pea" anything was not what KP wanted to accompany his sea scallops. Usually, we cannot afford scallops, but I was awarded some per diem for a conference, and rather than go out to eat at a fancy restaurant, I chose to bring fancy to my home kitchen cast iron. What could be more fancy than "Scallops on a ricotta spring pea mash," a phrase one can only say with a British or otherwise pretentious accent.
I was appropriately worried that mashed peas would tragically undershadow the scallops, but as it turned out, they were better than gravy. Green gravy, with notes of mint and basil made this dish not only mouth-watering but mouth-cleansing.
Afterwards, it was as though I had eaten blossoms and rain.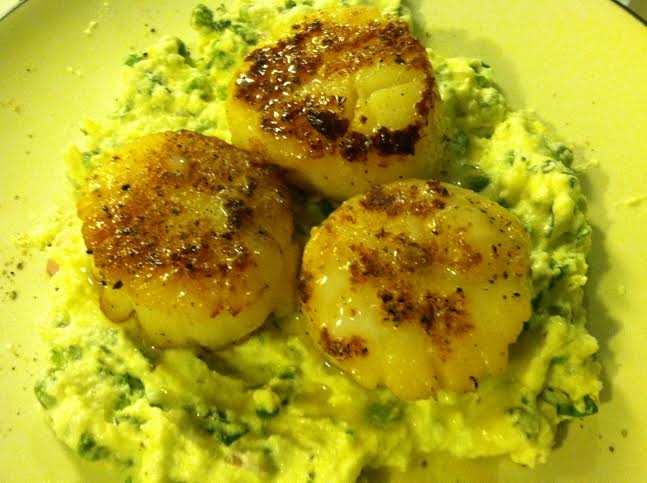 Seared Sea Scallops and Ricotta Spring Pea Mash
Adapted from Food and Wine
CHIVE OIL (very difficult, I abandoned this step after I realize how vast a quantity is two cups of chives)
2 cups chopped chives (4 ounces)
1/2 cup canola oil
Kosher salt
RICOTTA AND SPRING PEA MASH
1 1/2 cups baby peas
3 tablespoons extra-virgin olive oil
3 tablespoons finely chopped fresh mint
2 tablespoons freshly grated Parmigiano-Reggiano cheese
1 tablespoon finely chopped basil
1 tablespoon minced shallot
1 tablespoon fresh lemon juice
1 teaspoon minced garlic
1 cup fresh ricotta cheese
Kosher salt
Pepper
SCALLOPS
1/4 cup extra-virgin olive oil
12 extra-large sea scallops (about 2 pounds)
Kosher salt
Pepper
Chive Oil
Fill a medium bowl with ice water. In a medium saucepan of boiling water, blanch the chives for 10 seconds. Drain, then transfer to the ice bath to cool. Drain well. Squeeze out as much water from the chives as possible and pat dry.
In a blender, puree the chives with the canola oil until smooth. Strain the chive oil through a fine sieve into a bowl, pressing on the solids. Season the chive oil with salt.'
Pea Mash, or, Whirled Peace
In a medium saucepan of salted boiling water, cook the peas just until tender, 2 to 3 minutes; drain well and pat dry. Using a fork, mash the peas until chunky. Stir in the olive oil, mint, Parmigiano, basil, shallot, lemon juice and garlic. Fold in the ricotta and season with salt and pepper.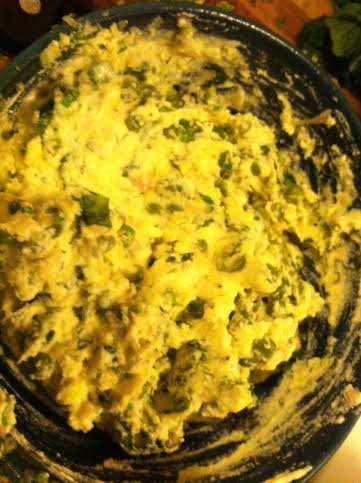 Scallops
In a large nonstick skillet, heat 2 tablespoons of the olive oil. Season the scallops with salt and pepper, add 6 to the skillet and cook over moderate heat, turning once, until golden and just opaque throughout, about 5 minutes per side. Transfer to a large plate. Wipe out the skillet and repeat with the remaining olive oil and scallops.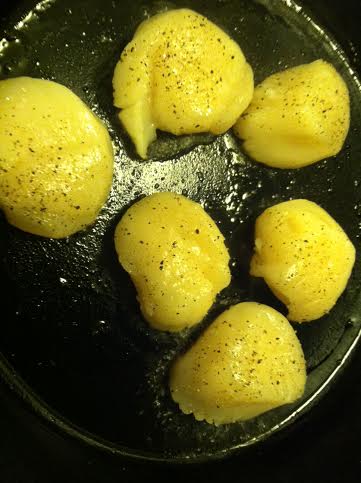 Spoon the mash onto plates and arrange the scallops around it. Drizzle with the chive oil and serve with lemon wedges.
What a delicacy! Thank you, Earth, for scallops.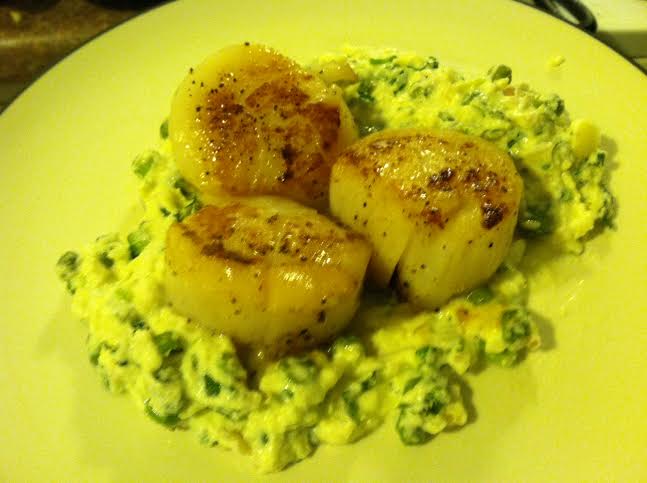 Haiku #110 (April 20)
It's stormy Monday,
and I feel like Scary Spice
both inside and out.
Haiku #111 (April 21)
Cardiology
Toni Braxton's in my head
Oh, unbreak my heart.