For those of you who have come to believe this is a health food blog, with this post, I burst your bubble with a slick sud of saturated fat. As a flexatarian, I readily celebrate calls for exception, calls for wild food abandon, when such calls satisfy certain theology and geometry. Graduating from medical school, say, is one such call. To all the graduates of 2015 and their families, get thee to your grills and brand the slats onto these sinful patties, served with homemade brioche, recipe below. No need to repent. You've done enough flagellating in lecture halls and board exam rooms over the years. And if you're going on to residency next year, you may need a little extra fat under your coat for the 3-7 year distance run ahead.
Spicy 50/50 Burger on Tartine Brioche
Adapted from Food and Wine
INGREDIENTS
3/4 pound ground chuck
3/4 pound hot Italian sausage, casing removed
Salt
Pepper
2 tablespoons extra-virgin olive oil
8 slices of Monterey Jack cheese (1/2 pound)
2 tablespoons water
4 brioche hamburger buns, split and toasted (see recipe below)
1 cup cilantro leaves
Thickly sliced hot or sweet pickled peppers, for serving
In a medium bowl, combine the ground chuck with the sausage just until they are thoroughly mixed. Form the meat into four 4-inch patties, about 3/4 inch thick. Season the patties with salt and pepper.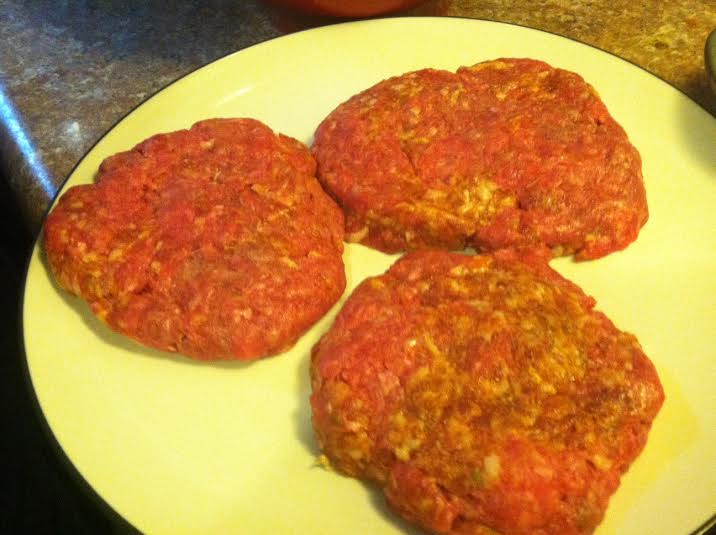 In a large cast-iron skillet, heat the olive oil until shimmering. Add the patties to the skillet and press down slightly with a spatula to flatten them to a 1/2-inch thickness. Cook the patties over moderately high heat until very crusty on the bottom, 2 to 3 minutes. Flip the patties and cook until well browned, about 2 minutes more. Top each patty with 2 slices of the Monterey Jack cheese and add the water to the skillet. Cover the skillet and cook over moderate heat until the cheese slices are melted and the burgers are cooked all the way through, 1 to 2 minutes.
Set the cheeseburgers on the toasted buns and top with the cilantro leaves and sliced pickled peppers. Close the burgers and serve right away.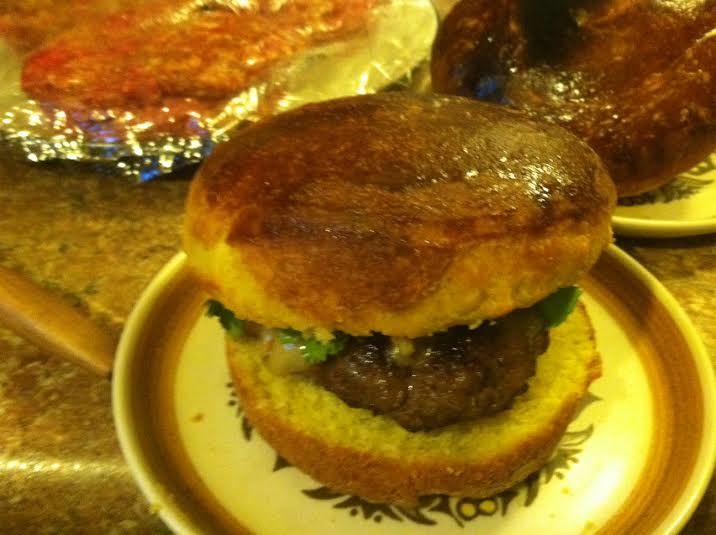 Regarding the brioche, one can feel some modicum of righteousness in the recipe below factoring how butter has been completely replaced by olive oil (albeit a half a kilogram of olive oil, but olive oil nonetheless). The crumb is so light and moist and spongy, and it remains so for days without wrapping–just as you might imagine your skin could be if only our bodies worked to deposit fat there, instead of other shameful places, after we graduate toddlerhood.
Tartine Olive Oil Brioche
Adapted from the Tartine Bread Book
Poolish 400 g  (200 g flour/200 g water—let sit overnight)
Sourdough starter 300 g
Bread flour 1,000 g
Salt  25 g
Dry yeast 15 g
Eggs 500 g
Whole milk 240 g
Honey 160 g
Orange blossom water 50 g (water with a splash or orange juice)
Olive oil 450 g
Egg wash
2 large egg yolks
1 tsp heavy cream
Prepare the poolish and add to sourdough. You will need a mixer. Place the flour, salt, and yeast in the mixing bowl. Add eggs, milk, poolish/sourdough, honey, orange blossom water and mix on low speed for 3 minutes. Let the dough rest in the bowl for 20 minutes. Then mix the dough for 6 minutes on medium, and add the olive oil until the dough is homogenous.
Transfer the dough to a big bowl and let rise for 2 hours for bulk fermentation. Give it two turns in the first hour. Put the dough in the freezer for 3 hours (this is key, I just did the refrigerator, and it exploded in the fridge)—after it has the freezer time, you can transfer the covered dough to the refrigerator and let it be there overnight. If you do not heed my warning, this will surely happen to you:
Coat the molds with butter. Using a spatula, pull the dough onto a floured surface. Cut it into pieces to fit each of your molds.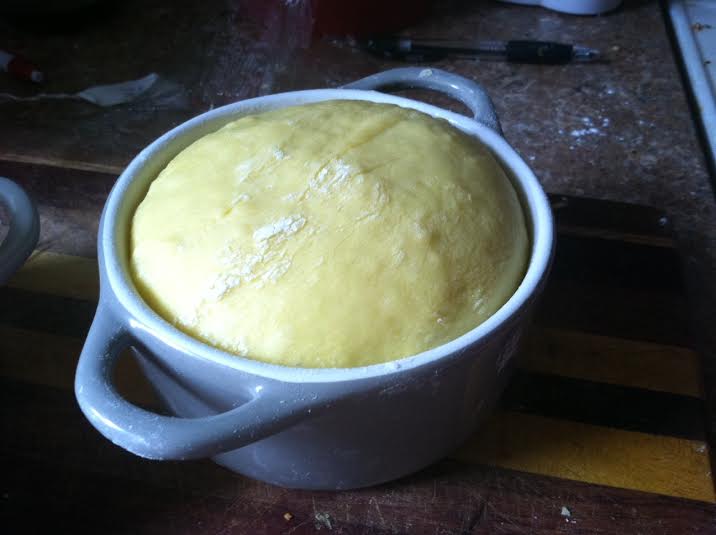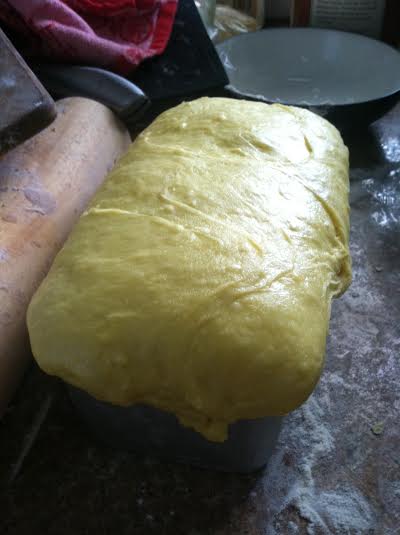 I used two big bread pans and two small ceramic ramekin things so I could make burger-shaped rolls. Let rise in the molds for 1-2 hours. Preheat the oven to 450 degrees. Wash the loaves in the egg wash (beautiful color–exactly the color of our kitchen in the last apartment– and in the photograph below, the artist in me LOVES the shadows on the green egg shells, so paintable, so sfumato…),
and bake for 35-40 minutes (the small ones you can do for 20 minutes). Unmold and let cool on a rack.
Haiku #130 (May 10)
You cannot measure
motherhood by gravida,
only by wingspan.
Haiku #131 (May 11)
In the last verse, an
unexpected fermata
stills me into awe.
Haiku #132 (May 12)
Coffee, black as fuel,
You have been the diesel for
the dump truck: my brain.