I can think of few things for which I am more grateful than my mother coming to live here during my first two weeks of intern year, human training wheels. She has been busy sprucing up the dwelling, cooking meals, kissing my bulldog and mowing my stubborn grass patch with an impossible push mower—basically a butter knife on wheels. I hereby nominate her for sainthood. It is like giving up a sacred cow to not bake my own bread, but the next best thing is to have the loving touch of Mother Dearest. I'm so glad she taught me how to balance–so that when she's gone I know I won't crash. I'll just hear her clapping and whooping from a distance.
Cinnamon Swirl Bread
Adapted from Baking Illustrated
Ingredients:
For dough
1/2 cup half and half or heavy cream
4 TBS (1/2 stick) unsalted butter, cut into 1/2-inch pieces
1 cup sourdough starter
1/2 cup warm water (105-112ºF)
1/3 cup granulated sugar
2 large eggs, room temperature
1 1/2 tsp kosher salt
1 1/2 cups whole wheat flour
1 3/4 – 2 1/4 cups unbleached all-purpose, plus extra for dusting work surface
1 heaping cup of raisins, soaked in hot water, drained, and patted dry
For filling
1/4 cup granulated sugar
5 tsp ground cinnamon
milk for brushing dough
For egg glaze
1 large egg
2 tsp milk
Directions:
For dough: Heat the milk and butter in a small saucepan over medium-low heat (or in the microwave) until the butter melts. Cool until it reaches 110ºF, and add the sourdough starter and let sit for 20 minutes.
Beat in the sugar and eggs at low speed to blend (or stir to combine). Add the salt, warm milk mixture, and whole wheat flour plus 1/2 cup of all-purpose flour (to equal 2 cups of flour total).
Transfer the dough to a lightly oiled large bowl. Cover the bowl with plastic wrap and let the dough rise in a warm place until doubled in size, 2 to 2 1/2 hours. After the rise, punch down the center of the dough once. (At this point, the dough can be refrigerated, covered, up to 18 hours.) Without folding the dough, turn it out onto an unfloured work surface, and let it rest about 10 minutes.
For filling: Grease the bottom and sides of a 9 by 5-inch loaf pan. Mix the sugar and cinnamon in a small bowl.
To shape dough: Press the dough into an evenly shaped 8 by 6-inch rectangle.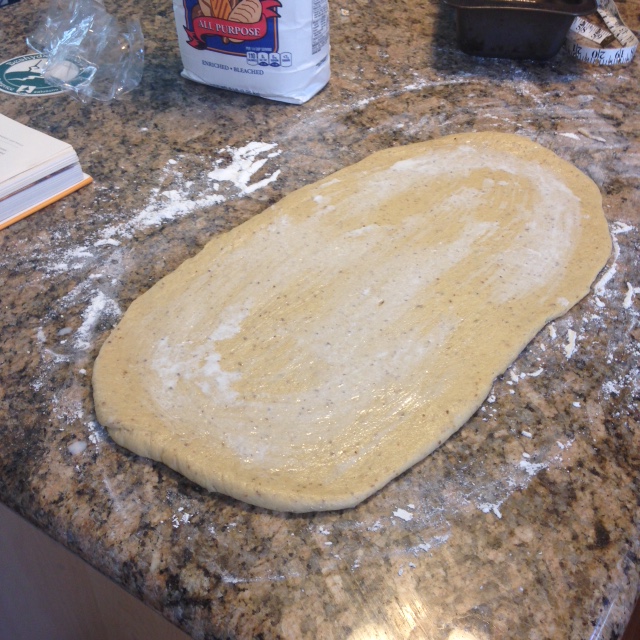 With a short side of the dough facing you, roll the dough with a rolling pin into an evenly shaped 18 by 8-inch rectangle. Brush the dough liberally with the milk. Sprinkle the filling evenly over the dough, leaving a 1/2-inch border on the far side. Starting at the side closest to you, roll up the dough tightly. Push the ends in occasionally to keep it from stretching wider than 9 inches. When you finish rolling, pinch the seam tightly. Push in the center of both ends, and firmly pinch the dough
Place the loaf, seam side down, into the greased pan. Press lightly to flatten. Cover the top loosely with plastic wrap and let rise in a warm place until the dough is 1 inch above the top of the pan, about 1 1/2 hours (1 hour longer if the dough was refrigerated). As the dough nears the top of the pan, preheat the oven to 350ºF with a rack in the center.
Admire the paint job? Thanks Mom.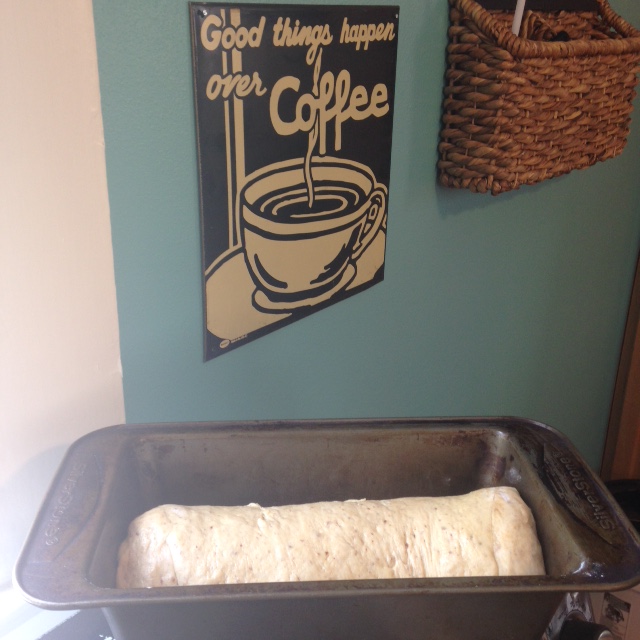 For glaze: Whisk together the egg and milk. Brush the top of the loaf with the glaze
Bake until the loaf is golden brown and an instant-read thermometer reads 185-190ºF, 30-35 minutes. Remove the bread from the pan and cool on its side on a wire rack until room temperature, at least 45 minutes. Don't slice before it cools.
Haiku #193 July 12th
Into the dry ground
we planted succulent sage
and bright lantana.
Haiku #194 July 13th
A new job is a
Revascularization
of the ischemic self.
Haiku #195 July 14th
Got a mosquito
Bite first day at clinic for
Infectious disease.
Haiku #196 July 15th
An island of care
Is not for the land folk but
For those still at sea.
Haiku #197 July 16th
Adolfo's ocean
sauce—crawfish and shrimp melted
into spice and cream.
Haiku #198 July 17th
Now I compensate
with knowledge what I used to
with alkalosis.
Haiku #199 July 18th
No woman no cry
serenaded me on the
way to my first call.
Haiku #200 July 19th
Twelve hours went by
the only food I had to
eat, my liver made.
Haiku #201 July 20th
The hospital is
the one place where I'd rather
not write about it.