On the 18th of July I celebrated my eighth wedding anniversary, and, I was on call in the hospital for the first time as an intern. KP, my husband, was out of town for work training. My call duty went from 6 in the morning until just shy of midnight. I dialed KP when I got to my car at 11:55pm, hoping to catch him before our anniversary day flipped into the next.
"Happy Anniversary, Rachel, are you home yet?" he asked.
"No, I am just leaving the hospital. I'm on my way."
"Oh, good. How'd it go?"
While I drove home, bleary-eyed, we reminisced on the anniversary/graduation trip we had taken to Prague and Budapest in June, knowing that because I would be starting my residency, July would be an impossible time to get away to commemorate our romance.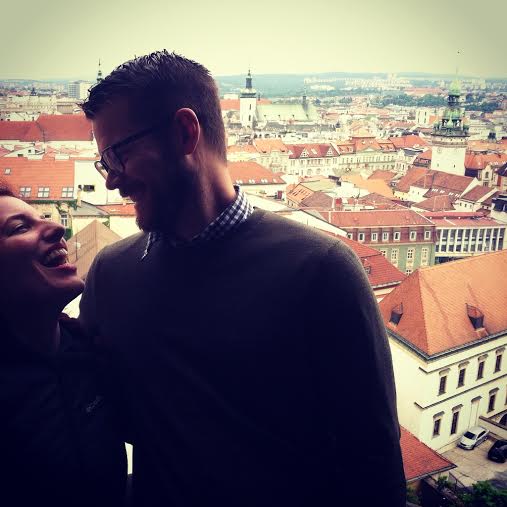 When I pulled into the drive of our new home in New Orleans, from which he was half-the-country away up in Michigan, I wished him goodnight.
"I think I'll stay on the line until you get inside."
"Why?
"You'll see."
Inside, KP had coordinated with his friend Jeremy and my mother to arrange a dozen roses into a bronzed watering can—(the eighth anniversary is the year for bronze gifts and the one thing KP and I are cheesy about with anniversaries is sticking to the anniversary gift schedule.)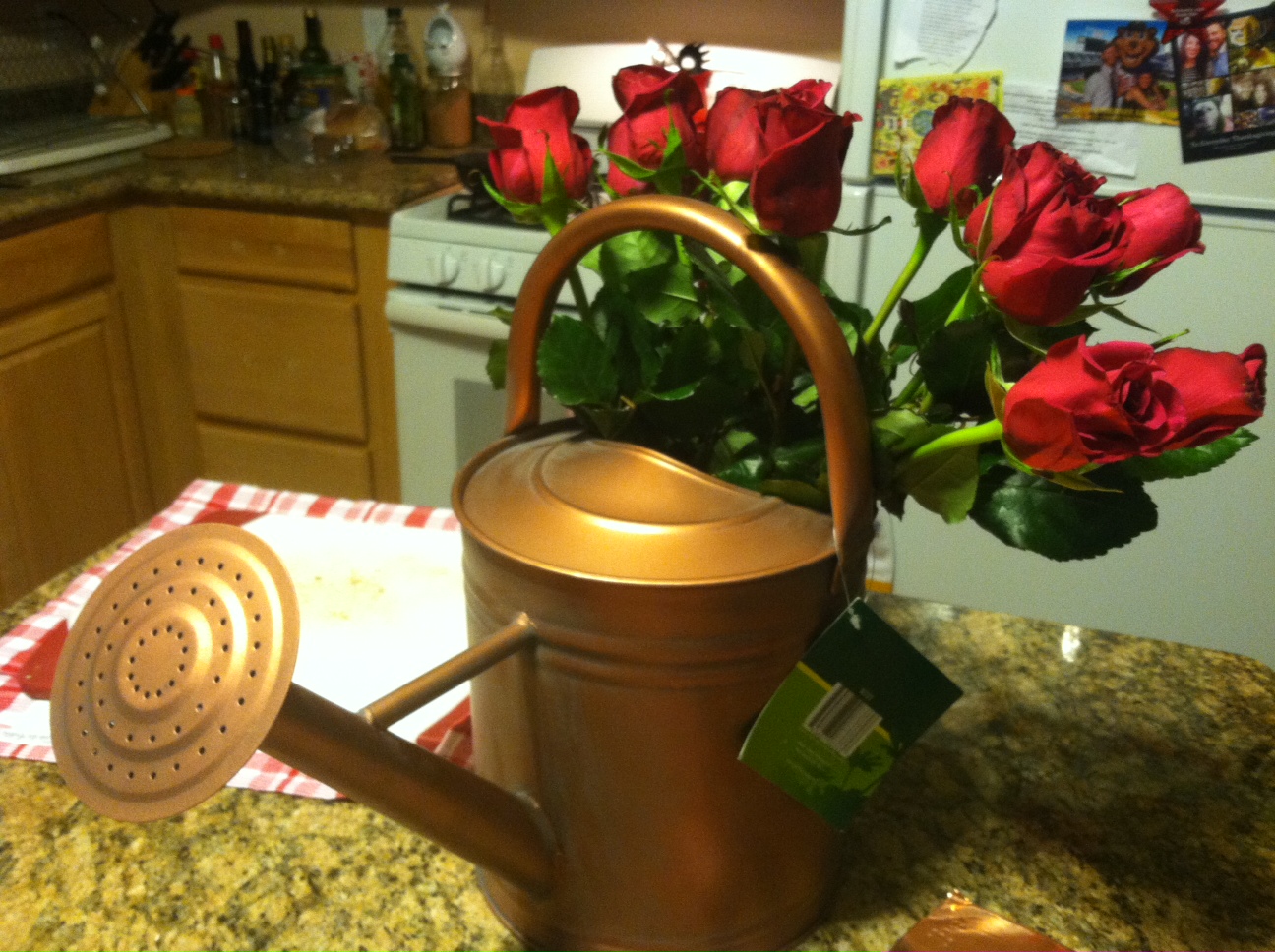 He left a note that said, "Bronze is an alloy that is a stronger material because it is a combination of two metals; like you and me, we are stronger because we combine our passions and visions."
Marriage is the best. The love changes year after year; daily it grows and evolves, though you can't perceive the changes in the minutes and seconds during which they unfold. It's the long, slow, beautiful process of a seed becoming a tree. Love-life requires intention, investment, and hard work, but the sunniest days are those spent in the warm shade of something you and your love have grown together—knowing that all your work has become a sustaining source of provision to you and others.
I am grateful to SunTrust Bank for sponsoring these musings on love and money. SunTrust Bank is launching a campaign to raise awareness and optimism for savings. Rather than saving for a rainy day, SunTrust wants people to think of saving for a Sunny day— your wedding, buying a house, having a baby—all the bright moments in our lives that also require some advance-planning and budget savvy.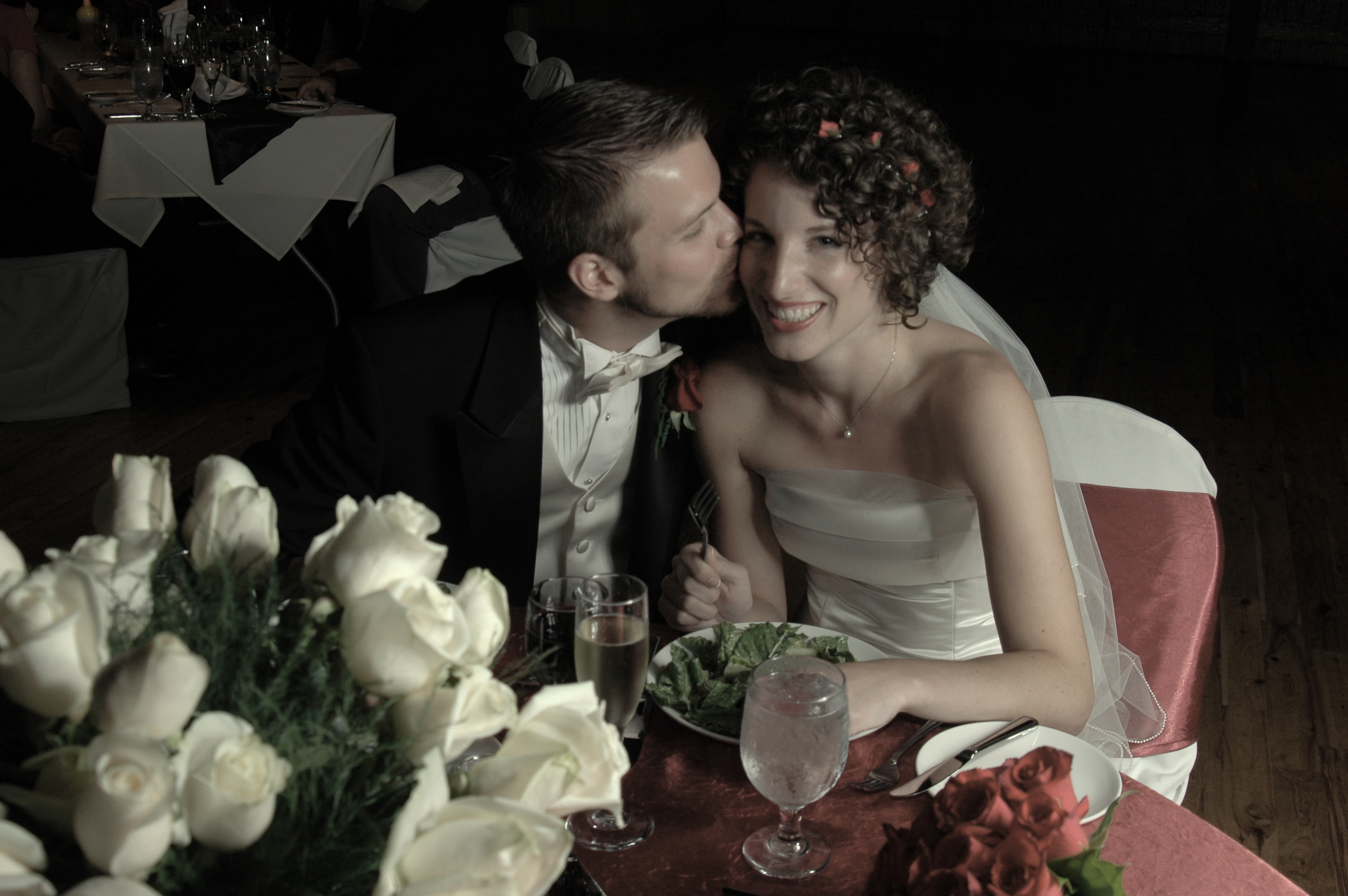 My wedding was mostly a gift from my parents, who are master budgeters, and who have taught me well their wily ways. Starting in elementary school, Mom and Dad gave me a $50/month budget and made me put $5 of that into Savings. With what remained, they taught me to budget into categories of spending: Tithe, Clothes, Food, etc. And I'm still doing my money that way—pulling a 100-200$ chunk of every paycheck into my savings account where I don't touch it, except for Sunny Day stuff (buying a car, big vacations, family travel, family emergencies and WEDDINGS!)
For our wedding, we did a couple of really smart things to save money:
1. Flowers: We bought 20 dozen roses in bulk from Costco (for $260 bucks) and then my Mom, together with her good friend rented a refrigerated truck and drove them to the Bend, Oregon Sunriver Resort and arranged them the night before the wedding. All the other florist bids we got were easily $2,000 for flowers. Ours were beautiful and fresh, and one tenth the cost.
2. We bought centerpiece vases and other wedding favor trinkets from Michaels with one of those super coupons and assembled those ourselves.
3. We didn't go on a honeymoon. Some of this was work schedule-related, but also, we were fresh out of college, we were moving across the country to work in post-Katrina New Orleans as high school teachers, and we did NOT have cash flow to drop on travelling to a tropical resort. But here's my argument: being newly married is a state itself which creates a euphoric setting that really needs little backdrop. We stayed one night at a B and B in Bend, Oregon, and then we road-tripped to New Orleans (through Utah, Colorado, New Mexico and Texas), car-camping at National Parks and stopping at seedy rural outpost diners—and all I recall is that the trip was bliss and all was beautiful. Love adds value to any occasion, it makes priceless what many try to purchase.
Since we've been working for a few years, we've saved for some international trips that we justified as the "Honeymoon we never had," but I don't regret our decision to not go on a honeymoon post-wedding at all—big money saver. Over rated.
4. Don't get a fancy car to take you away from the ceremony, make your exit wild-style with a bicycle stunt! You'll get way more applause. Just so long as Aunt Judy gets off the bike path—steer clear of loved ones!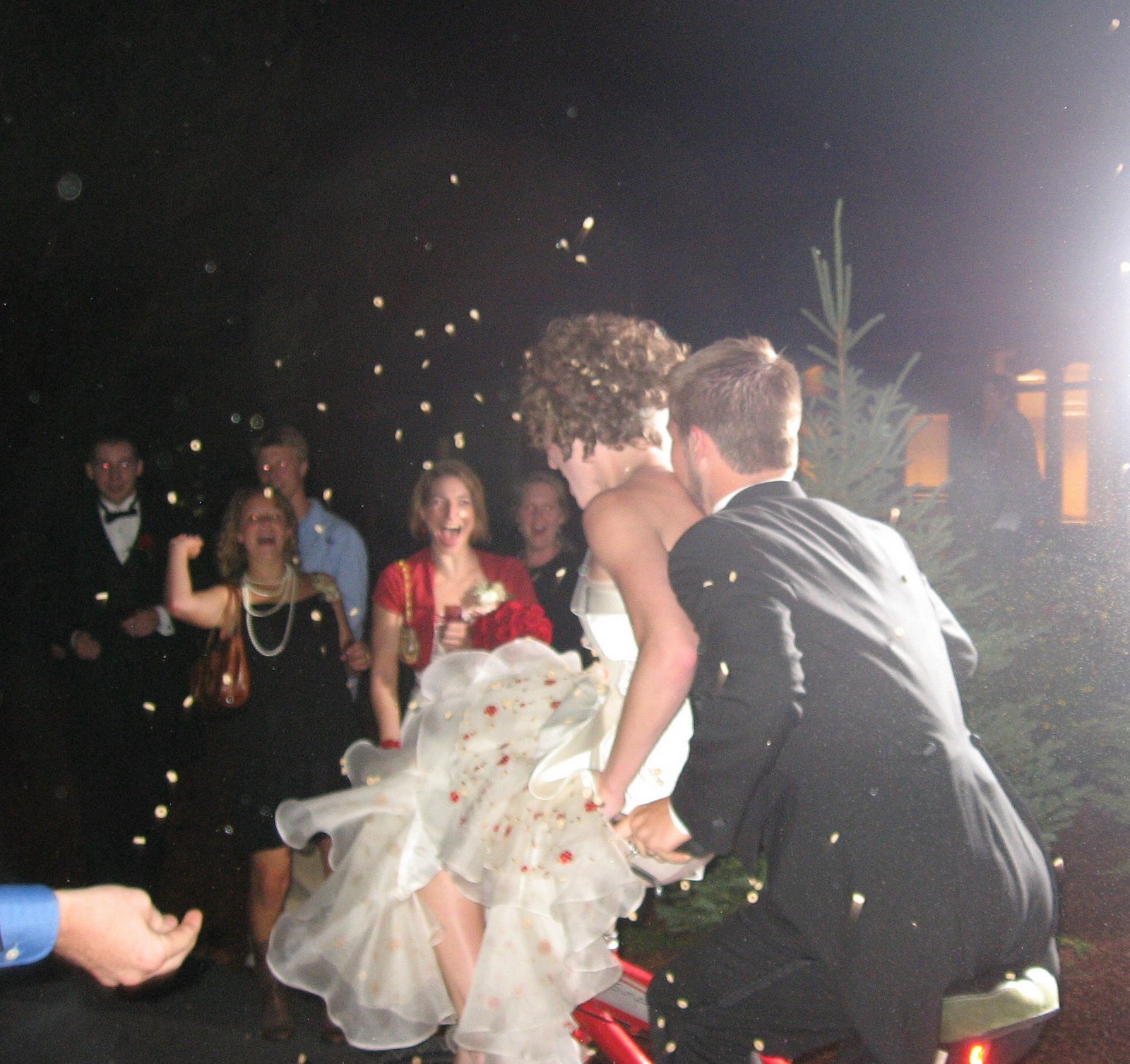 5. Also, and this is my biggest recommendation—skip the whole "bridal party" concept. That way you don't have to decide upon a hierarchy of friends; your friends don't need to spend a bunch of extra money buying dresses/renting tuxes, you don't have to buy a bunch of extra thank you gifts, and you still get to party on the dance floor like you used to in college. We had our immediate family stand around us in a semi-circle as we said our vows so that they could be our wedding party, symbolically. I thought it was lovely.
I got married pre-Google, but I'm sure now there are slick ways to Amazon Prime the wedding of your dreams or Etsy it together from other people's DIY genius.
Some of my sunniest days ahead for this summer and fall are my 30-something friends' weddings. Not 30 weddings, but the weddings of my friends who waited to get married until age 30. The tricky thing about attending or being on the bridal party for 30-something's weddings is the expense, due to the fact that we have a little more cash flow then we did just after college. Recently, there was a summer when KP and I attended four weddings in two months, and when you add up the cost to travel for two, accommodations, bridesmaid dresses (or otherwise snappy outfits), wedding gifts, buying drinks and food and, and, and….if you don't have a line-item in your budget to accommodate "Wedding," you might find yourself Ramening your way to the next paycheck during the busy season.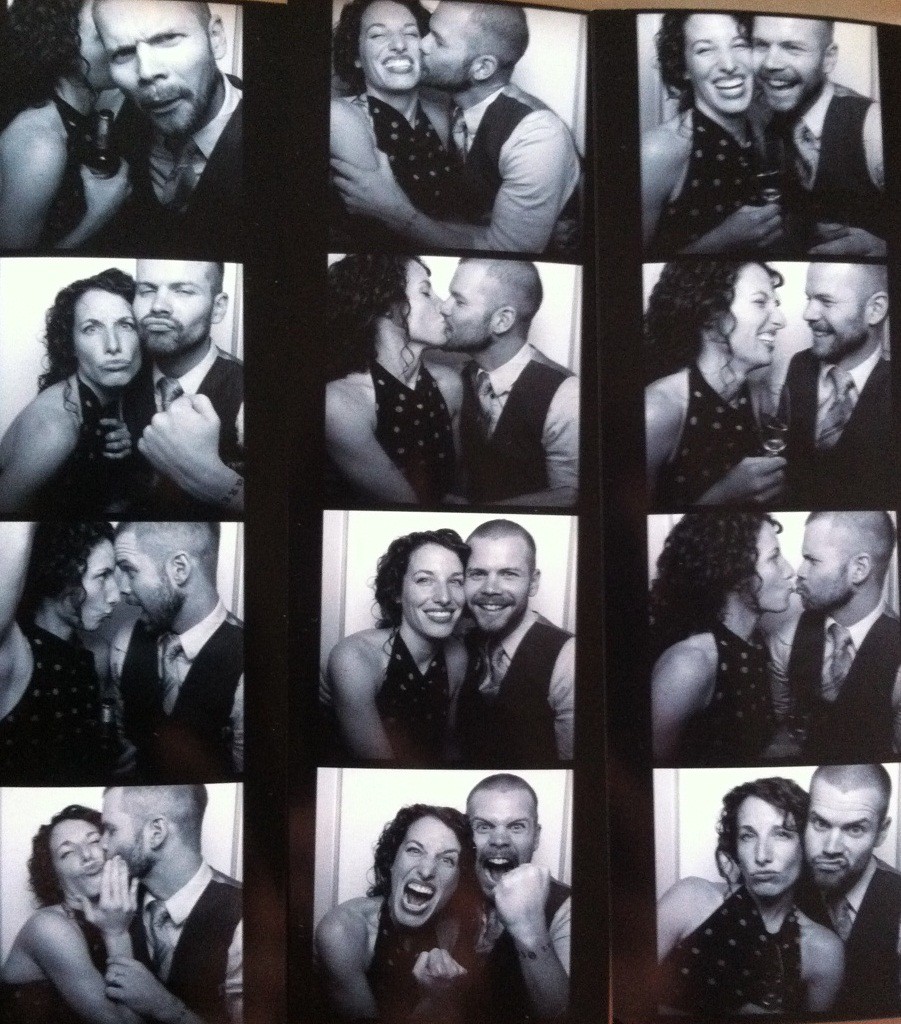 To prevent that, when I get the darling "Save the Date" cards in the mail, just after I arrange to have my schedule cleared and RSVP (I'll have the steak, please), I use the following budget-savvy strategies:
1. Put away $200 into savings and don't touch it until the wedding—this is for the gift, food, and ad hoc expenses during that weekend.
2. Clothes: thrift shop for an awesome outfit (see Goodwill Banana Republic dress above), and limit yourself to 20 bucks. If you're planning a wedding and are asking people to pay for bridesmaid dresses, think about choosing a color, like black or grey, and tell people they can buy their own, or use a dress they already have. This sounds risky, but people generally want to look good when standing in front of a crowd, they don't want to piss off a bride, and they love a chance to get (beg, borrow and thrift shop) a dress or use a dress they actually love and will wear again and again.
3. Travel: Start looking for airfare early, or car pool/road trip if possible. My favorite site is Orbitz because I get hotel dollars for each flight I buy, and they guarantee cheapest rates (they pay back the difference if someone buys cheaper after you've paid! And really, they do—I have gotten several checks!)
4. Lodging: Stay with friends if you know someone in the city where the wedding is, or if you are going with friends, arrange to split the cost of a room and have a sleep over (this really only works for the married w/o kids cohort, obviously)
5. Take the time to personalize gifts rather than compensating with money. With my friends, a well-written card, a hand-crafted poem, or a canvas painted with colors and images I know they love is worth so much more than a $50 gift certificate to Bed Bath and Beyond. At least it is to me. Never feel bad about being tight on money, you can always give a meaningful gift—your friendship is the most valuable touchstone, and any commemoration of that is priceless when compared to an appliance you could buy for yourself.
And of course you know I believe in baking your own desserts. Try this recipe for Black and White Cupcakes–
Black and White Cupcakes
Adapted from Food and Wine
CUPCAKES
1 cup all-purpose flour
1/3 cup unsweetened cocoa powder
1/2 teaspoon baking powder
1/2 teaspoon kosher salt
1/4 teaspoon baking soda
6 tablespoons unsalted butter, softened
3/4 cup sugar
2 large eggs
1/2 cup sour cream (or plain yogurt)
2 1/2 teaspoons pure vanilla extract
FROSTING
2 sticks unsalted butter, softened
4 cups confectioners' sugar
2 teaspoons pure vanilla extract
1/2 teaspoon kosher salt
4 tablespoons milk
1/2 cup unsweetened cocoa powder
1.Make the cupcakes Preheat the oven to 350° and line a 12-cup muffin pan with paper liners. In a bowl, whisk the flour with the cocoa powder, baking powder, salt and baking soda. In a large bowl, using a handheld electric mixer, beat the butter with the sugar at medium-high speed until fluffy. Beat in the eggs 1 at a time, then beat in the sour cream and vanilla until smooth. At low speed, beat in the dry ingredients. Scoop the batter into the lined muffin cups.
2. Bake the cupcakes in the center of the oven for about 17 minutes, until springy and a toothpick inserted in the centers comes out clean. Let cool slightly in the pan, then transfer to a rack to cool completely.
3.Meanwhile, make the frosting In a large bowl, using a handheld electric mixer, beat the butter at medium speed until smooth. Add the confectioners' sugar, vanilla, salt and 2 tablespoons of the milk and beat at low speed just until combined, then beat at medium speed until smooth. Scrape half of the vanilla frosting into a medium bowl. Add the cocoa powder and the remaining 2 tablespoons of milk to the frosting in the large bowl and beat at low speed until fully incorporated.
4. Lay a large sheet of plastic wrap on a work surface with the long side facing you. Using a small spatula, spread the vanilla frosting in a 3-inch-wide strip down the center of the plastic wrap. Spread the chocolate frosting in a 3-inch-wide strip alongside the vanilla. Using the plastic, fold the chocolate frosting over the vanilla, twisting one end of the plastic to seal. Pull the twisted end of the plastic through a pastry bag fitted with a large star tip and cut off the protruding plastic at the tip. Refrigerate the frosting until barely firm, about 15 minutes. Pipe onto the cupcakes and serve.
You could arrange them to look fancy like a wedding dress: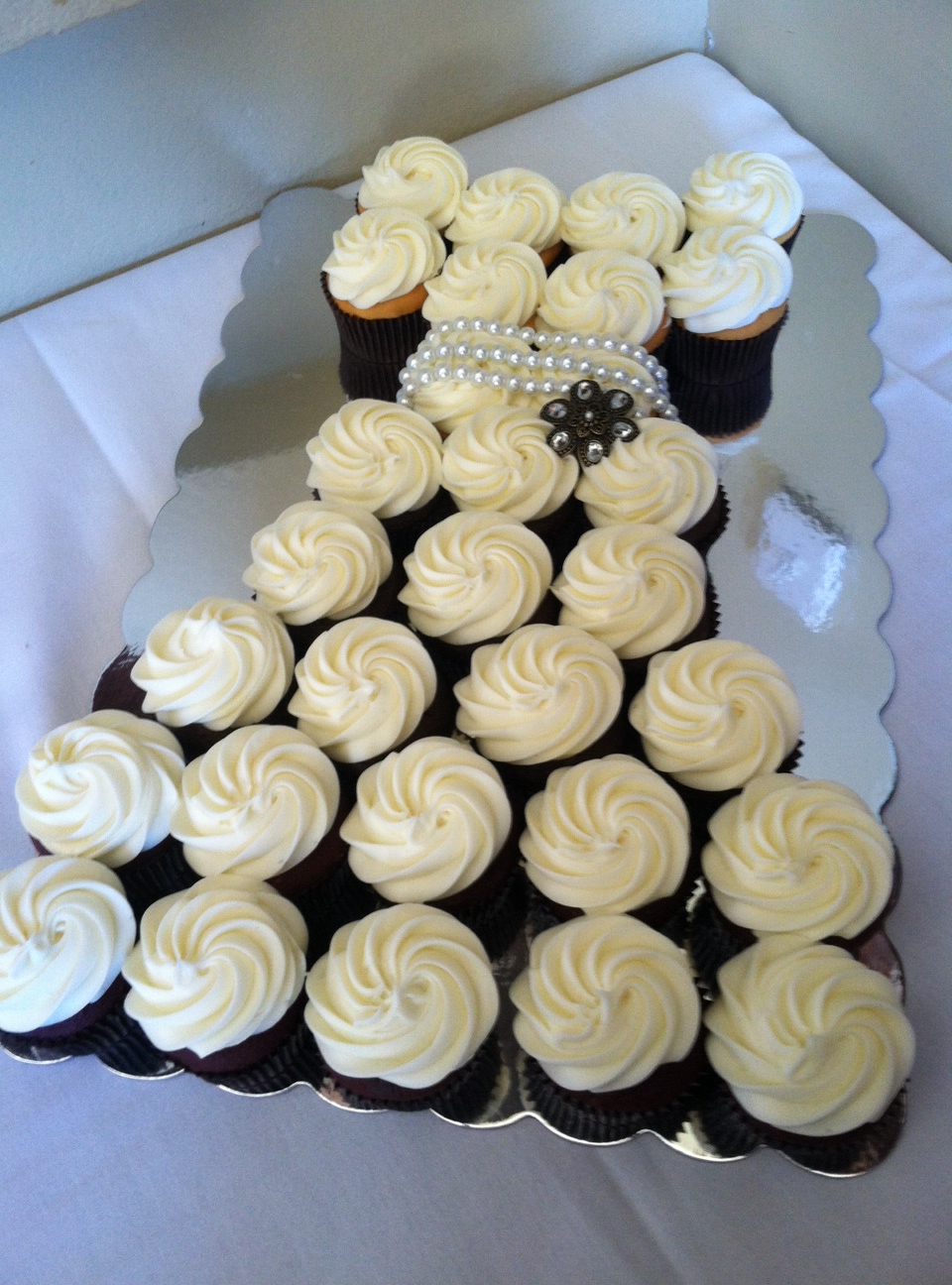 We should all be planning for our sunny days.
What is your sunny day? Begin planning yours today.
Sunny Days start here. At SunTrust, we have the tools and resources to help you achieve your sunny day. Start here to find out how we can help you enjoy the things that matter most to you.
At SunTrust Bank their purpose is lighting the way to financial well-being. When you feel confident about your money, you can save for your goals and spend knowingly on what matters most to you. They know we all live for the sunny days and want to you help you live yours.
Subscribe to the Shine newsletter and receive inspiration and advice twice a month to help you live for a sunny day.
Visit the SunTrust resource center anytime for help achieving your financial goals.
This is a sponsored conversation written by me on behalf of SunTrust Bank. The opinions and text are all mine.