To be a New Orleanian requires one to harbor a certain philosophical slant. More than once I've entertained discussions with non-New Orleanian folk that became arguments at a predictable impasse: why choose to live somewhere that is near-certain to flood again? There will always be another Katrina, they say, it doesn't make any sense; why choose to live in a place that is doomed? I suppose I feel such a question is akin to asking a person with cancer why they chose to be born. We all live in no certain jeopardy; death and suffering are absolutes in this life and the sooner you come to accept those truths of existence, the more unflappable you will stand in the wind of tragedy. No one can predict from whence their blow will strike. Your dog could turn on your stove gas while you are away and burn the house down. Some psychotic person could shoot you in a theater. If you live on a mountain, it could crumble or explode with lava. If you live at the sea, there are tsunamis and landslides. If you live in the Dust Bowl, sandstorms; in the Midwest, tornadoes. If you take a plane, drive a car…you get the idea—physics spares no one entropy's final say.
We do not choose our homes because they offer us the promise of longevity and prosperity, or perhaps some people do purchase and locate upon that impossible guarantee, but I am no such person. I chose New Orleans as home full-well knowing that life is brutish and short; rather than cushion the ride to the pearly gates in a padded and quiet high-walled carriage, I'd rather dance along the streets with the common folk wearing some bright-colored costume, tossing confetti, dipping out of the way of trombone handles and second-line umbrellas in a parade of celebrating the fortune that still we breathe, still we walk, and sing and dance and eat while we can! I have tasted the savory spice and salt of life among people who would choose to live out their lives in an endangered place, and my appetite has been forever changed.
I believe that the recognition of our mortality is what calls humankind to art, and this is fundamentally why New Orleans is one of the most electric and beautifully bandaged cities in the world. Arcadia, as described by Pliny the Elder, was an ancient field of gravestones where a shepherd once wet his finger with spit and traced his friend's shadow against a tomb. The world's first painting, the first canvas, was a gravestone. Humans are a strange kind—for us, destruction curiously engenders its diametric opposite—creation. Art, thus, is one of humankind's most powerful, and most natural, responses to death. It is no wonder that New Orleans stands today more beautiful and strange than ever it was. Survival is both a gift over which we have no control and at the same time an attitude we can choose to wear on our shoulders.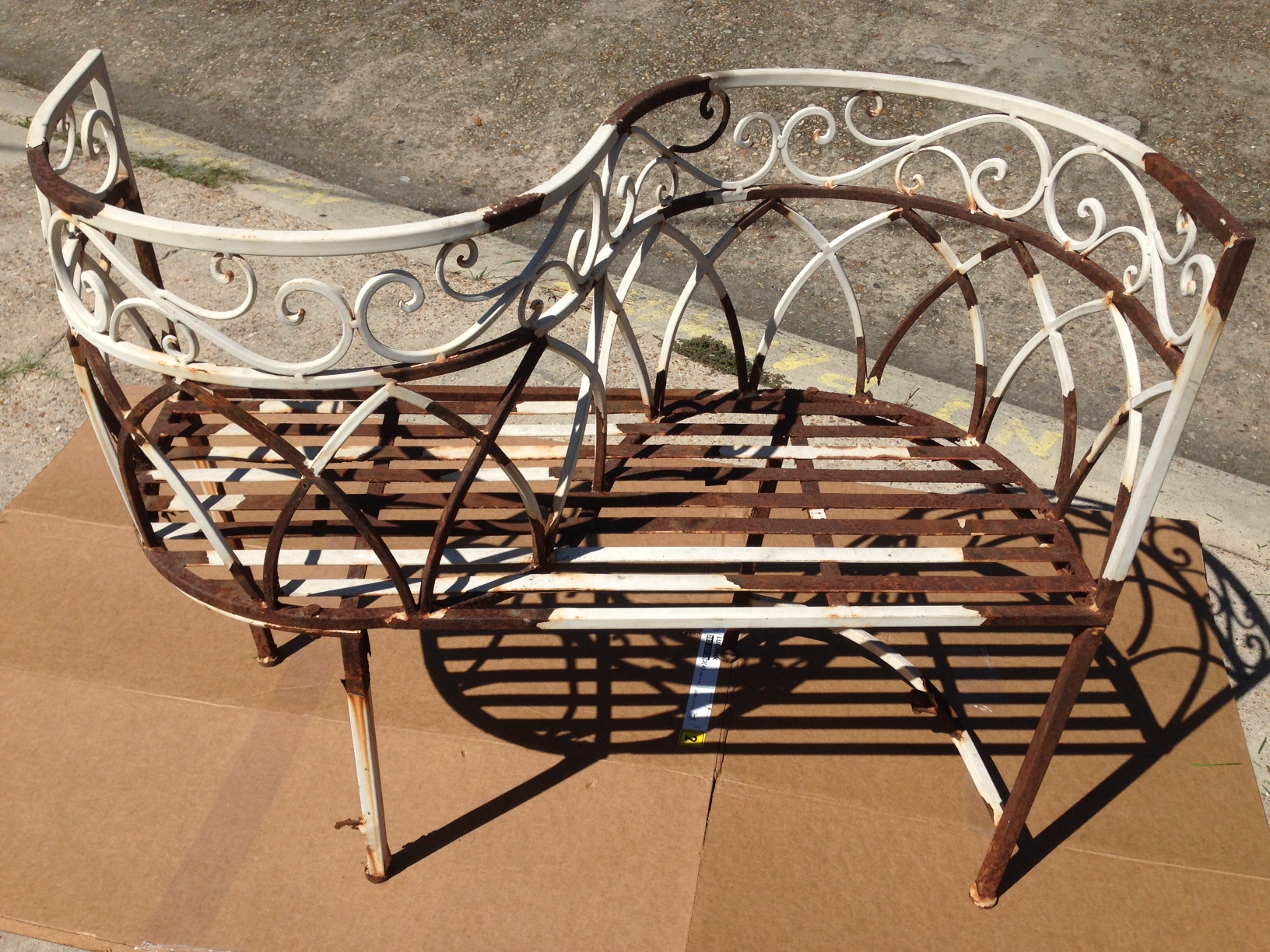 I didn't mean for that to become a small essay, but so it goes. Happy Anniversary Katrina. You rotted this fancy bench left to rust in your storm water. I see you that rust in the trash heap and raise you a rescued red-painted garden piece upon which to feature my favorite purple aloe.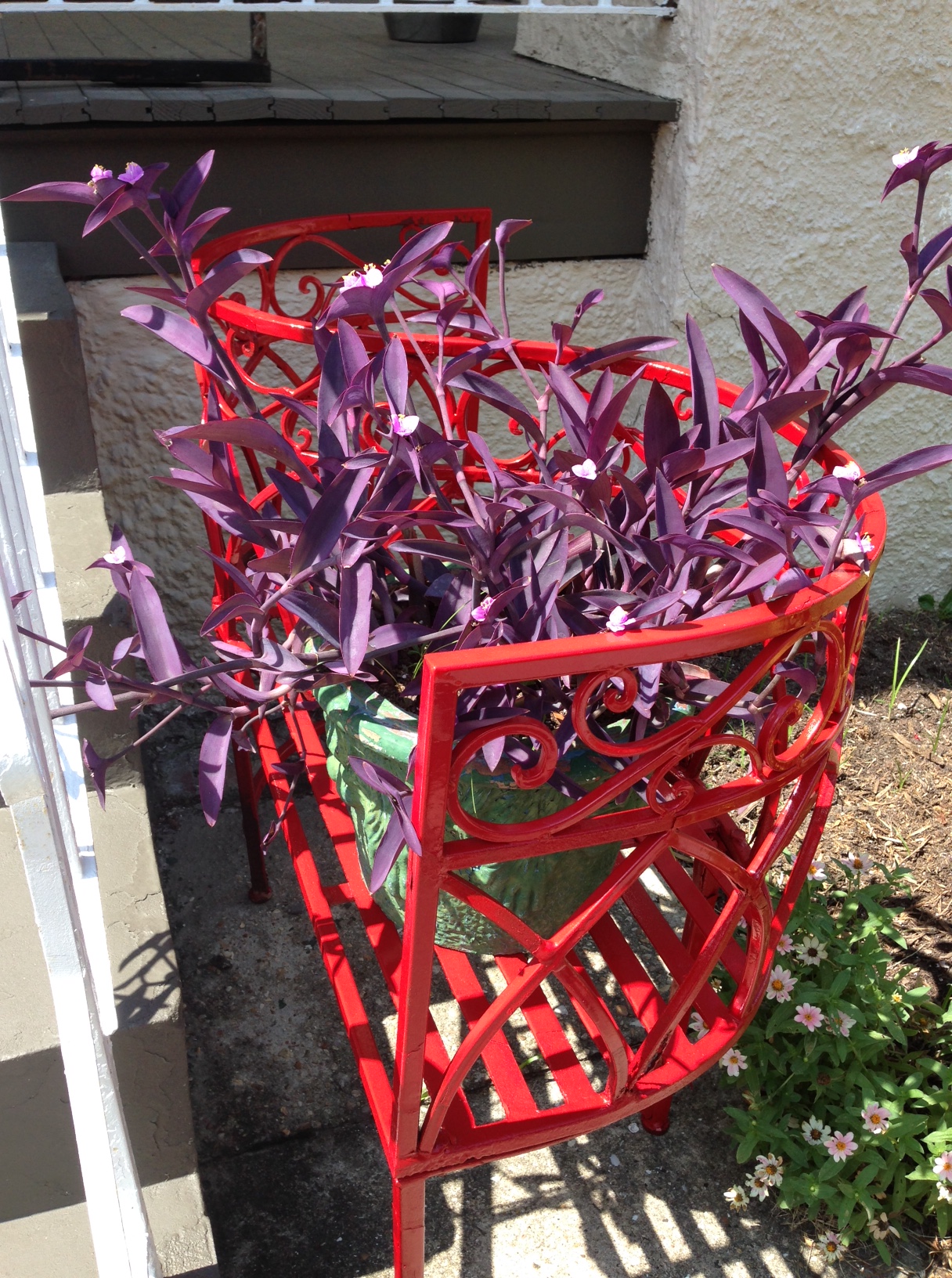 We are celebrating this Katrina Anniversary with a BBQ– here is a wonderful southern style BBQ dish to enjoy, and just as fun to say as it is delicious.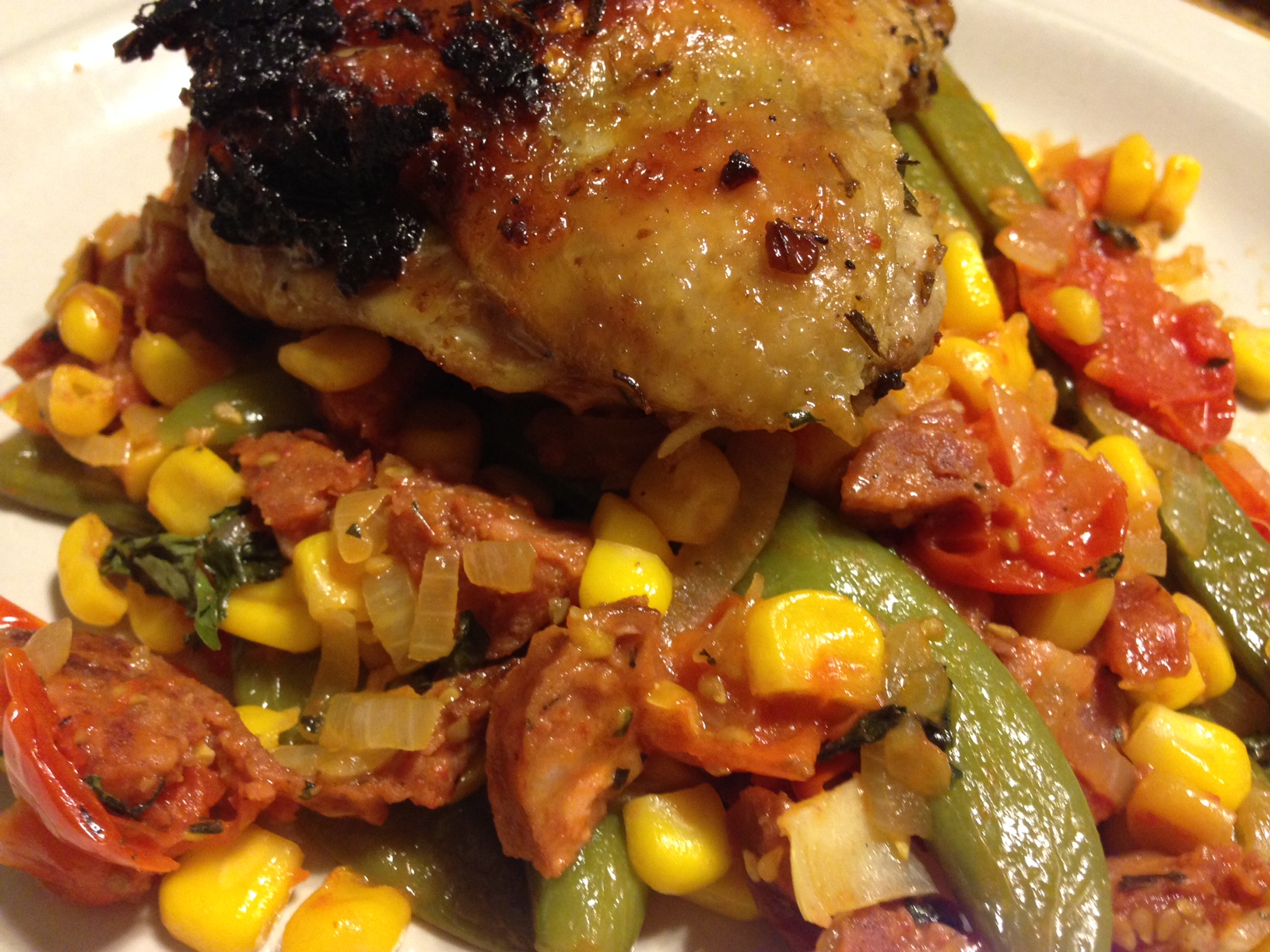 Rosemary Chicken with Corn and Sausage Fricassee
Adapted from Food and Wine
CHICKEN
1/2 cup kosher salt
12 chicken drumsticks (or thighs, like I used)
1/2 cup extra-virgin olive oil
4 large garlic cloves, chopped
2 tablespoons finely chopped rosemary
1 tablespoon finely grated lemon zest
1 teaspoon crushed red pepper
FRICASSEE
6 scallions
3 tablespoons extra-virgin olive oil
1 medium sweet onion, halved and thinly sliced lengthwise
4 ounces hot Italian sausage, casings removed
3 cups fresh corn kernels (from 4 ears
2 cups cherry tomatoes (10 ounces), halved
1/4 pound sugar snap peas, halved lengthwise
1/2 cup torn basil leaves
Salt
1.Make the chicken In a large bowl, whisk the salt with 6 cups of cold water until dissolved. Add the chicken and refrigerate for 45 minutes. Remove the chicken and pat dry with paper towels. Wipe out the bowl.
2.In the same bowl, whisk the olive oil with the garlic, rosemary, lemon zest and crushed red pepper. Add the chicken and turn to coat, rubbing some of the marinade under the skin. Marinate the chicken at room temperature for 45 minutes.
3.Light a grill or preheat a grill pan. Grill the chicken over moderate heat, turning occasionally, until lightly charred and 
an instant-read thermometer inserted in the thickest part of each leg registers 165°, about 25 minutes.
4.Meanwhile, make the fricassee In a large cast-iron skillet, cook the scallions over high heat until charred on the bottom, about 3 minutes. Transfer to a work surface and cut into 1-inch lengths. In the same skillet, heat the olive oil. Add the onion and a generous pinch of salt and cook over moderately high heat, stirring occasionally, until softened 
and lightly browned, about 6 minutes. Add the sausage and cook, breaking up the meat with a wooden spoon, until nearly cooked through, 6 to 8 minutes. Add the corn and tomatoes and cook, stirring occasionally, until the corn is crisp-tender and the tomatoes are softened, about 5 minutes. Stir in the snap peas and cook until crisp-tender, about 2 minutes longer. Stir in the basil and scallions and season with salt. Transfer the fricassee to a platter, top with the chicken and serve.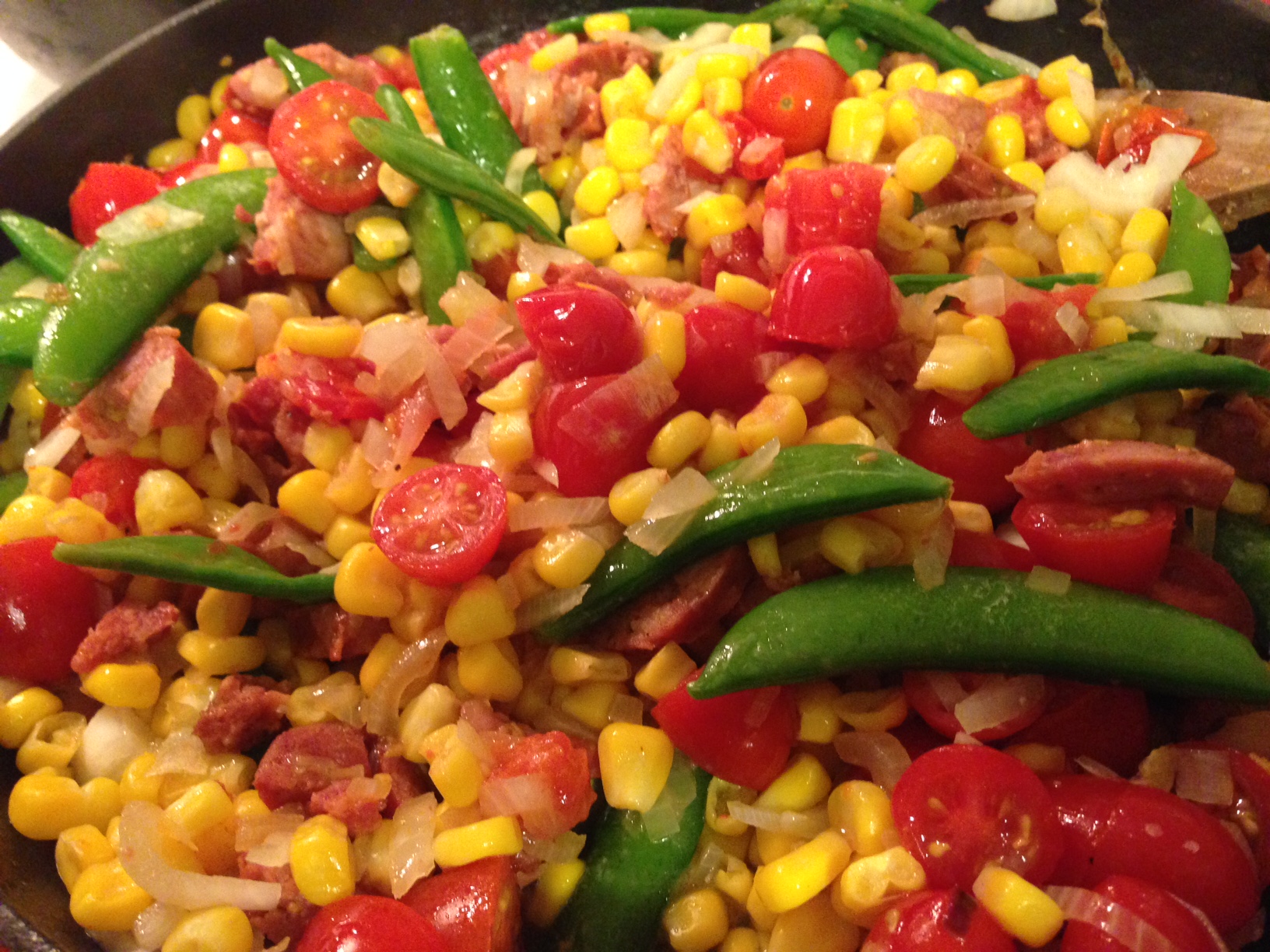 Haiku #235 August 23rd
For the body of
Christ, I think I am supposed
to be an h'ordeuvre.
Haiku #236 August 24th
A cocktail inspired
by dusk tastes like the hour
that blurs dog from wolf.
Haiku #237 August 25th
Fricassee: charred corn
bed for grilled chicken to take
a pre-supper nap.
Haiku #238 August 26th
There is no lesson
to teach one Release. Quiet
one muscle and see.
Haiku #239 August 27th
See how that old bench
changes when moved from the trash
pile to a garden?
Haiku #240 August 28th
Ev'ry year today
we commemorate at once
a birth and a storm.
Haiku #241 August 29th
Ten years hence no one
imagined the bathtub would
fill with hope, new homes.