KP and I are on a Hispanic cuisine kick ever after Labor Day. Just feeling spicy. And also, we've been doing the weekend warrior routine as new homeowners and I'm sure the caloric density of Latin dishes is an instinctive choice after free time spent dangling from ladders, kneeling over shrubs, knuckles-deep in garden soil and hammering together new furniture from abandoned spare parts. These taco baskets are great football season snacks. Or for US Open matches. Prepare yourself for, say, five to seven posts in a sequence that all include tomatillos as the main ingredient….My toilet is trembling.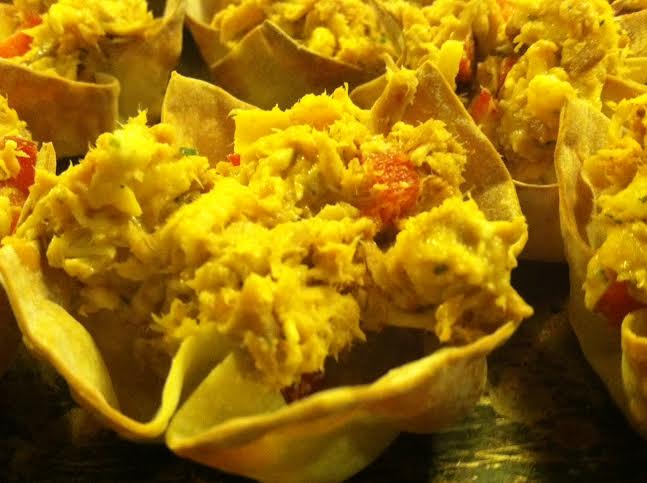 Taco Baskets
Adapted from Penzeys Spices
1 lb. boneless/skinless chicken breast meat or BBQ pork
1 pkg. won ton skins
1-2 TB. Fajita seasoning
1 TB. water
1-2 TB. vegetable oil or butter
1 TB. Buttermilk ranch dressing base*
1 TB. water
1/2 Cup buttermilk
1/2 Cup mayonnaise (olive oil based)
1/4 Cup red bell pepper, finely chopped
1/3 Cup black olives, finely chopped or 1 small can of pre-chopped olives
1 Cup Monterey Jack cheese, shredded
1 Cup Cheddar cheese, shredded
1 TB. Aleppo pepper
*this is a Penzeys spice, which I approximate by adding ½ tsp dill, ½ tsp onion powder, ½ tsp garlic powder, ¼ tsp pepper and salt, and 1 tsp buttermilk powder, with a sprinkle of chives and parsley.
In a large bowl, mix the fajita seasoning with water, then chop the chicken into small bits and add it to the bowl. Stir well, cover and refrigerate until the won ton cups are made.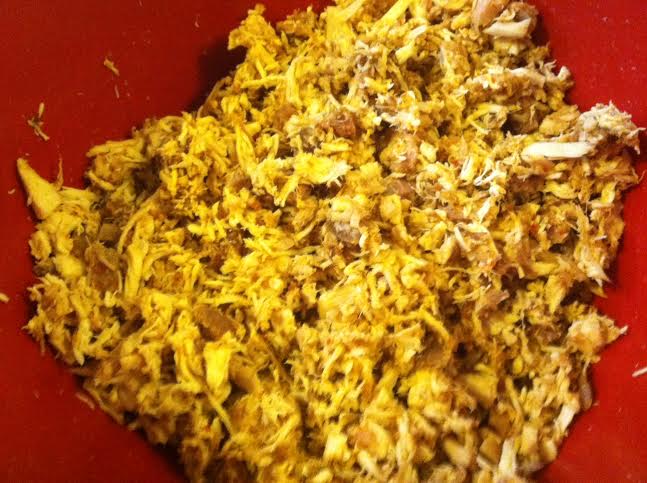 Preheat oven to 350°. You will need at least two mini muffin pans for this recipe–the recipe makes about 36 baskets. Spray the pans well with vegetable oil spray, and then gently press each won ton skin into a muffin cup in the pan. Repeat this process until all the cups are filled. Bake the skins for 5-6 minutes or until lightly browned. Be careful—they can turn brown quickly and you don't want to overcook them because they will be baked again once they are filled, but they also won't get much browner in the second cooking, so make sure the edges are at least golden when you pull them out. When you take them out of the oven, be sure that they are open; the flaps have a tendency to flop over.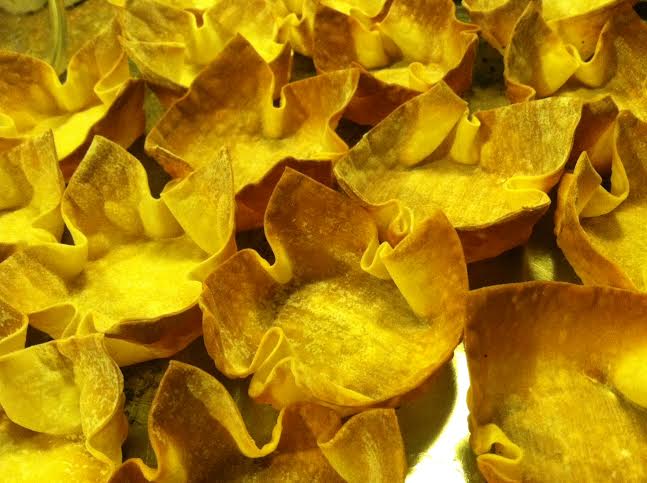 While they are still warm it is very easy to ease them open to form a basket. Remove to a cookie sheet and repeat the process until all of the won ton skins have been baked. While the skins are baking, heat 1 TB. olive oil or butter in a large frying pan. Cook the chicken for 6-8 minutes over medium heat, stirring often, until browned and cooked through. Mix the buttermilk ranch dressing base with water and let stand 5 minutes. Add buttermilk and mayonnaise, blend until smooth, and set aside. Combine the cooked chicken, red bell pepper, black olives, cheeses and dressing. Stir to combine. Using a teaspoon, fill each of the won ton baskets with filling—about 1 rounded tsp. per basket. Bake another 4-5 minutes or until the cheese has melted. Sprinkle with Aleppo pepper. Serve while warm.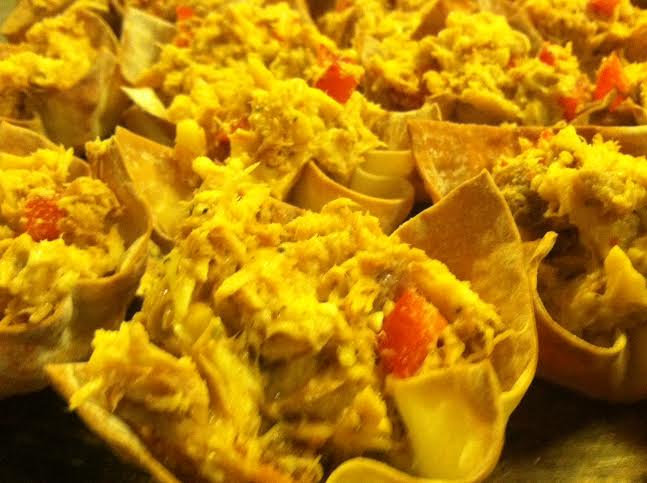 Haiku #248 Sept 5th
An abandoned church
Looms behind a telephone
pole shouting red LOVE.
Haiku #249 Sept 6th
White washed cabinets
and new butterfly ginger
rhizomes dug in deep.
Haiku #250 Sept 7th
Imagine a new
Emergency Room where the
gurneys don't know death.
Haiku #251 Sept 8th
Green tomatillos
melt in a cauldron of spice:
savory lava.