"Hoagies and grinders, hoagies and grinders. Navy beans, navy beans, navy beans." I have been singing the Lunch Lady Land song for years without ever having known a grinder. Well, I met one. Four, actually. On the way home from Iowa last April, KP and I stopped by People's Co-op and asked for thin slices of pretty much every deli meat they sell. Ooh, when mortadella and salami are heated together with provolone over this creamy garlic aioli sauce, tanged up by a little splash of red wine vinegar—it is divine. This sandwich shares many flavors with the muffaletta. Now knowing this little trick, I won't have to stand in line for an hour down on Decatur at Central Grocery.
At this juncture, having run our 26th 26.2 on Saturday in the Canyonlands outside Pasadena, California, and most all 26 straight downhill, I'm not sure I can fathom standing at all. Unprecedented quadricep damage. A whole different kind of grinder.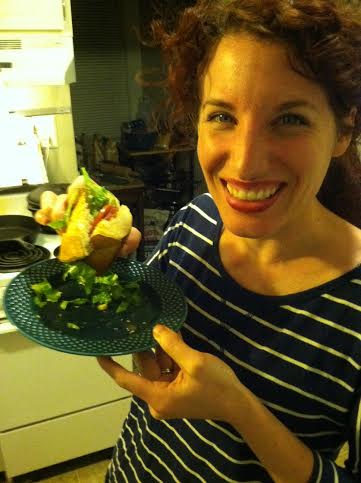 Italian Grinders with Garlic Aioli
Adapted from Food and Wine
2 large egg yolks
1 1/2 tablespoons fresh lemon juice
2 garlic cloves, minced
1/2 cup extra-virgin olive oil
Salt
Pepper
Four 8-inch light hoagie rolls, split lengthwise
1/4 cup chopped pickled hot cherry peppers
12 thin slices of mortadella
16 thin slices of Genoa salami
8 thin slices of prosciutto cotto
12 thin slices of provolone cheese
3 tomatoes, thinly sliced
1 teaspoon dried oregano
2 cups finely shredded iceberg lettuce
1/4 cup red wine vinegar
Preheat the oven to 375°. In a bowl, whisk the egg yolks with the lemon juice and garlic. Very gradually whisk in drops of the olive oil until starting to thicken, then gradually whisk in the remaining olive oil until thick. Season with salt and pepper.
Bake the closed hoagie rolls for 3 minutes, until warm. Spread the aioli on the cut sides. Top the bottom halves with the peppers, meats and cheese. Bake for 5 minutes, until the cheese melts. Top with the tomatoes and oregano and season with salt and pepper.
Pile the lettuce on top, drizzle on the vinegar and more olive oil if you'd like and serve.
Haiku #310 November 6th
How can all the cars
In the world fit in the space
of these LA lanes?
Haiku #311 November 7th
It seemed such a good
Idea to run down this
Mountain at dawn break.
Haiku #312 November 8th
Lactic acid build
up in every limb can't
keep me from dancing.
Haiku #313 November 9th
When will I learn that
red eye flights make for the worst
sober drunkenness.
Haiku #314 November 10th
Waffles for dinner,
Pajamas as uniform,
Novels for breakfast.