I present the following to suggest variations on a theme, which is of course, Thanksgiving. Bacon Lettuce and Turkey, a perfectly acceptable alternative to the traditional BLT when we are in abundance of turkey come Thursday night. BLT could also stand for Big Love Thursday. The Big Love came to visit me and KP last week, which is of course, my mother. I'm actually a little over-stuffed going into Thanksgiving Day after all the eating out we did. Ruby Slipper for breakfast, Cochon Butcher for lunch, Juan's Flying Burrito and Peche for dinner. I had to buy a new bathrobe this evening to contain my fat laziness. I kid you not; it's purple.
I'm particularly jazzed about the lattice-work with the bacon on this sandwich. Takes some doing to get right, but the technique necessarily amplifies the most important component of the holy trinity of this sandwich: the Bacon.
California BLT
Adapted from Food and Wine
12 slices of bacon, halved crosswise
1/2 cup mayonnaise
1 tablespoon finely chopped tarragon
1 tablespoon fresh lemon juice
Salt
Pepper
8 slices multigrain sandwich bread, toasted
1 Hass avocado—peeled, pitted and sliced
2 Persian cucumbers, thinly sliced on the diagonal
1 medium tomato, thinly sliced
4 small Bibb lettuce leaves
1/2 cup mixed sprouts, such as radish, sunflower and alfalfa
Preheat the oven to 400°. Line a large rimmed baking sheet with parchment paper or foil. For each lattice, weave 6 strips of bacon, 3 in each direction, on the prepared baking sheet.
Set an ovenproof rack upside down on the bacon to keep it flat. Bake for 15 to 20 minutes, until browned and crisp. Remove the rack, then transfer the bacon lattices to paper towels to drain.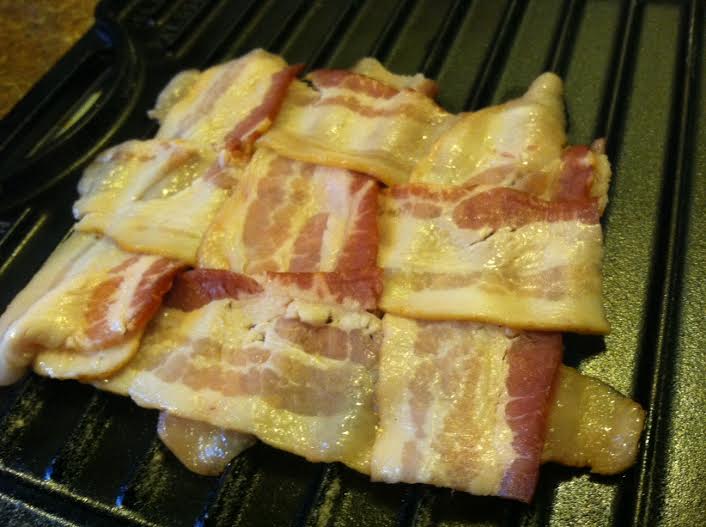 Meanwhile, in a small bowl, whisk the mayonnaise with the tarragon and lemon juice. Season with salt and pepper.
Spread the tarragon mayonnaise on each slice of toast. Arrange the sliced avocado, cucumbers and tomato on 4 slices of the toast and sprinkle with salt and pepper. Top with the bacon lattices, Bibb leaves and sprouts. Close the sandwiches and serve.
Here are only half of the haikus for the last week or so, since I got so embarrassingly behind on my posts. We will blame my Boards (which was a week ago).
Haiku #315 Nov 11th
If left to mine own
I stay in the same place, in
the same pants for days.
Haiku #316 Nov 12th
Upperline served four
courses: turtle soup, duck, bread
pudding and gumbo.
Haiku #317 Nov 13th
One can get hooked on
Academics—kids who were
Gold star obsessives.
Haiku #318 Nov 14th
Tavistock built a
Frame and let learners pose in
side for happening.
Haiku #319 Nov 15th
Alexandria,
a treacherous Point B, swamp
flanks the freeway edge.
Haiku #320 Nov 16th
I stuff my locker
with candy to reward the
regressed boards taker.
Haiku #321 Nov 17th
Tornado warning
Evacuated my boards
Exam; now limbo.
Haiku #322 Nov 18th
Infectious Disease
Across the nation, mother
And I caught one flu.