For this week's chocolate challenge, a genius hybrid. I've taken two classic confections, the Seinfeld race-relations Black and White Cookie, and the popular edible Mardi Gras parade throw, the Moon Pie, and created a delicious masterpiece just in time for the Oshun and Cleopatra parades last night.
Ooh these are good! And yes, KP and I have been binge-watching Seinfeld in our spare hours—the complete series was on sale last month, and we were inspired to buy it for research purposes for the Chocolate Babka post. So worth it. For the Black and White cookie, while Seinfeld's cookie broke his no-vomit streak, these are sure to put you on a cookie munching streak. KP caught a moon pie last night off a Cleopatra float, and it tasted stale compared to these fresh homemade renditions.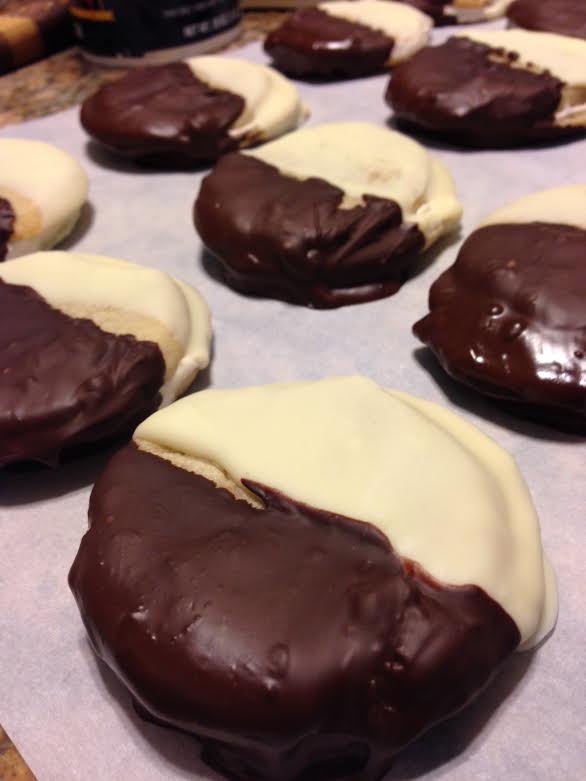 Black and White Moon Pie
Adapted from the genius at Glazed and Confused, New Orleans food blog
This will make about 16 cookies, if you cut 2-inch rounds
1 cup butter, softened
¾ cup light brown sugar
1 large egg
1 tablespoon plus 1 teaspoon vanilla extract, divided
2¼ cups all-purpose flour
1 egg white, room temperature
Pinch of cream of tartar
Pinch of salt
¾ cup light corn syrup
½ cup confectioners' sugar, sifted
6-8 ounces white chocolate, chopped
¾ teaspoon plus ¼ teaspoon coconut oil, divided
4 ounces semisweet baking chocolate with a handful of chocolate chip morsels, chopped
Preheat oven to 350°. In the bowl of a stand mixer fitted with the paddle attachment, add butter and brown sugar; beat at medium speed until light and fluffy, about 5 minutes. Scrape down the sides of bowl, and add egg and 1 teaspoon vanilla. Mix until combined. Sift in flour, and mix on low speed until the mixture just comes together. It will be very soft and sticky dough. Handle with flour. Nibble as you must.
On a floured surface, divide dough in half, and roll out to about 1/8 to ¼ inch-thickness. With a 2-inch round cutter or a small glass, cut circles and transfer to parchment-lined rimmed baking sheets.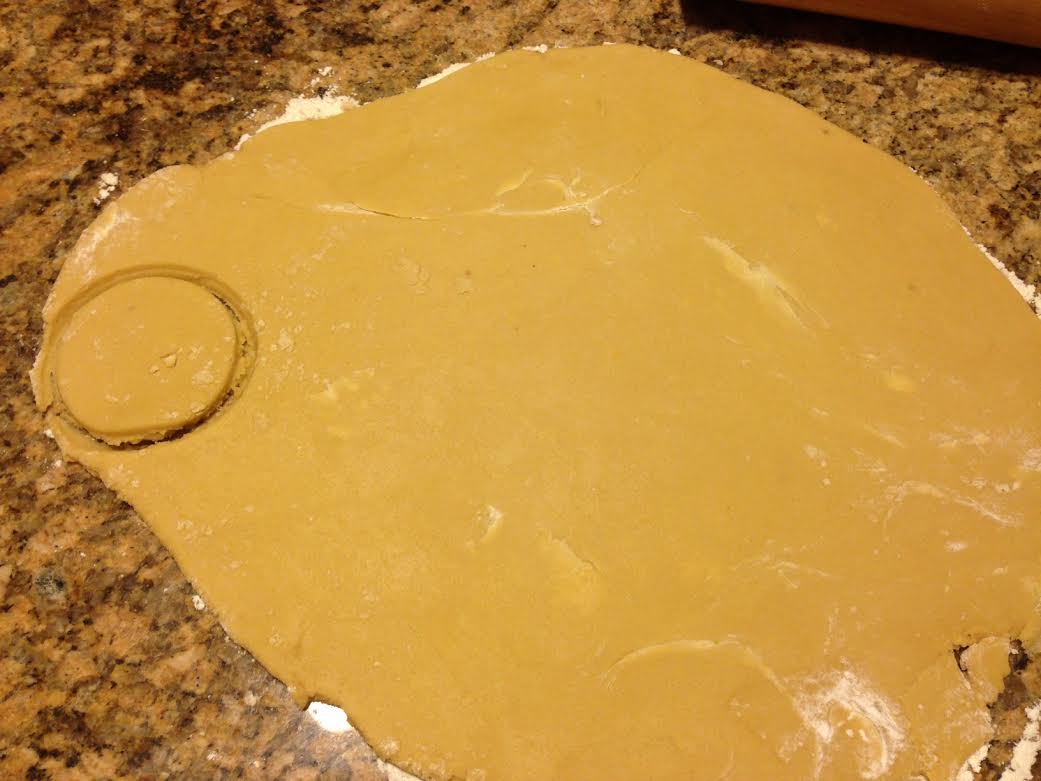 Reroll scraps. Refrigerate dough for 30 minutes. Bake until golden around the edges, 13-15 minutes. Transfer to a wire rack, and let cool completely.
In the bowl of a stand mixer fitted with the whisk attachment, add egg white, cream of tartar, and salt, and beat at medium-high speed until stiff peaks form. In a small saucepan, heat corn syrup over medium heat until a candy thermometer registers 240°. This is super tricky. Add hot corn syrup to egg white mixture, and continue beating on medium-low until thick and glossy. Add confectioners' sugar and remaining 1 tablespoon vanilla, and mix until just combined. Using a spoon, place a dollop of marshmallow cream between two cookies. Repeat with remaining cookies.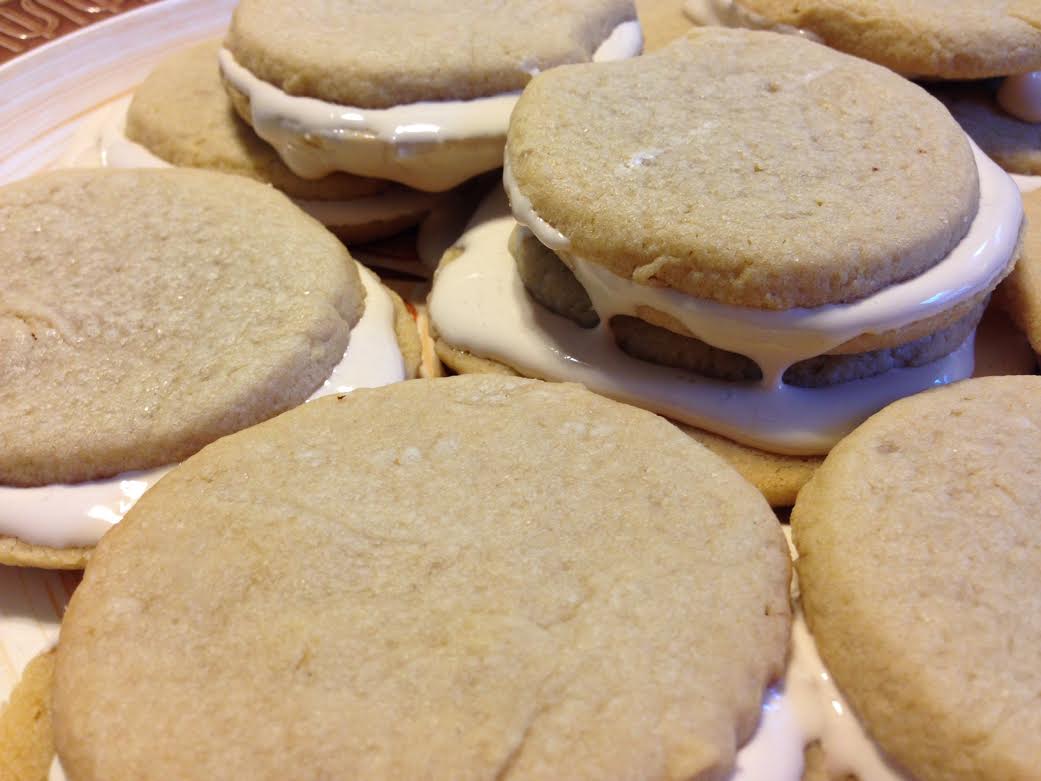 Freeze cookies for 10 minutes. At this point, I needed to take a break because candy making (so many steps and temperature changes!) wears me out and so I put the cookies to stay cool in the fridge and went to bed. Apparently, this is fine, because my cookies turned out great.
Whenever you have the will to cook again, in a small bowl, add white chocolate and ¾ teaspoon coconut oil. Microwave in 30-second increments until melted and smooth, stirring in between. Coat cookies half way in white chocolate, and freeze until set, 10 to 15 minutes.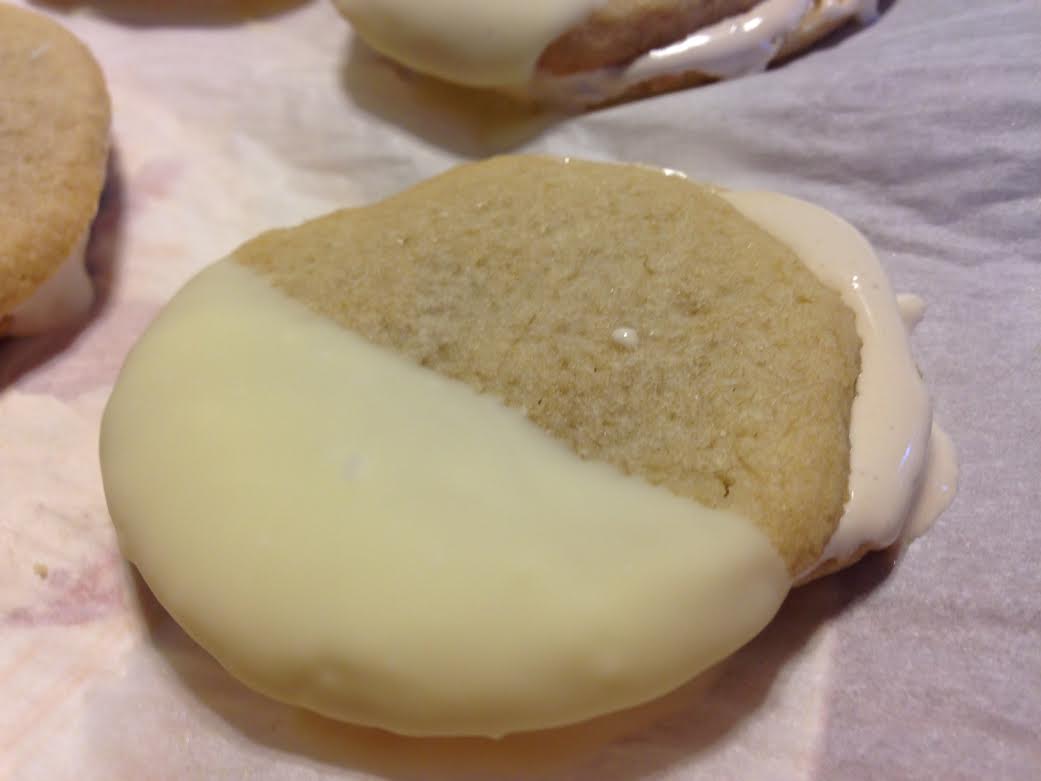 Microwave and melt semisweet chocolate with chocolate chips and remaining ¼ teaspoon coconut oil for dipping the other half. Place on parchment to set.
Sing the song of the most charming homeless schizophrenic character played by Tracy Morgan song about doo doo pies. And enjoy your moon pie.  While I don't agree with Trump on most things, I do agree we should make America Great Again–Thanks, Carnival for doing just that.