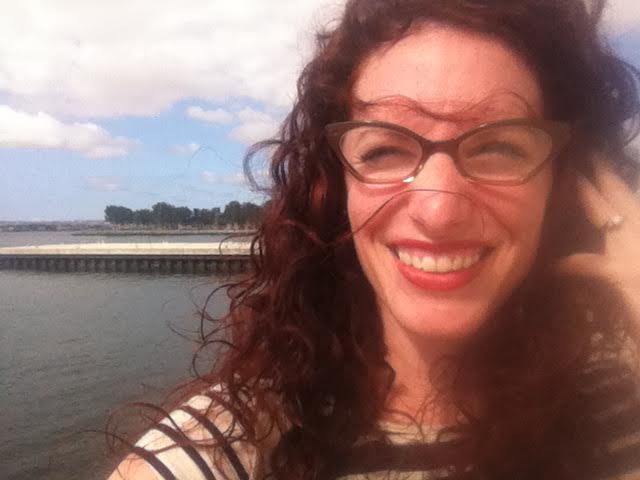 Yum. In a mood for seafood when staring at the sea scape of San Diego! The sounds of seagulls and train bells along the bay are West Coast anthems I haven't heard in ages. All the same, sun and sea breeze long lost friends found again. What a glorious Saturday in the Gaslamp District.
I find it very telling that my first thought upon the sight of this flower was–ha! A tropical deer. I now bear a Minnesota slant.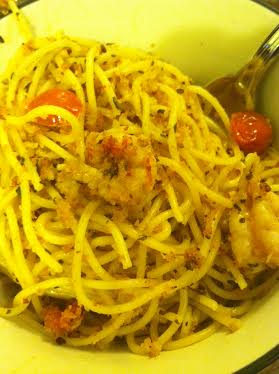 Spaghettini with Shrimp, Tomatoes, and Chile Crumbs
Adapted from Food and Wine
2 large plum tomatoes (about 1 1/4 pounds), cored and scored on the bottoms with an X
1 tablespoon red wine vinegar
1/2 cup plus 1 tablespoon extra-virgin olive oil
Salt
Freshly ground pepper
1 cup coarse, dried sourdough bread crumbs (about 2 ounces)
1 teaspoon finely grated lemon zest
Crushed red pepper
12 ounces spaghettini
1 pound medium shrimp, shelled and deveined
2 tablespoons finely shredded basil
1/2 pound heirloom cherry tomatoes, halved
Preheat the oven to 450°. Put the plum tomatoes in a small baking dish and drizzle with the vinegar and 2 tablespoons of the olive oil. Roast for about 20 minutes, just until the skins loosen and the tomatoes are barely softened. Let cool slightly, then peel the tomatoes. Using the large holes on a box grater, grate the tomatoes back into the baking dish and stir. Season with salt and pepper.
Meanwhile, heat 2 tablespoons of the olive oil in a large skillet. Add the bread crumbs and cook over moderately low heat, stirring, until golden and crisp, about 5 minutes. Stir in the lemon zest and a pinch of crushed red pepper and season with salt. Transfer the crumbs to a bowl and wipe out the skillet.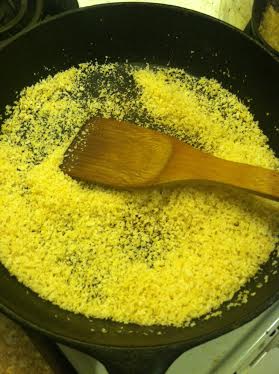 In a large pot of boiling salted water, cook the pasta until barely al dente. Drain the pasta, reserving 1/2 cup of the cooking water. Return the pasta to the pot and stir in 2 tablespoons of the olive oil.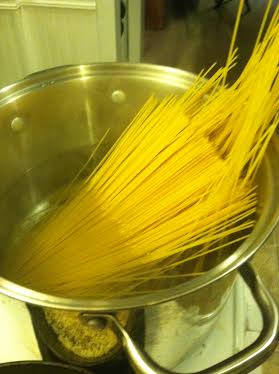 In the large skillet, heat the remaining 3 tablespoons of oil until shimmering. Season the shrimp with salt and a pinch of crushed red pepper and cook over high heat, tossing once or twice, until barely cooked, about 1 1/2 minutes. Add the basil and pasta along with the reserved pasta cooking water and cook, tossing, until the shrimp are white throughout and the pasta is coated in a light sauce, about 1 minute. Transfer the pasta to bowls and scatter the cherry tomatoes all around. Top with the tomato sauce and bread crumbs. Serve right away.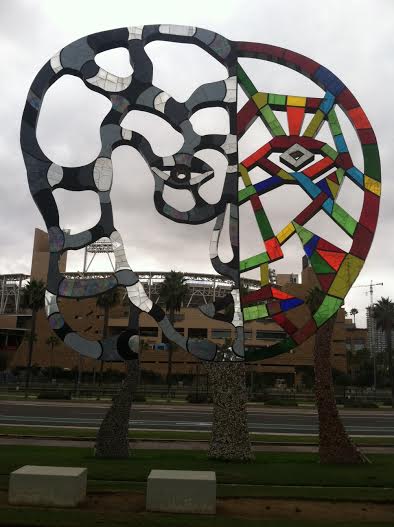 I can identify with this split-face sculpture as I tool around San Diego with one foot in vacation, the other in the stress of school with an exam coming on Tuesday amid academic conference responsibilities. One half black and white and gray, the other half color wild.
Gather ye rosebuds while ye may…