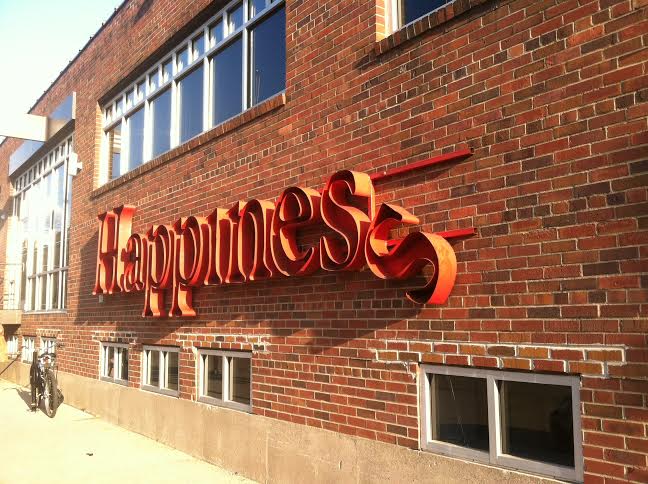 Happiness is the company of old friends in new places—the birth of new traditions— eight pairs of high heels, flamingos and cupcake ATMs. Viva Las Vegas for a collective 30th birthday. Moments like these are perfect motivation for aging. To bright lights behind us and even brighter light ahead.
Pulled Pork Sandwiches with Barbecue Sauce
Adapted from Raven and Boar's menu in Food and Wine
For the Pulled Pork
2 heads of garlic, halved crosswise
1/4 cup extra-virgin olive oil, plus more for drizzling
Kosher salt
Pepper
1 tablespoon minced thyme
2 teaspoons dry mustard powder
2 teaspoons sweet paprika
2 teaspoons finely grated peeled fresh ginger
1 teaspoon finely grated orange zest
One 5-pound, bone-in pork butt (shoulder roast)
1/4 cup light brown sugar
1/4 cup distilled white vinegar
1/4 cup apple cider vinegar
BARBECUE SAUCE
1 1/4 cups ketchup
1 cup cola
1/4 cup apple cider vinegar
1/4 cup cayenne pepper hot sauce, such as Frank's Red Hot
2 tablespoons unsulfured molasses
2 tablespoons cornstarch
Split potato buns
Preheat the oven to 350°. Arrange the garlic cut side up on a sheet of foil, drizzle with oil and season with salt and pepper. Wrap the garlic in the foil and roast for about 
1 hour, until very soft. Let cool, then squeeze the garlic cloves out of the skins into a medium bowl. Add the thyme, mustard powder, paprika, ginger, orange zest and the 1/4 cup of oil and mash into a paste.
Reduce the oven temperature to 300°. Set a rack in a flameproof medium roasting pan and put the pork on it. Season the pork with salt and pepper, then rub it all over with the garlic paste. Roast for 6 hours, until an instant-read thermometer inserted in the thickest part of the meat registers 200°; uncover for the last 45 minutes of cooking. Transfer to a work surface and let cool, then shred. Discard the fat and bones.
Spoon off all but 2 tablespoons of fat from the roasting pan. Add the sugar, both vinegars and 1/2 cup of water to the pan and cook over moderately high heat, whisking, until bubbling and the sugar dissolves, 
5 minutes. Add the pork and toss to coat. Season the pork generously with salt and pepper and toss again; keep warm.
Then, in a saucepan, whisk the ketchup, cola, vinegar, hot sauce, molasses and cornstarch and bring to a boil. Simmer over moderate heat, stirring, until glossy and thick, 8 minutes; keep warm.
Pile the pork on the buns and top with the barbecue sauce and coleslaw.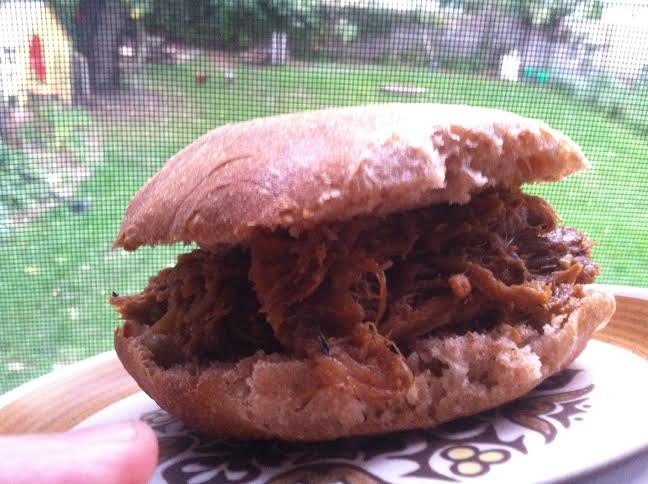 Haiku #65 (Mar 6)
Confetti cannon.
Blessed reunion begins
 As a red rope lifts.
Haiku #66 (Mar 7)
Old-fashioned as a
Yardbird, bones brewed to a broth,
Wings crisped and peppered.
Haiku #67 (Mar 8)
Flamingo kneecaps,
Among other surprising
Body parts. Vegas.
Haiku #68 (Mar 9)
Pumpkins and ghost peak
From under snow; we pick up
Where October left.