We near the end of the symbol-rich Holy week, and the start of the Poetry Month, and so I offer the lyrics to an old hymn we sang several Lenten Sundays ago which makes bold the fascinating parallels and circularity to the symbols we celebrate at Easter. Ahem, not chocolate eggs.
O wheat, whose crushing was for bread,
O bread, whose breaking was for life,
O life, your seeming end is seed,
A seed for wheat, our bread and life
O fruit, whose crushing was for wine,
O wine, whose flowing is for blood,
O blood, your pouring out is life,
Our life in you, O fruitful vine.
O life, whose crushing was for love,
O love, whose spending was to death,
O death, your mourning is our joy,
Full joy and birth to lasting life.
While (or perhaps because) I gave up nothing for Lent this year, I was cast as Judas in the Passion Pageant, and I'm still suffering the shame of it—until tomorrow! This bread is a lovely sweet bread used for Easter celebrations in Greece.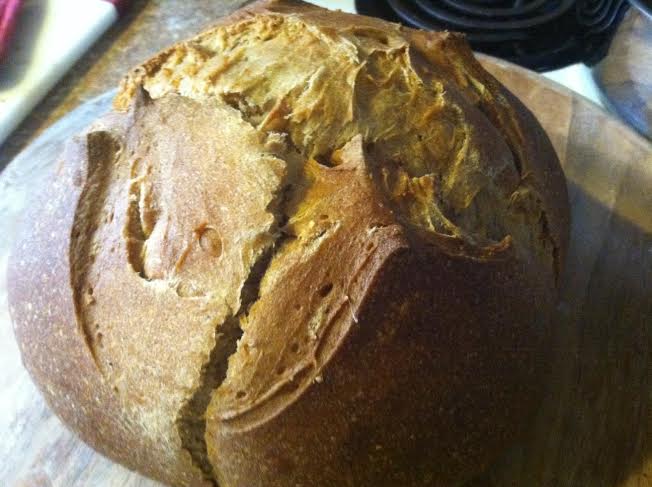 Artos, Greek Celebration Bread
Adapted from The Bread Bakers Apprentice
2 cups pre-ferment such as poolish or sourdough starter
3 1/2 cups bread flour
1 teaspoon salt
1 teaspoon ground cinnamon
1/4 teaspoon ground nutmeg
1/4 teaspoon ground allspice
1/4 teaspoon ground cloves
1 teaspoon orange extract
1 teaspoon vanilla
2 large eggs (slightly beaten)
1/4 cup honey
1/4 cup olive oil
3/4 cup milk (lukewarm, 90-100 F)
Glaze (optional):
2 tablespoons water
2 tablespoons sugar
2 tablespoons honey
1 teaspoon orange extract
sesame seeds
Take your starter other pre-ferment out of the refrigerator at least an hour ahead of time to let it get to roughly room temperature.
In bowl of stand mixer, put flour, salt, cinnamon, nutmeg, allspice and cloves. Mix for a few minutes until all ingredients are incorporated.
Add room temperature sourdough, orange extract, vanilla, eggs, honey, oil and milk. Continue mixing with paddle attachment until the dough becomes a rough ball then switch to the dough hook. Knead with the dough hook for about 10 minutes adding flour if necessary. The dough should clear the sides of the bowl and be soft and tacky, but not sticky. It should also pass the windowpane test.
If you are adding dried fruit and/or nuts, add them toward the end of your kneading time or turn the dough out onto a floured surface and knead the fruit/nuts in by hand.
Spray or drizzle some oil in a bowl and transfer to dough to that bowl. Lightly coat it with oil, cover with plastic wrap, and ferment for about 1 1/2 hours (until it doubles in size).
After fermentation, remove the dough from the bowl and prepare to shape. I did a boule.
Spray with oil, cover loosely with plastic wrap and proof at room temperature for 60-90 minutes (dough should nearly double in size). Preheat the oven to 350 F during the last 15 minutes of proofing time.
Bake the loaf for 20 minutes, then rotate the pan 180 degrees and continue to bake for an additional 20-25 minutes. When done, it should register 190 F internally and make a hollow sound when thumped. You can brush the glaze on as soon as it comes of out the oven.
For the glaze, which I chose not to do because I didn't want it to be too chi chi fru fru, but no judgment, combine the water and sugar and bring to a boil in a sauce pan. Add the honey and extract, turn off the heat and stir together. Brush on the loaf straight out of the oven with a pastry brush then sprinkle sesame seeds on top. (Which would have tasted great, but I ran out of sesame seeds… Just use your imagination in the photos below.)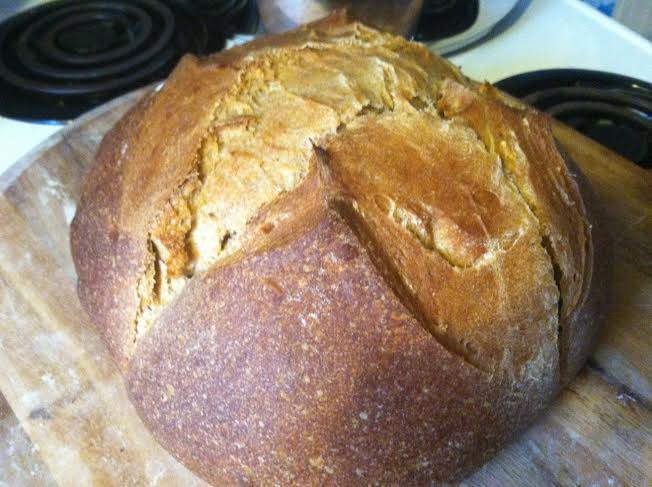 Haiku #92 (April 2)
The blackened edge of
a rose petal tints dark the
imagination.
Haiku #93 (April 3)
A Friday some call
Good–the light is out in the
church, we wait in hush.