It's time to get Fancy. My medicine firm this Friday decided to go to brunch after our Friday morning didactics, and we chose to try August, John Besh's fancy flagship restaurant in New Orleans, chandeliers, champagne, bouquets and all. I was reminded how not fancy I am when en route from the door to the table I was asked by three separate staff members if I wanted to check my moped helmet.
"Oh no it's fine, I'll put it under my seat." "It's no trouble, I'll take it." "Oh don't bother." "No, I'm taking it."
"Okay. Sorry."
The meal was incredible and obviously each step so labor intensive. I couldn't pronounce anything, ordered things I could only hope would be foods I liked. The portions for the prix fixe menu were like meager servings of cat food. But oh such Fancy Feast. And in particular, the company was the real treat.
Now I can say in an affected snooty accent, "Oh you simply must go to August in August, dahling."
Speaking of fancy, these blondies are the best. I didn't know what marcona almonds were, and almost substituted regular almonds but I'm so glad I found marconas. They are fancy and make all the difference. Enjoy enjoy enjoy.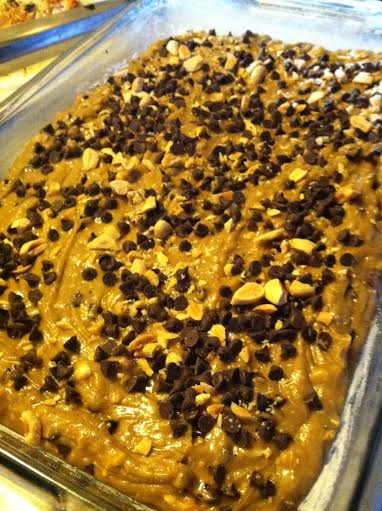 Marcona Almond Blondie and August
Adapted from Food and Wine
INGREDIENTS
2 1/2 sticks unsalted butter, plus more for brushing
3 1/2 cups light brown sugar
5 large eggs, lightly beaten
1/2 cup roasted almond butter
1 tablespoon pure vanilla extract
1 1/2 teaspoons kosher salt
1/4 teaspoon ground cinnamon
3 cups all-purpose flour
2 cups marcona almonds, chopped (9 ounces)
1 3/4 cups chocolate chips (11 ounces)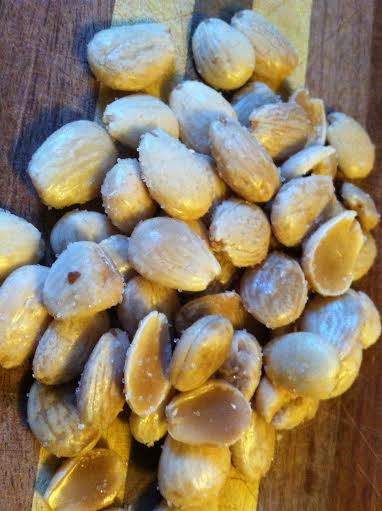 Preheat the oven to 325º. Lightly brush a 9-by-13-inch metal baking pan with butter.
In a medium saucepan, cook the 2 1/2 sticks of butter over moderate heat until golden brown, 5 minutes. Transfer to a large bowl and let cool to room temperature, 30 minutes.
Add the sugar, eggs, almond butter, vanilla, salt and cinnamon to the butter and whisk until smooth. Stir in the flour, then fold in 1 1/2 cups of the almonds and 1 1/2 cups of the chocolate chips. Scrape the batter into the prepared pan and spread it evenly with an offset or a nonstick spatula. Scatter the remaining 1/2 cup of almonds and 1/4 cup of chocolate chips over the top. Bake for about 1 hour, until a toothpick inserted in the center comes out with a few moist crumbs attached. Transfer the pan to a rack and let the blondies cool completely before cutting.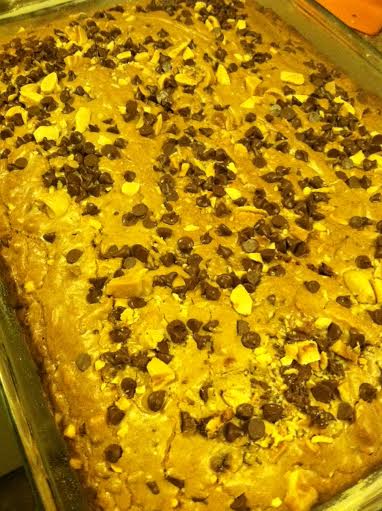 Haiku #227 August 15th
A dining room so
lacquered with color and sine
to treat our first guest.
Haiku #228 August 16th
Hours on the porch
with neighbors and lemonade
and only good news.
Haiku #229 August 17th
Those least skilled with vein
stabbing are those assigned to
put lines centrally?
Haiku #230 August 18th
An electronic
medical record improves
with friends, cheese and wine.
Haiku #231 August 19th
The exam table:
both the dunce corner and
an art pedestal.
Haiku #232 August 20th
It has always been
harder for me to write my
day than to live it.
Haiku #233 August 21st
At the Avenue
Pub I was offered sting ray.
Salt leather taffy.
Haiku #234 August 22nd
Birthday for a three
year old in Audubon Park.
Swimsuits and sunshine.