Saturday, Labor Day ahead. I would say last chance to BBQ if I were still living in Minnesota, but HAHA, I'm in New Orleans and will be BBQing all the way to next Labor Day. For those of you watching yellowing tree leaves with the stink eye of betrayal, for those of you with chilly nights blustering in, heat up the charcoals and swordfight with these greasy kabobs. Wrap yourself with another coat, on the inside.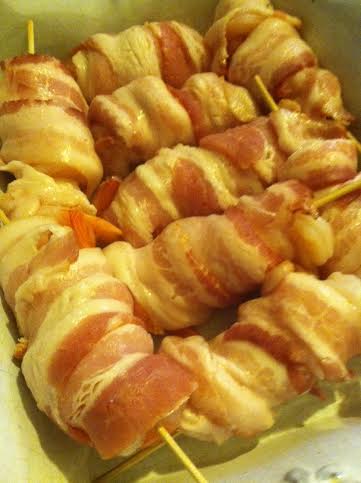 Bacon-Wrapped Shrimp with Cocktail Sauce
Adapted from Food and Wine
SHRIMP
1/2 cup extra-virgin olive oil, plus more for brushing
2 teaspoons finely grated lemon zest
1/4 cup fresh lemon juice
6 garlic cloves, thinly sliced
6 small jarred or dried Calabrian chiles, minced
20 jumbo shrimp, shelled with tails intact
10 slices of bacon, cut in half crosswise
COCKTAIL SAUCE
1 cup ketchup
1/3 cup prepared white horseradish, drained
1 small shallot, minced
1 tablespoon red wine vinegar
1 teaspoon finely grated lemon zest
1 1/2 tablespoons fresh lemon juice
Kosher salt
Freshly ground pepper
Lemon wedges, for serving
PREPARE THE SHRIMP In a large baking dish, whisk the 1/2 cup of oil with the lemon zest, lemon juice, garlic and chiles. Wrap each shrimp with a piece of bacon and add to the marinade. Cover and refrigerate for 1 hour; turn the shrimp halfway through marinating.
MAKE THE COCKTAIL SAUCE In a bowl, whisk the ketchup, horseradish, shallot, vinegar, lemon zest and lemon juice. Season with salt and pepper.
Light a grill or preheat a grill pan; brush with oil. Season the shrimp lightly with salt and pepper. Grill over high heat, turning once, until the bacon is browned and the shrimp is just cooked through, 4 to 6 minutes. Transfer the shrimp to a platter and serve with the cocktail sauce and lemon wedges.
This morning I made some buckwheat pancakes on a skillet that I used for sautéing jalapenos the night before, which made for a spicy pancakes surprise. Actually, it was fabulous and would recommend setting that up intentionally in the future. I'm headed to the Marigny on bicycle with my hula hoop for Southern Decadence, which is not altogether so different from my usual weekend routine in this bayou paradise (BP). I'll twirl with whoever meets me there from St. Anna's!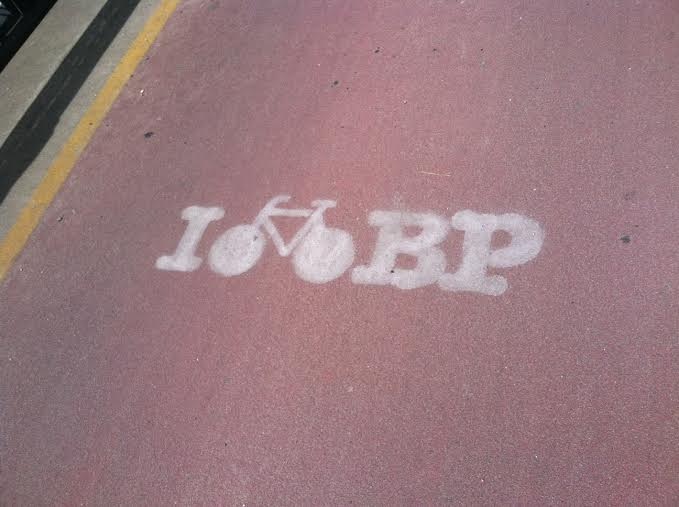 Haiku #242 August 30th
If resilience
were blood alcohol level
we would all need cabs.
Haiku #243 August 31st
How not to be a
Woman: eat jalapenos,
then insert tampon.
Haiku #244 Sept 1st
Nothing gives me a
heart burn like covering call
in the CCU.
Haiku #245 Sept 2nd
Sacroiliac
joints are the fault lines to blame
for seismic hip quakes.
Haiku #246 Sept 3rd
My moped commute
Would be slalom, not curling,
Winter Olympics.
Haiku #247 Sept 4th
Second line brewing
Necessary gentleman
sing happy birthday.