Home Cooked Dinners, I believe, make the world a better place. The time it takes to do this. The time is the most important ingredient. Time spent standing in the kitchen, salivating at the aromas issuing from the oven, from the cast iron, from the dog sprawled out at our bare feet watching the skies for a chance of meatballs, or possibly lemon chicken.
KP and Marilyn made this dynamic Penzey's duo of chicken and cheesy parmegiano-regianno mashed potatoes, so rich and flavorful. The perfect home-cooked dinner.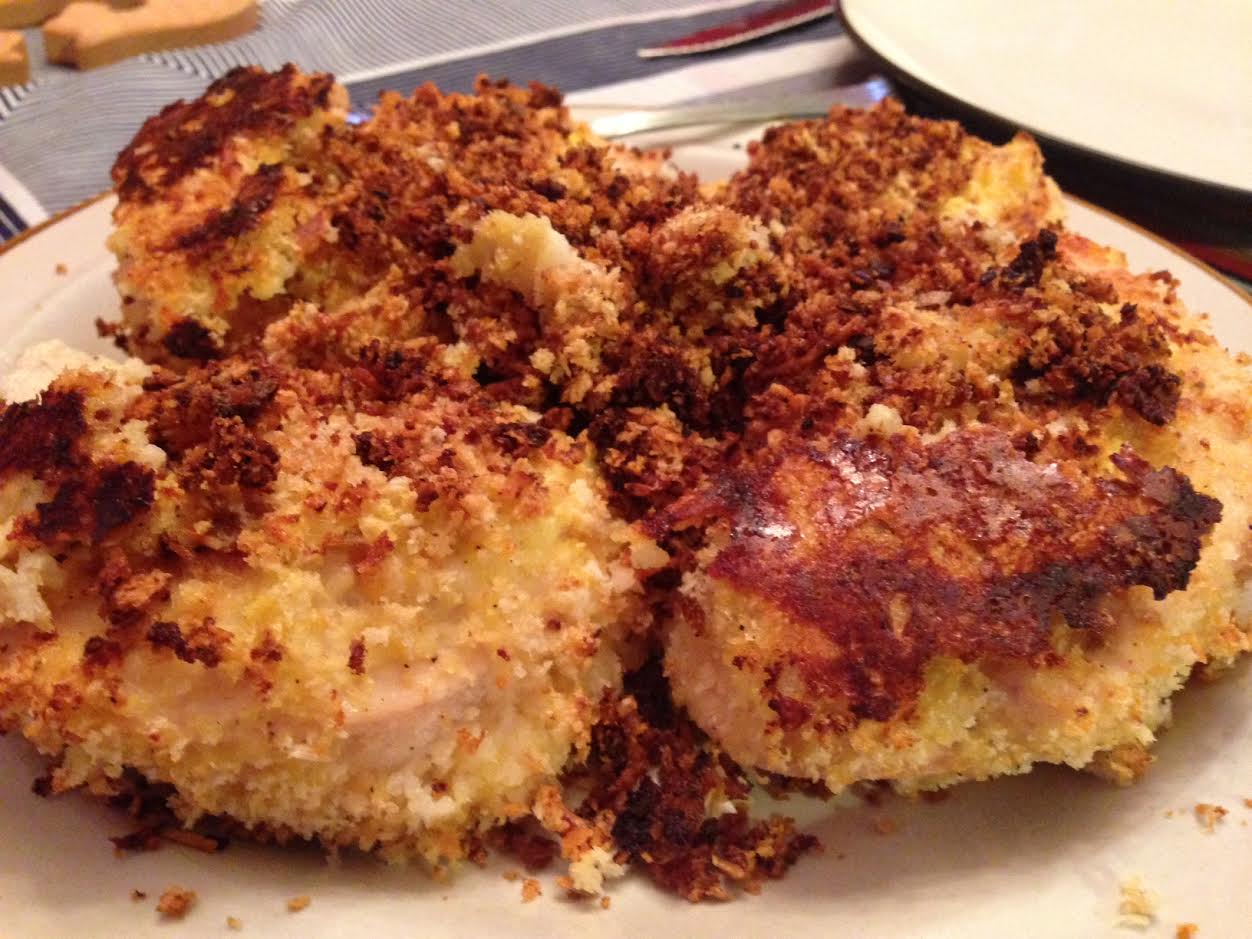 Double-Dipped Baked Lemon-Pepper Chicken
Adapted from Penzeys Spices
1 1/2 lbs. boneless, skinless chicken thighs 3 Cups Panko bread crumbs 1/2 Cup grated Parmesan cheese 2 tsp. garlic powder 1 tsp. pepepr 1 tsp. lemon peel (or lemon pepper)
1/2 tsp. kosher salt 2 eggs 1/2 Cup milk 2 TB. lemon juice (juice of 1/2 lemon)
Directions
Preheat oven to 400°. In a wide, shallow bowl, combine the bread crumbs, cheese, garlic, pepper lemon peel, and salt. In a second wide, shallow bowl, combine the eggs, milk and lemon juice. Mix well. Dip each chicken piece first in the crumbs, then in the egg mix and back in the crumbs. Place the chicken on a greased cookie sheet and bake at 400° for 45-60 minutes, depending on size, turning the pieces halfway through. Check one of the pieces to make sure the chicken is cooked through.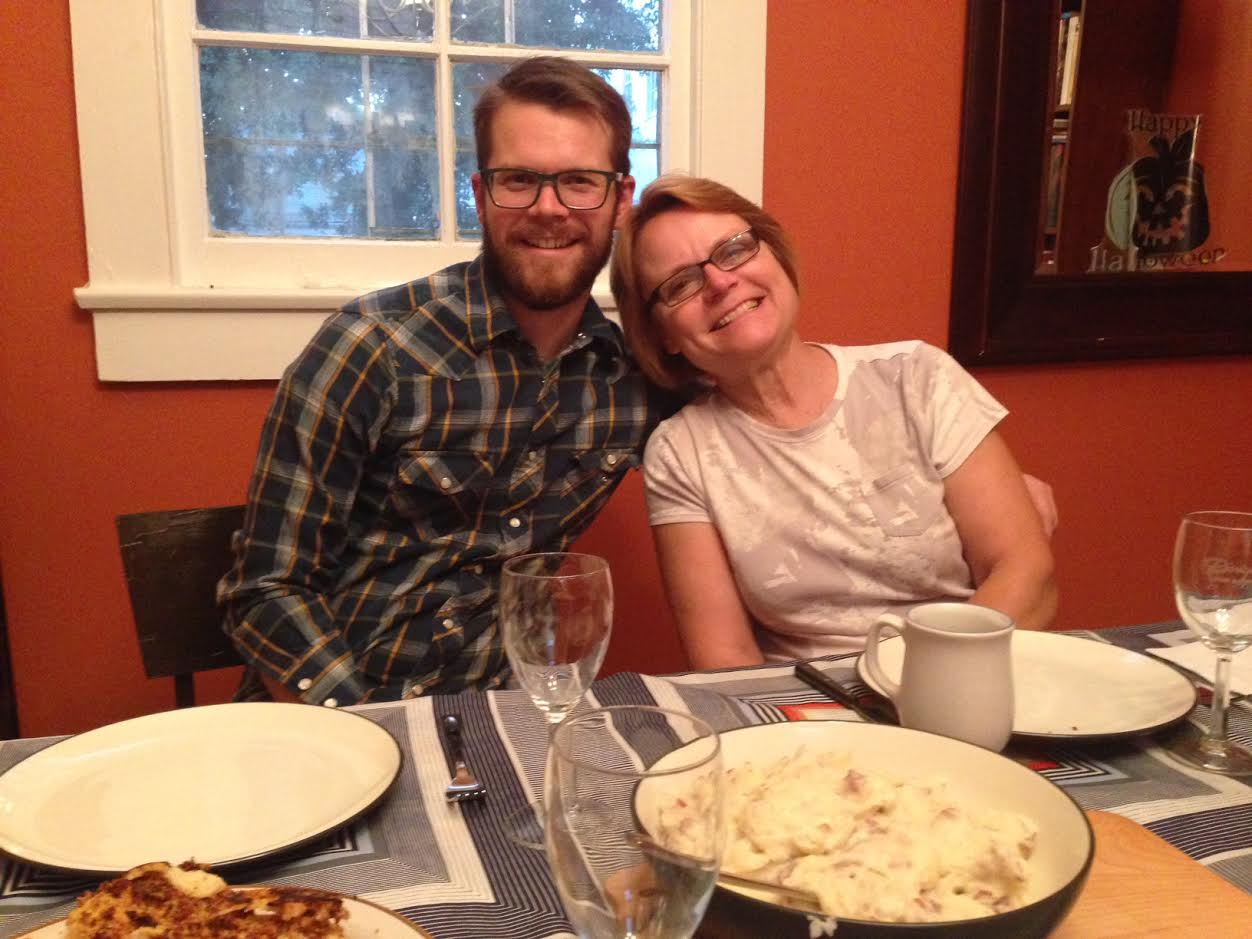 The Perfect Mash
Also adapted from Penzeys
5 large red potatoes, peeled and cut into pieces
1 sprig fresh rosemary 1 stick + 2 1/2 TB. butter 2/3 Cup grated Parmigiano-Reggiano cheese
1/4-1 tsp. salt, to taste (omit if using salted butter) 1/4-1/2 tsp. black pepper 1/8-1/4 tsp. ground nutmeg to taste 2/3 Cup milk
Directions
Place the potatoes in a stock pot. Add enough cold water to just cover the potatoes. Add a pinch of salt and the rosemary, if using. Bring to a gentle boil and let simmer until fork tender, 15-25 minutes or so, depending on the type of potato and how small you cut them. Drain very well and return to the pot. Let dry a bit. Add the butter, cheese, salt, pepper and nutmeg. Mash with the potato masher of your choosing, adding just enough milk to reach your desired consistency. If you'd like, transfer the potatoes to a broiler-safe casserole dish and broil for a bit for a crispy top.
Haiku #277 Oct 4th
You are lucky to
not see death coming. Blinded
and struck by sun light.
Haiku #278 Oct 5th
The shrill of a drill
screaming high hell around my
molars like evil.
Haiku #279 Oct 6th
An old man behind
me at the war museum
sees it all again.
Haiku #280 Oct 7th
Today's the day the
sun will rise in a corner
of my blue kitchen.