The walls and the furniture have become easels. My mother in law and I are painting the place like Bohemians. I love how color sabotages the ordinary. I am cursed by an eye-condition that only allows me thirty minutes at best in a day to paint fine detail before my vision collapses. The brevity of my capacity is inversely proportional to the preciousness of the experience, because it is so fleeting and so finite. By the end of a half hour of painting, I can barely see what it is that I have accomplished. But the next morning, oh, what astonishment waits.
Fall is here and with it, hearty wholemeal breads (well, I suppose those are a year round delight for me) and thick vegetable soups. There was a smell in the air this morning, and I think it was of ripening autumn magnolias, that gave me more vigor than the stiff scent of fresh coffee. I would have drank a case of it, had it not already gone to my head.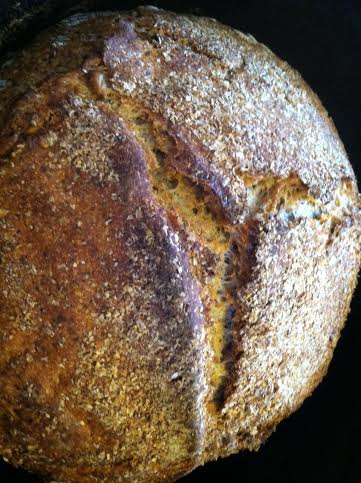 This is, by far, the most beautiful picture of a loaf of bread I've ever taken.
Sunflower and Flax Bread and Leek Soup
Adapted from the Tartine Bread Book
Sourdough         200 g
Water                 850 g
Wheat flour       700 g
Regular flour     300 g
Wheat germ      70 g
Salt                      25 g
Flax seeds          140 g
Hot water           180 g
Sunflower seeds 140 g
Coat the seeds in hot water and let sit out while bread is rising. You may mix in after the first or second turn of the dough. Save some seeds to coat the top of the bread before you put it in the oven.
Prepare the dough using the method of Tartine Country Bread, except let the dough rest for 60 minutes in the first rise, because it needs to absorb more water. Bake in the heated cast iron pot with the lid on at 500 degrees for 20 minutes, then turn down the temperature to 450 and bake for another 10 minutes, then finally remove the lid and finish with 25 more minutes at 450 degrees.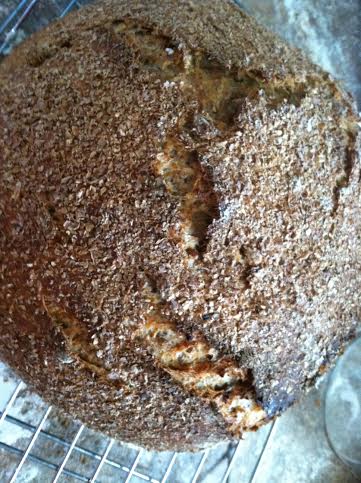 Leek Soup
Adapted from Bon Appetit
½ cup (1 stick) unsalted butter
6 large leeks, white and pale-green parts only, halved lengthwise, thinly sliced crosswise
1 small onion, thinly sliced
5 garlic cloves, thinly sliced
Kosher salt
2 cups whole milk, divided
1 cup heavy cream, divided
1 cup plain whole-milk yogurt, divided
Freshly ground black pepper
Melt butter in a large heavy pot over medium heat. Add leeks, onion, and garlic and season with salt. Cook, stirring often, until vegetables begin to soften, 5–7 minutes. Add 1 cup water and cook, stirring occasionally, until vegetables are very soft, 25–30 minutes. Let cool slightly, then transfer half of leek mixture to a blender and add half of milk, cream, and yogurt. Purée until very smooth; pour into a large bowl. Repeat with remaining leek mixture, milk, cream, and yogurt.
Return soup to pot and heat over medium, adding water by ¼-cupfuls, until soup is thick enough to hold potatoes without sinking but thin enough that a spoon dragged across the top doesn't leave a trail. Season with salt and pepper.
Haiku #281 October 8th
The kitchen has its
own cityscape skyline of
vinegars and oils.
Haiku #282 October 9th
A yellow bricked post
call day starts with omelets at
the Ruby Slipper.
Haiku #283 October 10th
Penny tile, black squares
and white octagons on sheets
that sound like tap dance.