We gathered around a table decorated by five-year-old Sasha Belle, who made sure we not only knew where we were meant to sit, but also, what she imagines our faces look like.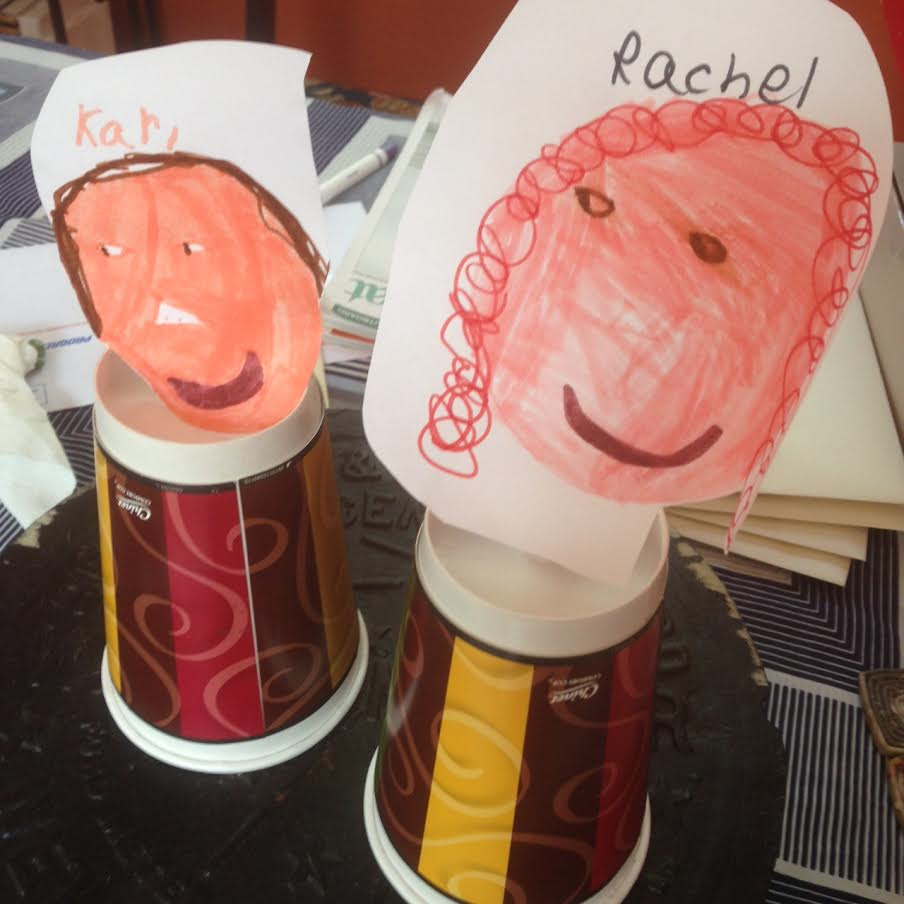 Her proud parents Kim and Steve, her three year old sister Zella, and my fond old biology student David formed this year's Thanksgiving family. I, for one, was grateful that my jeopardy pager went off NOT ONCE over the entire weekend so that I could enjoy several extra lazy mornings to sleep in, cook a few side dishes for the Feast, decorate the house for the Yuletide season, and finish the annual Thanksgiving card poem (which is in the mail!) My favorite lounge-time snack so far for the holidays is this tasty rendition of glazed pistachios in popcorn. Crunchy, salty, sweet. Really, you don't even need the popcorn–the pistachios are irresistible all by themselves.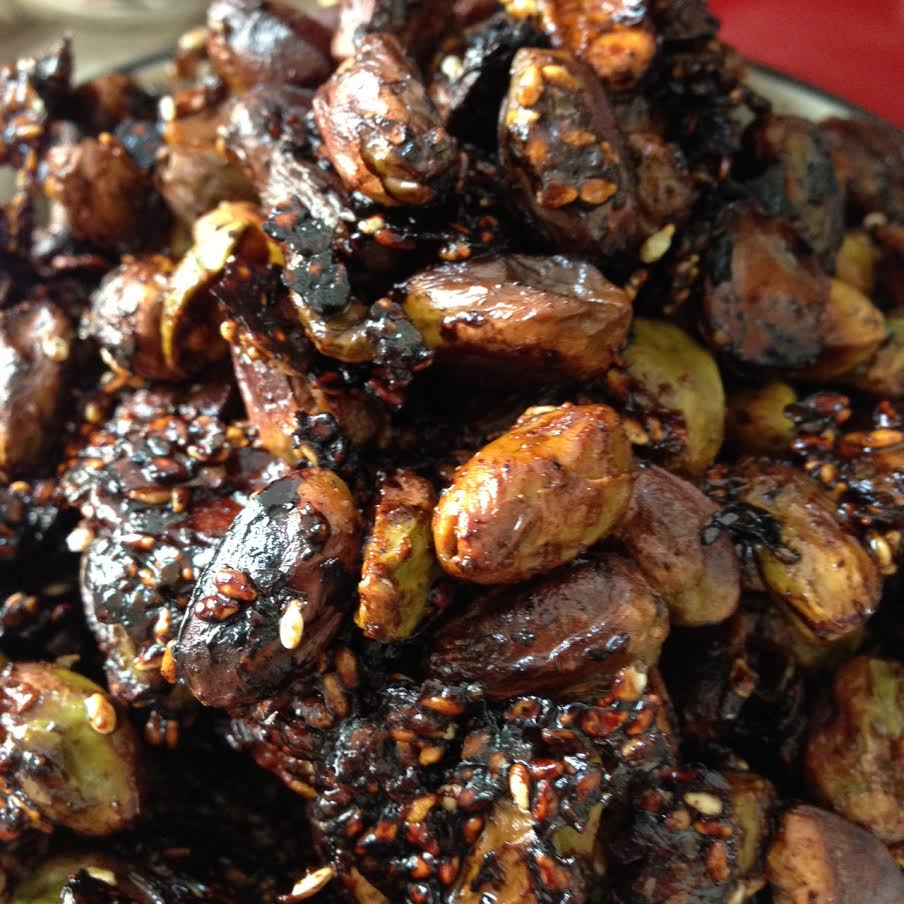 Popcorn with Sesame-Glazed Pistachios
Adapted from Food and Wine
1/3 cup vegetable oil
1/2 cup popping corn
Kosher salt
3 tablespoons extra-virgin olive oil
2 tablespoons sugar
2 tablespoons toasted sesame seeds
2 teaspoons soy sauce
1/2 teaspoons garlic powder
2 cups shelled unsalted pistachios (8 ounces)
Instructions
Preheat the oven to 350° and line a baking sheet with parchment paper. In a large saucepan, combine the vegetable oil and popcorn, cover and cook over moderate heat until the corn starts to pop. Cook, shaking the pan until the popping stops, 3 to 5 minutes. Transfer the popcorn to a large bowl and season lightly with salt.
Wipe out the saucepan. Add the olive oil, sugar, sesame seeds, soy sauce, garlic powder and 2 teaspoons of salt and cook over moderate heat, stirring, until the sugar dissolves, about 3 minutes. Add the pistachios and cook, stirring, for 1 minute. Scrape the pistachios onto the prepared baking sheet and bake for about 10 minutes, until bubbling.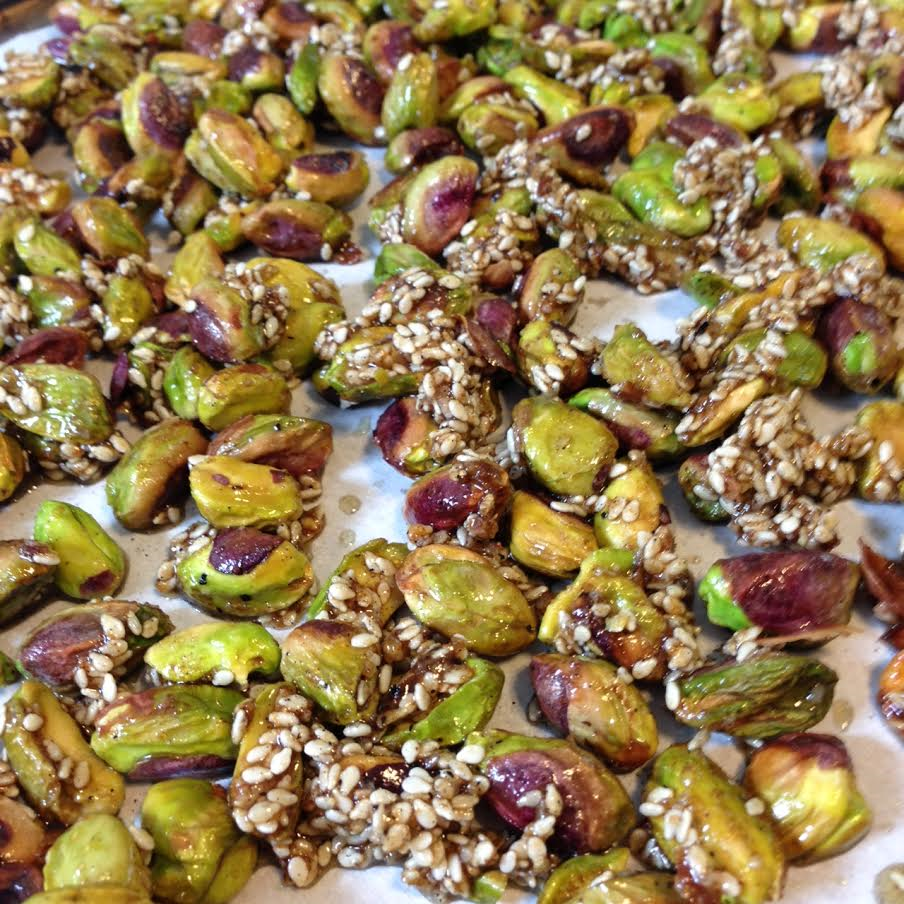 Scrape the pistachio mixture into the popcorn and toss well. Let cool before serving.
Haiku #323 Nov 19th
Behind the eyes sit
a colorful gallery
of selfhood critics.
Haiku #324 Nov 20th
Mother and daughter
in a dressing room mirror—
same body time warp.
Haiku #325 Nov 21st
Lil Dizzy's, Cochon
and Juan's Flying Burrito
compete for stomach.
Haiku #326 Nov 22nd
Again we sit at
the Ruby Slipper and think:
There's no place like home.
Haiku #327 Nov 23rd
A dinner party
takes a turn for blood when the
liar's dice come out.
Haiku #328 Nov 24th
Fell asleep humming
Great is Thy Faithfulness, and
by morning, mercies.
Haiku #329 Nov 25th
Lumbar puncture is
my particular point of
pride—flutes of champagne.
Haiku #330 Nov 26th
A five year old plays
Hospital—turning the work
I do to delight.
Haiku #331 Nov 27th
I find that I am
often more grateful the day
after Thanksgiving
Haiku #332 Nov 28th
Because left overs
are like photographs—mem'ries
that still have flavor.