The Mardi Gras season is here! For this week's chocolate dish, I have elected to bake a king cake with chocolate filling, a traditional Mardi Gras dessert. For most of the rest of the country, the seasonal party-energy build up is around the Christmas and New Year holiday, but for New Orleans, Yuletide is but a pre-funk. How quickly the holly and ivy get exchanged for purple, green and yellow banners, the Santa hats for masquerade masks. Laissez le bon temps roulez!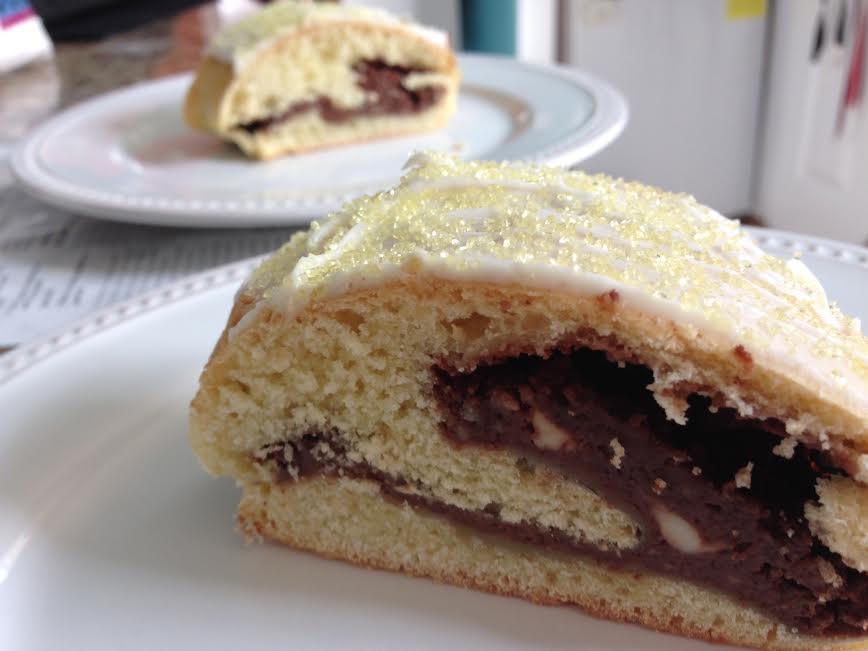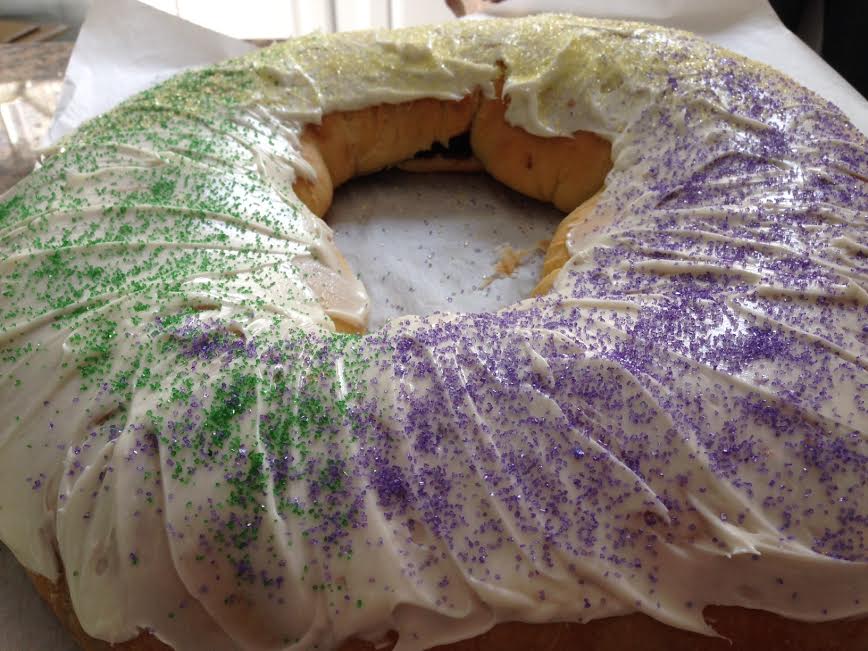 King Cake with Chocolate Cream Cheese Filling
Adapted from Louisiana Cooking
cake
1 cup sourdough starter
¼ cup plus 2 tablespoons sugar, divided
½ cup whole milk
½ teaspoon vanilla extract
2 large eggs
1 egg yolk
3 cups all-purpose flour
3⁄4 teaspoon kosher salt
½ cup butter, softened
filling
½ cup chocolate chips
8 oz cream cheese
1/3 cup brown sugar
1 egg
1 TB cinnamon
topping
2 cups confectioners' sugar
¼ cup whole buttermilk
Mardi Gras sprinkles
In the bowl of a stand mixer fitted with a dough hook, combine sourdough, milk, vanilla, eggs, egg yolk, and sugar. Beat at low speed until thoroughly combined, about 1 minute.
Turn mixer off, and add flour and salt. Mix at medium speed until dough just comes together. Mix at high speed for 4 minutes. Add butter, and continue mixing until dough is smooth and pulls away from the side of the bowl, about 6 minutes. Remove bowl from mixer. Cover with plastic wrap and let stand until doubled in size, 1 ½ to 2 hours.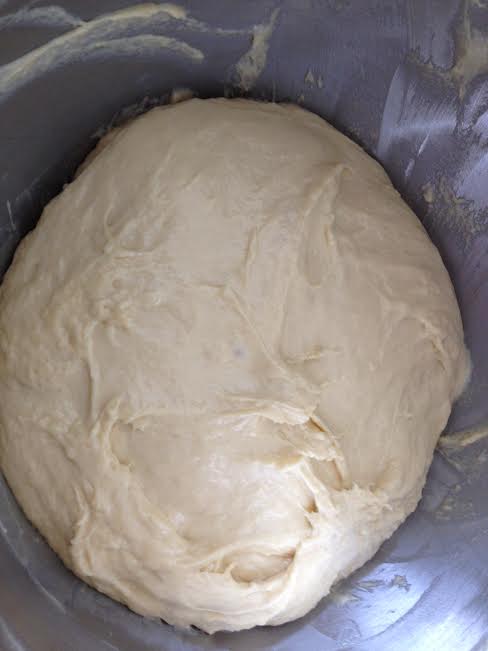 Punch down dough, and turn it out onto a well-floured surface. Using a floured rolling pin, roll the dough into an 18-inch circle, about ¼-inch thick. Cut a ½-inch hole in the center of the circle, and pull with your fingers to widen.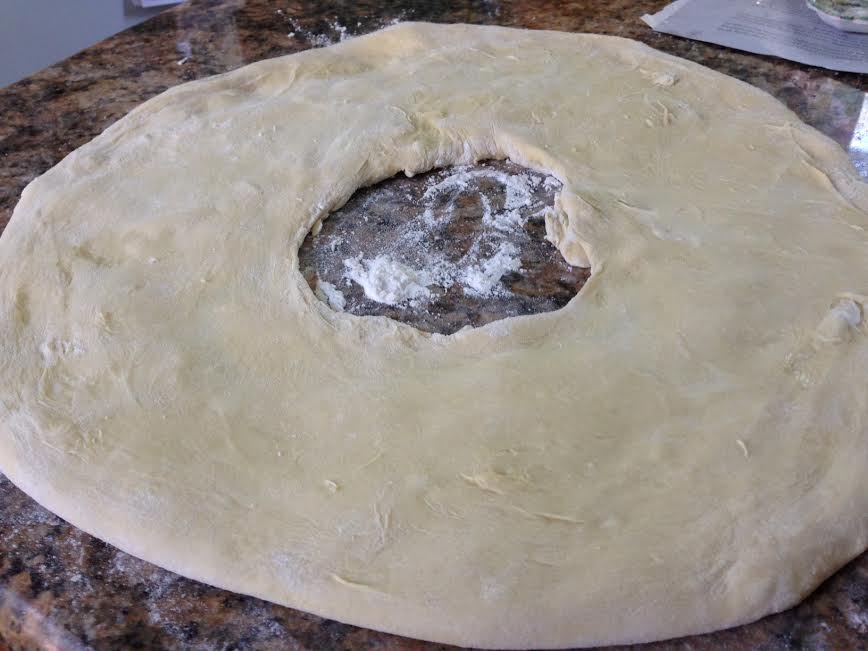 Place dollops of filling evenly around circle halfway between outer edge and inner hole.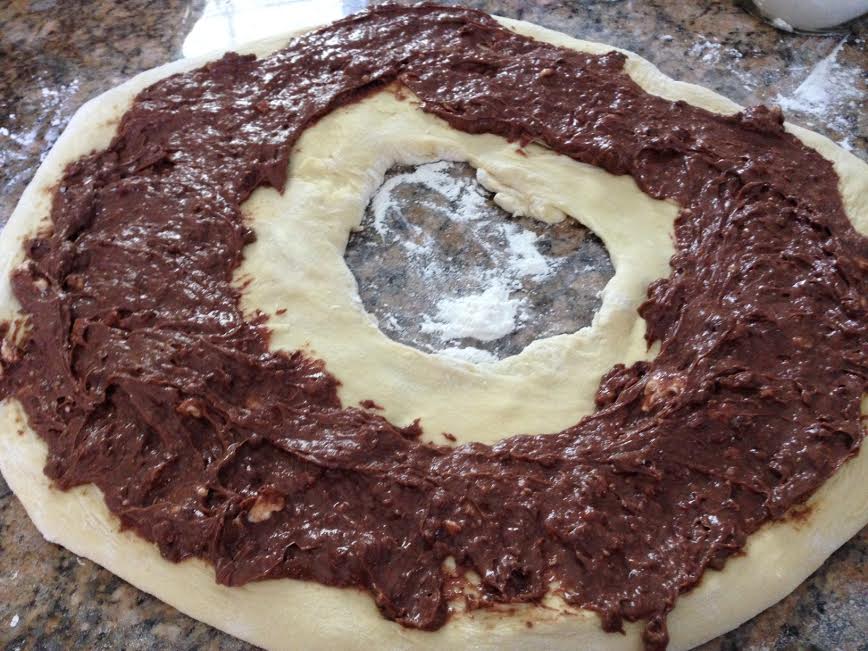 Drape outside edges over filling and continue rolling outside inward until filling is covered, widening inner hole as needed, until dough covers the seam.
Transfer to a baking sheet lined with parchment paper; cover with plastic wrap and let stand for 1 hour.
Preheat oven to 350°. Uncover cake, and bake until golden brown, about 30 minutes. Let cool completely. In a small bowl, whisk together confectioners' sugar and buttermilk until smooth. Transfer cake to a cutting board or serving platter; spread buttermilk glaze evenly over top of cake and sprinkle evenly with Mardi Gras Sugar.